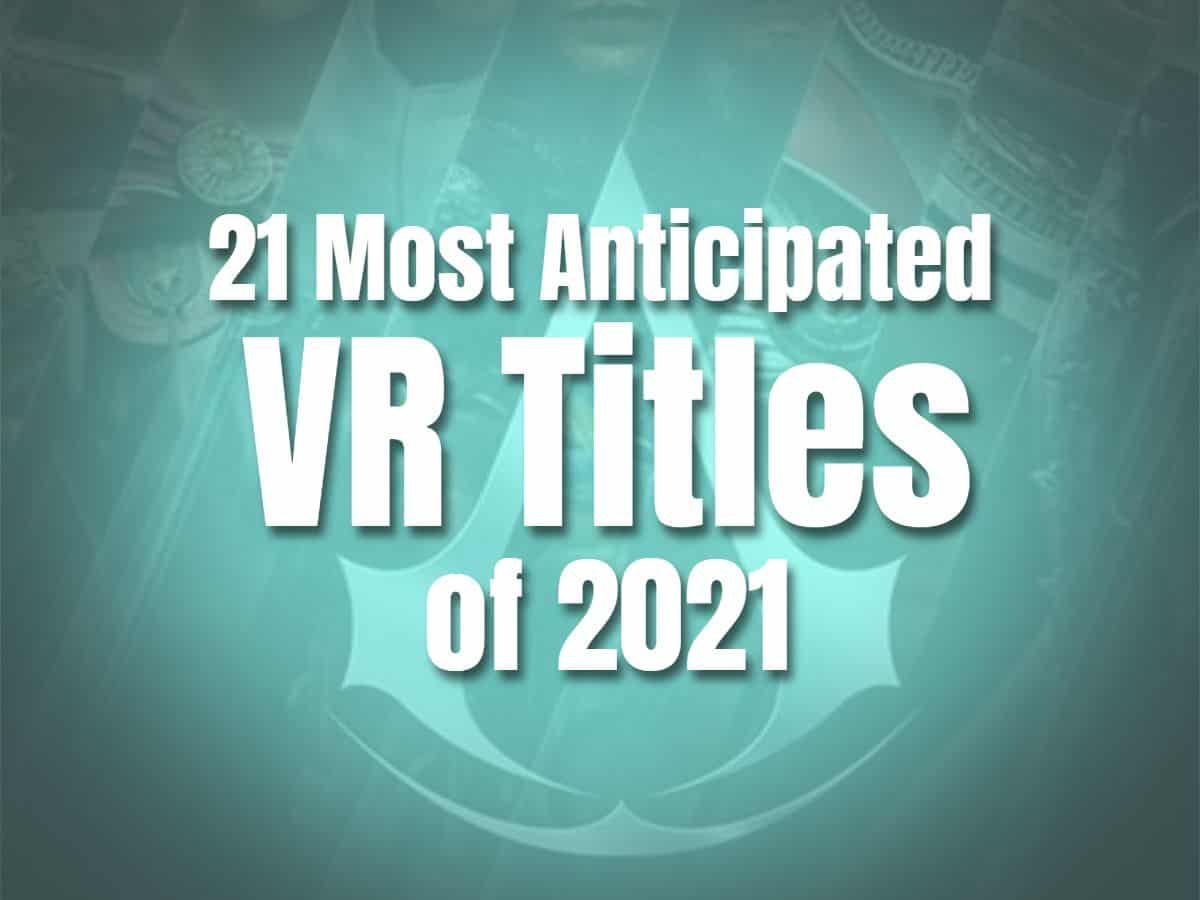 21 Most Anticipated VR Titles of 2021
2021 is an exciting year for VR. A lot of people are joining the VR community. Many are anticipating big leaps and developments happening soon.
Millions of VR units are sold across the globe. Whether you are a patron or a new convert, this year won't disappoint. The creators and developers are amped-up to bring amazing VR experiences for everyone.
Looking for the best VR games this year? Here is our big list of highly anticipated VR games scheduled for release this year. Plus, some exciting new games this month.
Great VR games for every VR system
Players from different VR systems, rejoice! Great gaming experiences await gamers this year. Whether you are hooked on a console or using a Standalone VR headset, this is a year of epic VR gaming.
There are plenty of titles to choose from. A handful of them are much-awaited sequels to your favorite VR games. There are also some new concepts and games you all will love.
This list covers VR games for:
Oculus Rift
Oculus Quest 1 and 2
PSVR
Steam VR
PC VR
Some of these titles have been the talk of the VR world since last year or earlier. 2021 is blessed to have all these titles come together to prove that VR is worth it this year.
21 of the most awaited VR games of 2021
It's not a perfect time to play favorites. Only because choosing the best games out of this impressive bunch is not easy.
We are glad to help give you updates on the most popular and sought-after games in the VR gaming world today. If you are a fan of epic sequels, sci-fi adventures, and new concepts, heads-up. This year will satisfy your thirst for more VR adventures. Let's begin!
Status: Released January 2021
Supported Platform: Playstation VR
Living this infamous assassin's life on VR is a treat. This is one of the most anticipated sequels, especially on PSVR. Now it has been released, you should grab your copy if you still haven't. But expect it as the end of the line for the Hitman series, for now.
Hitman 3 is said to be the last Hitman released by the maker IO Interactive. Hitman 3 ends the sequel, at least the trilogy. Rumor says developers are producing a new popular title. Can you guess? Here's a hint. They call it Project 007.
Hitman 3 lets you bring the maps from Hitman 1 and Hitman 2 if you have them. If you've upgraded from PS4 to PS5, Sony makes it easy. PS5 comes with a digital PS4 copy for a free and easy upgrade.
Status: Released on Oculus January 2021
Supported Platform: Oculus Quest, Oculus Rift coming soon
Experience VR exploratory adventure. Mare is experienced through the player's embodiment of a bird. You meet a companion and explore the Mare world solving the mystery and puzzles along the way.
The mission is to help your companion to reach her destination. This VR game has a beautiful and mysterious narrative that we all are excited to play out.
Status: Release April 2021
Supported Platform: PlayStation VR, Oculus Rift, HTC Vive & Valve Index
All you fans of puzzle adventures here is an interesting magical world of masks. Here you get to play as an apprentice learning the secrets of mask craftsmanship. Discover new worlds and solve different puzzles. Recreate yourself crafting different masks. Engage in epic storytelling through gameplay from an award-winning maker Innerspace VR.
Status: Release April 2021 on Oculus and May 2021 on Steam.
Supported Platform: PlayStation VR, Microsoft Windows, Oculus Quest
Brave horror VR fans, are you ready? Fast Travel Games gives you reasons to enter the afterlife as a wraith. A wraith is a ghostly figure with a supernatural ability to move through walls. This role-playing game is a warm welcome to the larger World of Darkness. It's a new virtual reality world created for all you horror enthusiasts out there.
Status: Release Spring 2021
Supported Platform: Oculus Rift, Rift S
Is this the year of the much-awaited sequel of Lone Echo?
Developer Ready At Dawn released a trailer way back. It announces a second installment back in 2018. But this is the sequel that made fans of Lone Echo hang on to their seats from 2019 until now.
There are updates in 2020 letting us know that developers are actively working on it. And so we are hoping that this is the year that will finally end the fans' misery.
If you aren't one of them yet and are curious what the fuss is about, now is the best time. Experience the predecessor's rich gameplay. Play the role of a robot named Jack with Captain Liv as they try to survive outer space. With its very engaging storyline, it sets high standards for a follow-through. We hope we see Lone Echo 2 this year and end the wait.
Status: Release Q1 2021
Supported Platform: PlayStation VR, Oculus Rift, HTC Vive, Valve Index & Windows Mixed Reality.
Patrol the streets fighting crimes or digging into the underworld. Solve mysteries in this IrisVR game. Embark on an epic sci-fi adventure. Early access available now with the Steam release coming later this year.
Status: Release 2021
Supported Platform: PC VR & Oculus Quest
Action-adventure VR exclusive, anyone? Warhammer fans are waiting for the VR exclusive Warhammer 40,000: Battle Sister. It is coming this year. But it looks like there is more than one to keep an eye on.
Carbon Studio develops this immersive motion-based action combat game for VR. Follow their amazing storyline via dev blogs on Steam.
Status: Release 2021
Supported Platform: PlayStation VR, Oculus Rift, HTC Vive & Valve Index
Arizona Sunshine developer Vertigo Games recently posted a Twitter update. The post is about the new 4-player co-op action VR game After the Fall. This with a trailer video meant to heat excitement towards the game coming this summer. Experience post-apocalyptic Los Angeles in this first-person shooter adventure game.
Status: Coming Soon
Supported Platform: PlayStation VR, Oculus Quest, Oculus Rift, HTC Vive & Valve Index
Rebellion, Coatsink, and Just Add Water themed up in this incredible sniping franchise. With a stunning historical backstory, this VR game takes you back to World War 2. This single-player shooting VR is one of the most awaited games this year.
This game promises hours of thrilling gameplay with replayable missions. Experience handling historically accurate World War II weaponry. Many are crossing fingers that this VR gem starts the action soon.
Status: Q3 2021
Supported Platform: Oculus Quest
Live the rockstar dream with Vertigo Games and Anotherway team-up. Using the Oculus Quest hand tracking feature, take your air guitar action to the next level.
No need for a guitar controller. Play in front of a VR crowd. Get some reactions for building your combos. Unplugged on Twitter keeps us updated with the latest developments. This VR crowd favorite is coming late this year.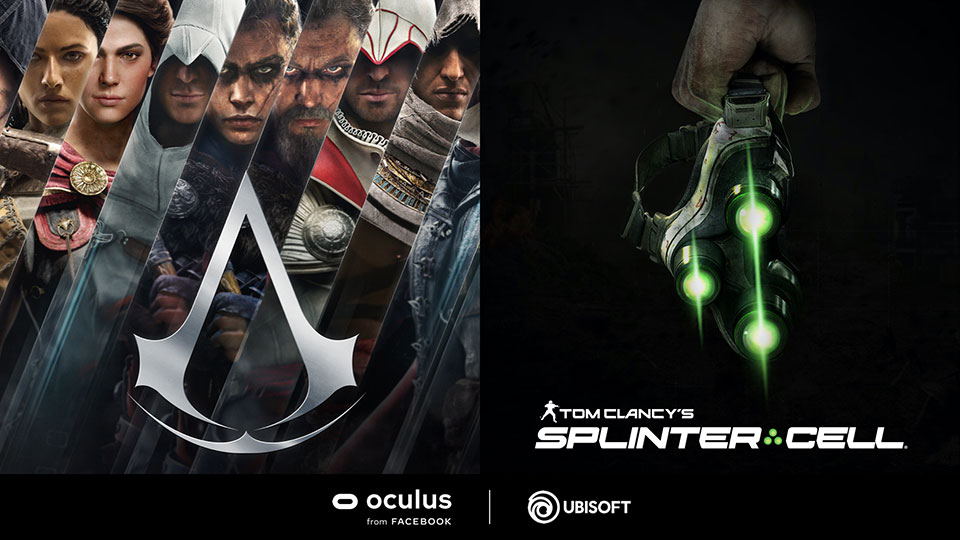 Status: Development, no time of release
Supported Platform: Exclusive on Oculus Quest
There was talk about these Ubisoft popular games coming to VR. All we know is that the latest development so far is the confirmation that that isn't a rumor anymore. In September 2020, it was announced that both games are coming to VR and are exclusive on Oculus Quest.
As of writing, there aren't any trailers, gameplay previews, or a sneak peek of what the games would be like. But that doesn't lose the fans' interest in having these epic games seen on VR. They are definitely worth the wait.
Status: Release Spring 2021
Supported Platform: Steam VR, Oculus Rift with 360 tracking, Vive, Valve Index, Windows Mixed Reality
Developer Rune Skovbo Johansen makes an epic temple quest VR game. With your torch and whip in hand, explore perilous temples and solve puzzles. This India Jones full VR game is a favorite since its demo was released in August 2020.
The latest update on their Twitter is that the game is full-on their way. Now that story bits in Eye of the Temple are fully voiced, we can't wait.
Status: Release Q3 2021
Supported Platform: PC VR headsets, Oculus Quest, Open for PlayStation VR in the future.
Green Hell is an open-world survival game set in the Amazon rainforest. The game is an immersive game. It challenges players to survive in the Amazon wilderness without food and supplies. Players will have to learn survival skills and make their own tools. Build your shelter and hunt for food. Fight hunger and thirst. Keep your mental health. Find your way out and survive the green hell.
Status: Release Q4 2021
Supported Platform: PC VR, Oculus Quest and PlayStation VR
Experience multiplayer online VR RPG. Travel alongside other players and explore the world of Ilysia. Ilysia offers a unique and mesmerizing exploration of different worlds. Watch their Kickstarter trailer video for an introduction to the world of Ilysia.
And if you want a more in-depth look at the gameplay, we found this very useful video.
Know more about the game's current developments via Kickstarter Updates.
Status: Release Q2 2021
Supported Platform: PC VR, Oculus Quest, PlayStation VR, HTC Vive
This ROTU's first VR game promises to define the future of storytelling. In this musical adventure game, you get to solve puzzles and use music-based magic to find and save Harpa.
Harpa is a mythical creature. With its habitat on the brink of destruction, you are on an important mission to save everything.
Explore this beautiful world while experiencing the works of international musicians. Also, ROTU intensively worked to document the deforestation of Amazon. Let's see how all these interesting bits get pulled off as a masterpiece.
With that much thought and work into the musical and visual aspects, what can we expect from this game? This game is a perfect treat for a full immersion experience on VR.
Status: Release Alpha Test April 2021
Supported Platforms: PC VR, PlayStation VR, and Quest, as well as for non-VR PC platforms
This MMO anime-inspired RPG game is on VR. Zenith released its official trailer this March 2021. And Zenith VR pre-order goes live March 10th, 2021.
We can't wait for the first alpha test this April and Alpha 2 lasting from May 31st to June 6th. Get the latest news via Zenith MMO Twitter.
Status: Release March 29th, 2021
Supported Platform: PlayStation VR
This game is getting more love as it nears official release. Doom 3 is a retooled action-horror shooting game. Navigate the horrifying corridors of the UAC facility invaded by demonic forces. The terror in this game is perfection in VR.
The Newest VR game releases this March
Z-Race
High-octane VR arcade racer with early access released on March 2nd, 2021 on PC VR
Stargaze
Gaze into the stars as a curious astronomer in this VR adventure game. Released on March 3rd, 2021 on Steam, Rift Launch this March, Oculus Quest coming soon
Cosmodread
VR survival horror roguelike about escaping a dying spaceship filled with nightmares. Release date of March 25th, 2021 on PC VR, Steam, and Oculus coming soon
Warplanes: WW1 Fighters
WW1 aerial combat in virtual reality. Released March 4th on PC VR, already available on Steam and Oculus
A promising year for VR
Game developments are being affected by the pandemic. Although many of these titles were expected to be released late last year, it didn't happen. On the brighter side, that only increased the VR world's excitement as 2021 enters.
To all of you VR enthusiasts who are patiently waiting, you deserve this exciting year. It looks like developers won't disappoint. All the best things in the VR world today are just a matter of time.
Which of these VR games are your favorites? And which ones you can't wait to try this year? Let us know in the comments below.