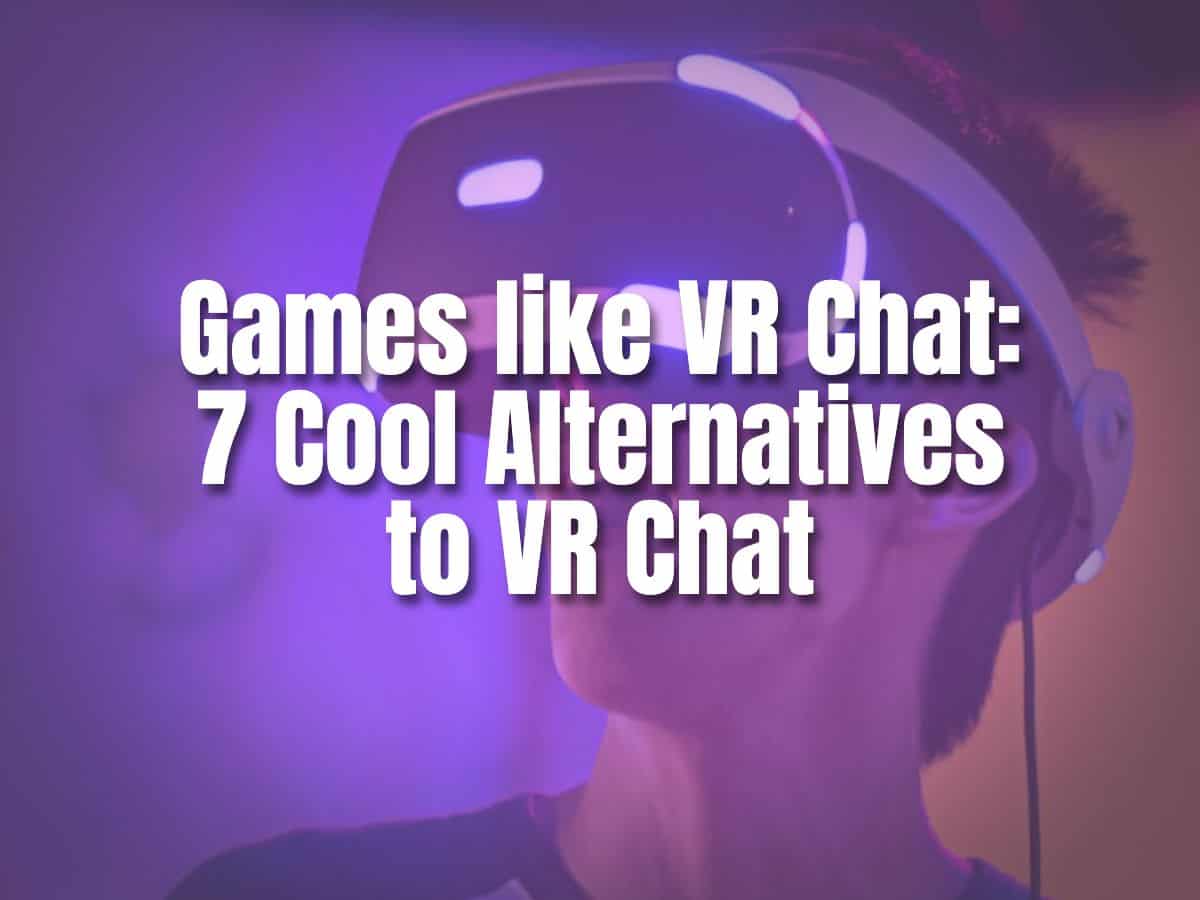 Games like VR Chat: 7 Cool Alternatives to VR Chat
Virtual Reality technology has changed how we interact with online communities and virtual worlds. VRChat, created by Graham Gaylor and Jesse Joudrey is one of the most popular VR applications available. This 3D social world platform allows users to explore a variety of virtual spaces while interacting with each other using their own custom avatars, lip-syncing, eye tracking, and a number of different environments. As trends change in this community, so do the avatars; they can be bought or earned making the experience completely personalized.
The game is optimized for use with Oculus Rift and Oculus Quest series as well as SteamVR headsets like HTC Vive and Windows Mixed Reality but is also designed so that it can be run through desktop mode without VR headsets. However, some content may not be available for free movement or require more than one hand in this mode which limits interactions with others.
While VRChat provides an enjoyable experience for many people there are other alternatives out there that may offer something special you won't find on this platform. For anyone looking for an alternative to VRChat there are plenty of other virtual reality social platforms available!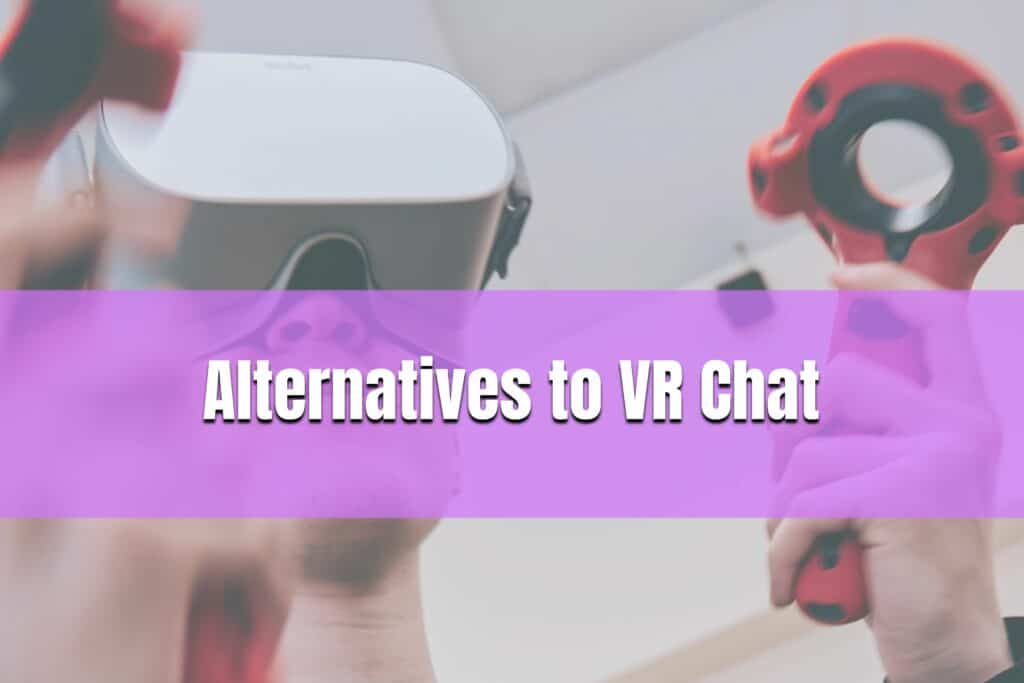 Alternatives to VR Chat
The virtual reality world is growing rapidly and with it, the amount of socializing options available for those looking for an immersive experience. VR Chat has become a popular choice for users looking to chat, game, and explore new worlds together. However, there are many other alternatives to VR Chat out there that offer similar features and experiences. Here are some of the best alternatives to VR Chat:
Rec Room: Amazing virtual environments
Rec Room is an engaging, exciting virtual reality massively multiplayer online game (MMO) featuring an integrated game creation system. Available on multiple platforms and VR headsets such as SteamVR, Reality Labs, PlayStation VR, and more, Rec Room doubles as both a recreational center and gaming portal.
At the Rec Center, players find countless user-generated rooms that can be explored using an optional virtual reality headset or motion controllers. With full 3D motion available through many standard VR setups, users can explore the lavish and expansive space around their physical floor space virtually teleporting short distances reducing virtual reality sickness dramatically. Also, with "walking" mode engaged players can traverse the expansive virtual spaces continuously providing interactive engagement with Rec Rooms' ever-growing library of original titles and user-created content.
Rec Room is a cross-platform capable title in which users on mobile phones to state-of-the-art virtual reality systems can play together in massive cooperative tournaments or simply party up to socialize and chat across vast collectives of players from all around the world. It's also worth noting that despite being entirely free to download Rec Room has one of the most vibrant microtransaction economies found within any active video game today serving as both a gaming platform and simultaneously offering avenues for digital expression!
Neos VR: Immersive environment
Neos VR is a virtual reality platform that provides users with the tools to create their own virtual content and experiences. The Neos engine offers maximum flexibility and creative control, allowing users to set up their avatars completely in-game and access powerful visual scripting tools to bring their creations to life. This is the perfect platform for anyone looking to interact with like-minded individuals in a virtual world, such as designers, educators, students, or just those who want to build relationships online.
For gamers and socializing enthusiasts alike, Neos Metaverse is the first social VR platform offering users the ability to import, build, and modify their own avatars entirely in-game. With full body Inverse Kinematics (IK) support and up to 11 tracking points available users can party, dance or collaborate as if they were in the same room!
Users of Neos can meet with their friends in an immersive environment filled with games and explore a vast array of virtual worlds. It's also a great tool for use within universities or businesses looking to enable team collaboration or students needing training or workshops on a budget - all made possible by running experiments within a secure peer-to-peer connection.
Overall Neos VR offers an exciting way for its users to play, and test concepts safely & securely on a budget whilst collaborating & interacting with others like never before!
Oasis VR: Create your own Oasis home
Oasis VR is an exciting virtual world you need to check out if you're looking for something similar to VR Chat. It's a cross-platform title, with both PC and VR support, that allows players to explore and interact with each other in a vast open-world space. With no fixed gameplay, Oasis offers players unlimited possibilities!
For starters, there's no shortage of things you can do and explore in Oasis. From dancing with friends at the bar, or playing party games like poker and bowling, the range of activities available is extraordinary! Plus, if you're feeling creative you can design your own avatars and maps or even create your own game world. All this can be done without needing any sort of background in programming!
You could also use the new Oasis Studio to design and create your own personal oasis-style home. This way you can have your very own private space where you could farm alone or make good memories with friends alike! And best of all, you get to decide who you are and what your avatar looks like through Oasis customized avatar system. Whether it be Lolita or MechWarrior - anything is possible!
Immersion is key when playing online games. Oasis has incorporated this concept using full-space 3D audio chat enabling users to communicate in the game with facial expressions and body movements they command. This revolutionary feature makes real social interaction more active than ever before as players around the world meet one another across borders in their very own virtual homeland! You'll want to bring your VR devices into this exciting experience for even more added fun!
Bigscreen: All in VR
Bigscreen is a revolutionary Virtual Reality(VR) platform that allows you to watch movies, play games, and hang out with friends and family all in VR.
With Bigscreen, you can transform any room into a virtual home theater or massive IMAX-style cinema for a more immersive experience. Grab some popcorn, settle down with your friends, and watch content from the comfort of your own living room!
Bigscreen has partnered with movie studios such as Paramount Pictures to provide official movie broadcasts so users can rent and watch high-quality 3D movies right in their VR headsets. The video player supports many file formats and codecs including 3D movies so playing your own personal video files is no problem at all. Moreover, there's cross-platform headset support for Oculus Rift, Oculus Rift S, Oculus Quest, HTC Vive, any SteamVR headset, and any Windows Mixed Reality headset!
Within virtual reality environments such as an actual movie theater or a space station just to name a few - find a scene that fits your mood by choosing from various atmospheres like modern living rooms or campfires! What's even better is that Bigscreen is continuously working on introducing new features such as their friend system which allows users to easily add friends to their list so they can join each other's rooms; updated avatar options for customization; built-in YouTube and TV channels; plus more movie studio partnerships to host 3D screenings!
Chillout VR: Explore virtual worlds
Chillout VR provides a platform for players to create and explore content in a massive multiplayer sandbox. With Chillout VR, players can explore virtual worlds with their friends, make new friends from around the world, and even open up new worlds with just a click. You can also create your own avatar or use existing avatars, allowing you to be whoever you want to be within the metaverse. The immense amount of publically available worlds gives the game long-term enjoyment.
Chillout VR also enables users to customize their very own immersive worlds including interactable objects - giving users limitless possibilities for exploration and adventure. You can invite your friends into your chillout world by dropping portals or joining groups to meet and connect with other communities. You are invited to attend events of all kinds or even create your own! On top of that, you're able to freely enjoy events and talks with many users online come join the party!
What's even more exciting is that ChilloutVR offers full-body tracking, lip sync, and eye-tracking features which when equip with a VR headset transit players into the virtual world seamlessly. Even though full-body tracking is not required nor is VR necessary – so don't worry if you don't have one yet!
The ultimate goal of Chillout VR is to give creators and players a secure platform in which they can explore freely, expanding upon their capabilities with new technologies such as artificial intelligence and machine learning applications to stay ahead of the curve. With so much potential for exciting experiences available, it's no wonder why this increasingly popular game has become a favorite for those looking for fun virtual adventures! Chillout VR, as of writing is an early-access game on Steam.
Horizon Worlds: Explore and play
Horizon Worlds is an innovative virtual reality, online video game that allows players to explore, play and create a wide range of experiences. Developed by Meta Platforms, the game offers gamers the chance to move freely and interact with others in various virtual worlds in what can be described as an adventurous journey.
The game provides a unique experience with its multi-player platform where players can join events, games, and social activities across various interactive worlds. Players can choose from a vast selection of game titles and customize their own world with the built-in game creation system. By using this tool, you can even design your own levels or challenge friends or other users.
Meta Horizon Worlds also allows gamers to get up close and personal with other members of the vibrant community that comes together to share ideas and create amazing experiences. You can mingle with others to learn about their creations or be inspired by the dynamic contributions each user has made to expand the engaging landscape of Horizon Worlds.
Planet Tetha: Dating in the virtual world
Planet Theta is a new way of dating and social engagement, re-imagined. Here, you can really make real connections in an amazing virtual world full of endless possibilities. Take your date for a walk through an enchanted forest, watch a movie together, or just have a cup of coffee - the choice is yours!
Not only that, but on Planet Theta you will find unique locations filled with immersive activities to do together with your partner. Want to take a break from all the stress and noise of reality? You could always head on over to YourPlace - your own private corner where you can customize every aspect of it to what pleases you. You're fully in control here! Hang out with friends and chat play games, or snuggle up for a soothing movie night - it's all up to you.
Avatars are generated from a single photo for a realistic appearance. But it doesn't stop there. A collaboration utilizing Wolf3D technology allows consumers to buy clothes and apply makeup in a virtual space. On Planet Theta, you can bring your desired style to life.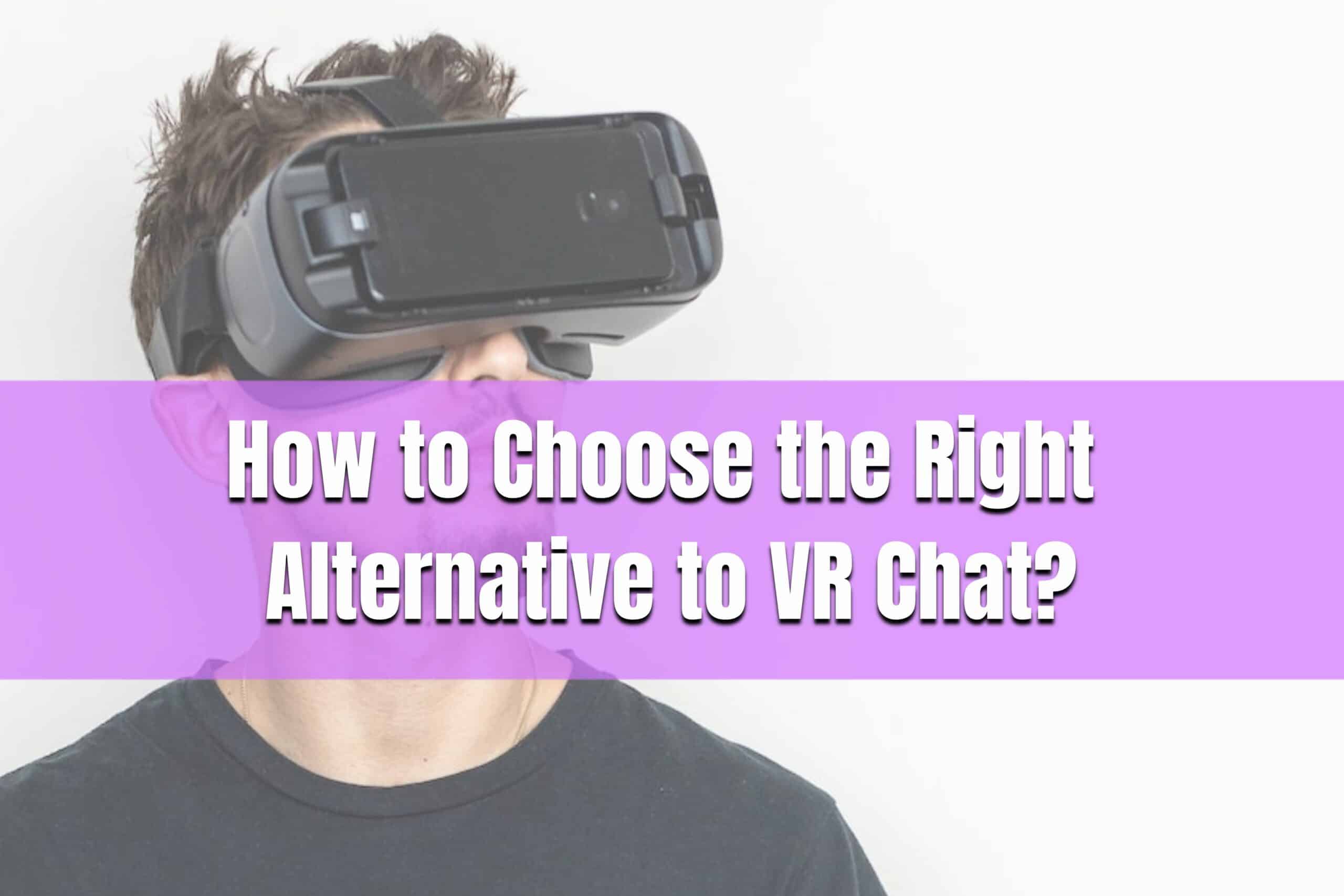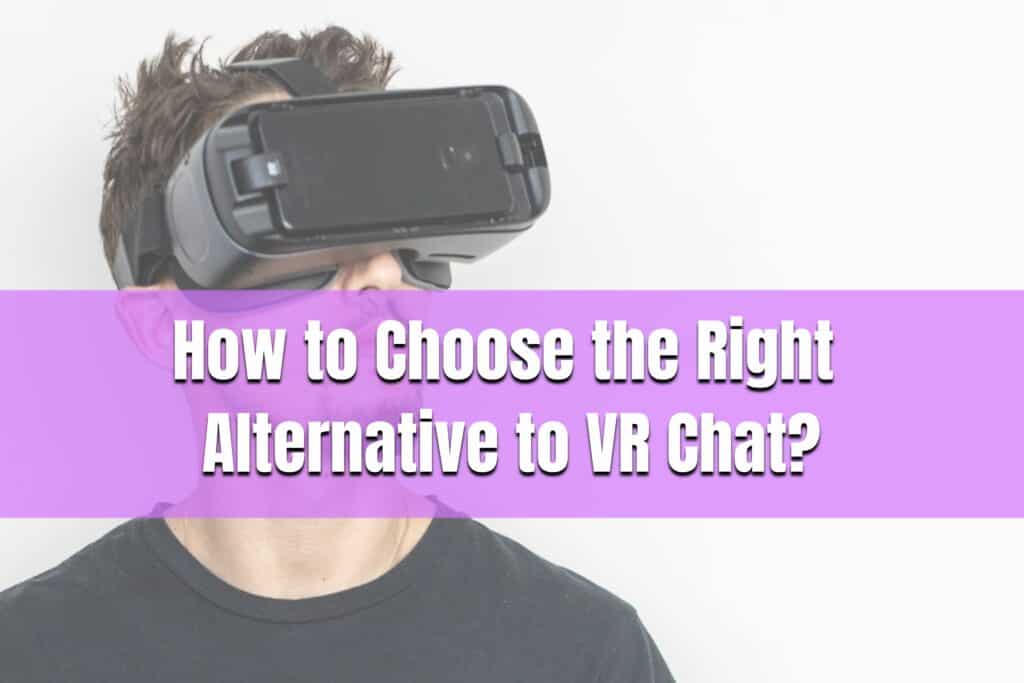 How to Choose the Right Alternative to VR Chat?
Choosing the right alternative to VR Chat can be a daunting task. Fortunately, there are a few tips you can keep in mind to help you find the perfect game for your needs. First and foremost, consider what kind of features you're looking for in a virtual world. Do you want full body tracking support? The ability to play poker with friends? Several virtual worlds to explore? Different game modes?
Next, take some time to research the different games available and read reviews from other players who have experienced them firsthand. This will give you an idea of what kind of content is included so you can make an informed decision.
Finally, think about how much time and effort you're willing to invest in a game. Some games require more commitment than others, so take that into consideration when selecting your virtual world.
With these tips in mind, you'll be able to find the perfect alternative to VR Chat for your needs! From exploring millions of worlds on Horizon Worlds to creating your own home party with ChilloutVR and even finding love on Planet Theta, there are plenty of options available to keep you entertained for hours on end.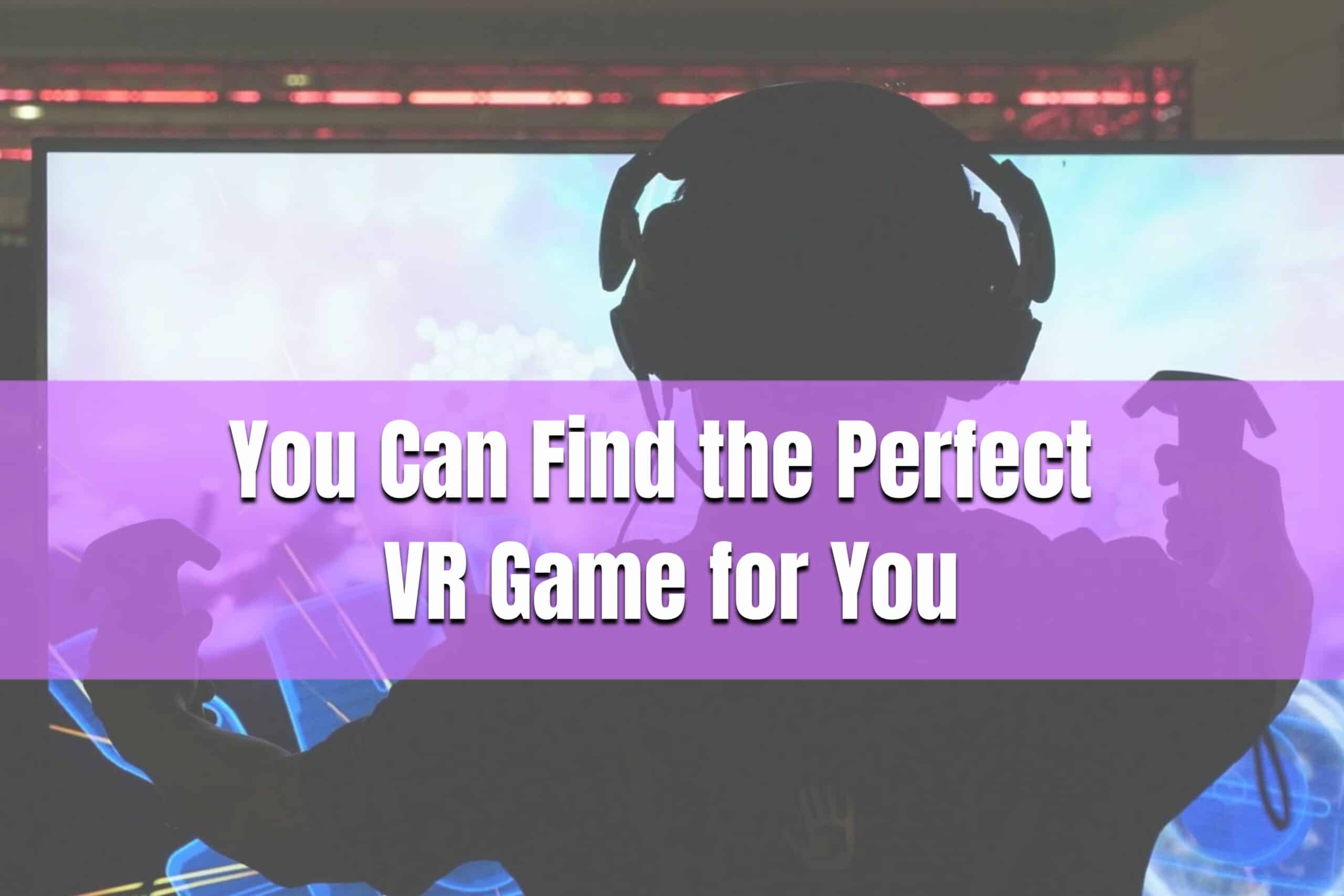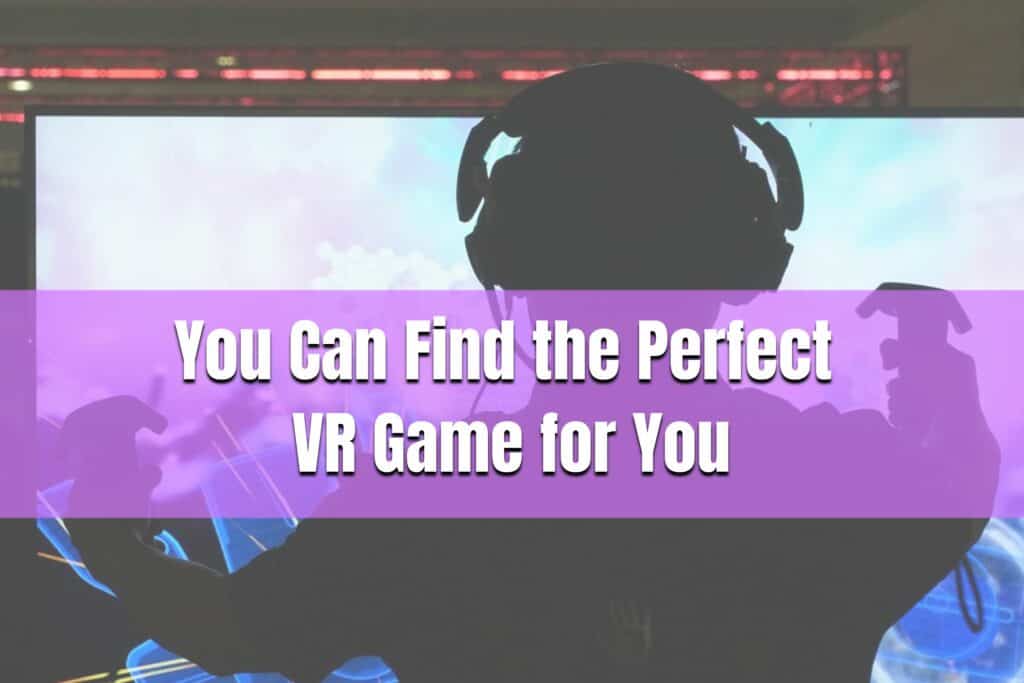 You Can Find the Perfect VR Game for You
In conclusion, there are many games like VRChat that offer a unique and engaging experience. Create worlds on Meta Horizon Worlds or explore millions of virtual environments on ChilloutVR and even find love on Planet Theta, there is something for everyone. With so many different options available, players of all ages and interests can find the perfect VR game to suit their needs.
No matter what kind of virtual world experience you're looking for, there's sure to be a perfect game out there. Whether you want to explore new worlds, create worlds, or just relax in the comfort of your own home - the possibilities are truly endless! So why not take a chance and dive into one of these amazing VR games like VR Chat? Who knows where it could take you!