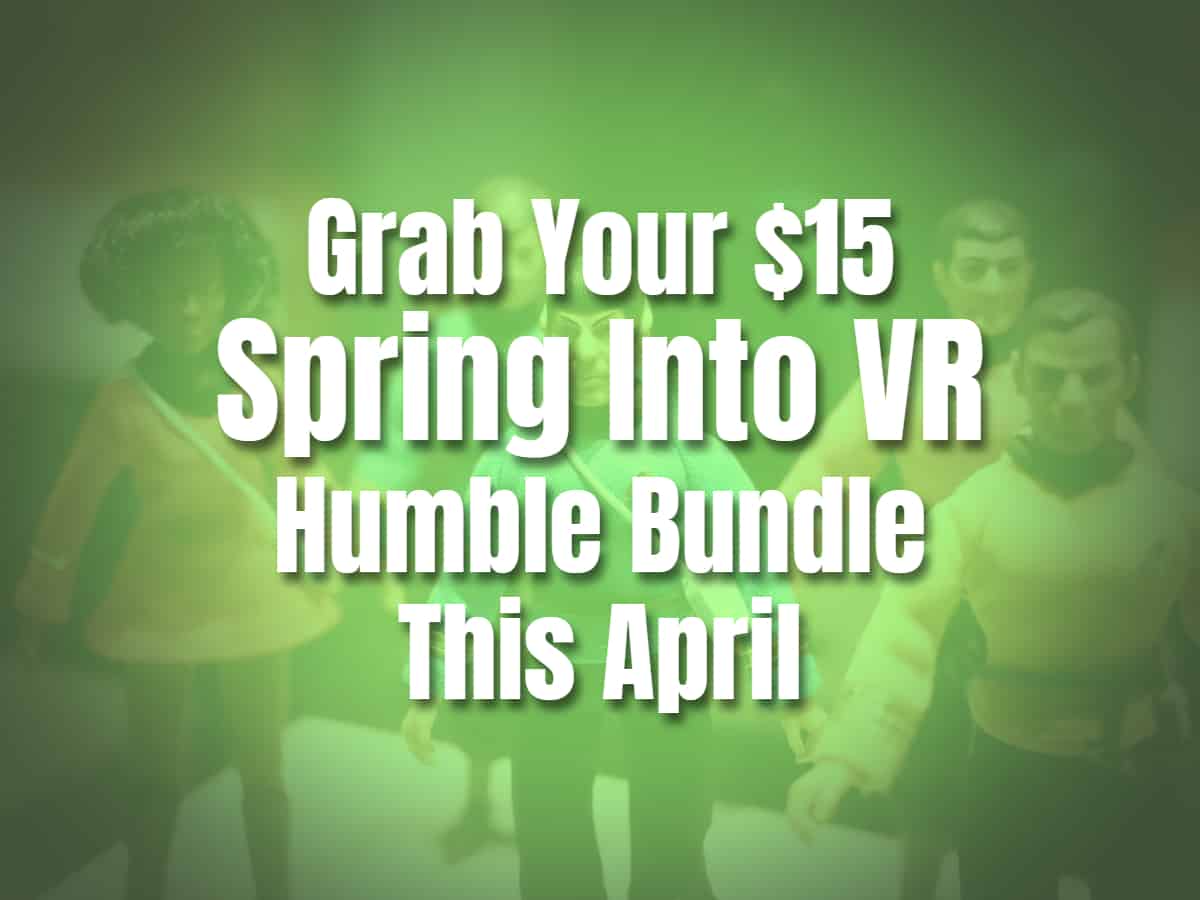 Grab Your $15 Humble Spring Into VR Bundle This April
Humble Bundle has flexible offerings of bundles such as ebooks, software, and games. From last year's successful VR bundle comes the newest collection of VR games. The bundle will save you bucks and gives you a chance to give to charities.
Saving, sharing, and fun are bundled together in the "Spring Into VR Bundle" by Humble Bundle.
Whether you are an avid or new to PC games, video games, and VR, you should get familiar with what Humble Bundle offers. It allows you to try a bunch of fun VR games without having to pay a premium price for each. This while also funding a cause.
VR Titles in the Newest VR Bundle
Did you purchase the previous bundle? Then you're probably excited about what Humble Bundle has in store this time.
And if you are new to VR, this is an awesome bundle to try out high-quality games in VR without spending a lot of money. Here are the titles included in this bundle.
Borderlands 2
Borderlands 2 is a shoot and loot role-playing game. You get to choose to play from four playable classes. They are the Assassin, Commando, Gunzerker, and Siren. Each class has a unique skill set.
Job Simulator
Complete challenges. Step into the world where robots replaced humans in Job Simulator. Job Simulator lets you experience what it's like to do the job in a hilarious fun virtual world.
Sairento VR
Play as a member of the Silent Ones in Sairento VR. With a futuristic Japan as a setting, this first-person shooter combat game is a treat.
Star Trek: Bridge Crew
The simulator Star Trek Bridge is a space exploration game that is one of the virtual reality hits. Join your friends in the heart of the starship. Make decisions together and predict the outcomes of the game.
Surgeon Simulator: Experience Reality
This surgery simulation game is a hit surgeon simulator game. It is infamous for the type of surgeries you get to experience doing in virtual reality.
Swords of Gurrah
Humble Spring bundle includes this real-time multiplayer sword fighting game. Engage in hand-to-hand combat against man and beast. This is an action-packed virtual reality experience you shouldn't miss.
Espire 1 VR Operative
Espire 1 VR operative is an original from award-winning developers. It is in the single-player stealth genre. It's a story-driven game focused on stealth, espionage, and action.
Detached
For all you gamers who love a good tactical survival game, this game is for you. This interstellar game of survival will take you into space. Also into some purely entertaining hardcore gaming.
Spring into VR Bundle is Available Until April 21st
Humble Spring into VR bundle currently works on wired headsets that are working on Steam VR. So, that includes Valve Index, Oculus Rift S, Vive, and more. You can get it working on wireless Oculus Quest and Quest 2 too.
This bundle is available until Wednesday, April 21st.
Gamers give by purchasing virtual reality hits
Humble Bundle is on its second offering of virtual reality bundles. The first one was a success. The second one clearly doesn't disappoint.
Humble Bundle not only gives newcomers in the virtual community a warm welcome. It also gives all gamers the chance to give back.
As of writing, The Humble community has contributed over US$195,000,000 to charity. They started in 2010 and since been making a difference in the world.
It's your chance to participate and at the same time try out amazing titles for less.
Humble Spring into VR is worth it.
The bundle is worth purchasing because it is cheap and you only pay for what you want. Also, you have a choice where your donations go.
Escaping into VR is not only a relief, but your purchases can also be. Your donation can be a relief in areas of our community that needs your help.
Thanks to the Humble community for making VR charity possible. Make meaningful fun this year and take part in solving the world crisis.