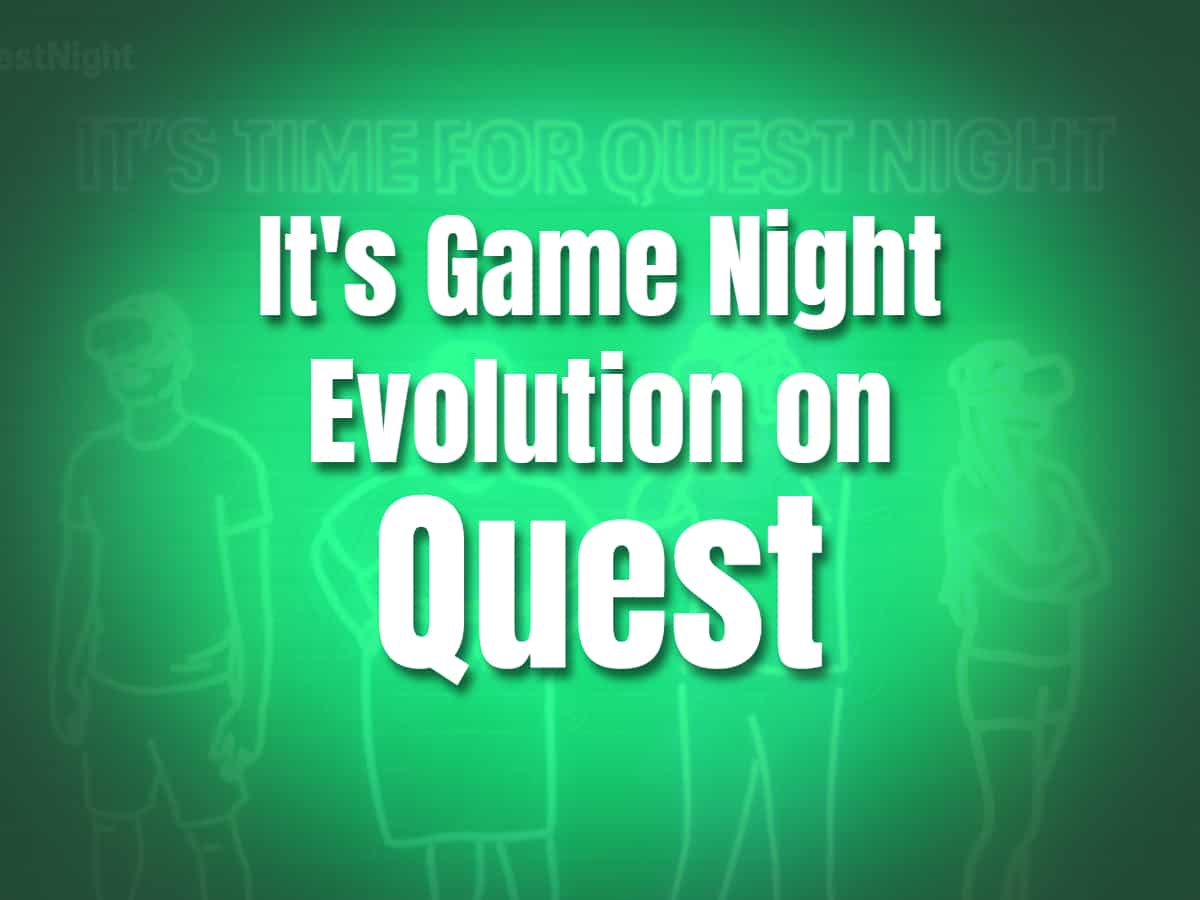 It's Game Night Evolution on Quest
Published
March 8, 2022
under
MORE
Quest just announced in a blog post a new exciting event. To heat things up for groups of people to meet in VR, the company officially announced Quest Game Night happening on Tuesdays starting this week. Here's what you can expect from this weekly event.
A new experience
The Quest Game Night is the evolution of the original game nights that we know. It's where friends meet up together, play a few games, and enjoy life together at a fun party. In the original game night, friends play some board games, watch tv, fight as opponents, or belong in teams as allies. However, playing and fun in VR are upgraded into a new experience.
With an ever-growing number of games you can play with friends and family, game nights can now be experienced in VR via Quest. VR provides more immersive experiences for everybody. Quest seems to be branding itself as an amazing place to meet your friends and family across the globe. It's one of the advantages of game nights in VR. It is easier to be virtually together and interact with each other like never before.
Of course, VR is probably the next best thing to personal interaction. But it is pretty convenient for everybody, especially during this time of the pandemic. It is easier not to miss game nights this way.
Quest is the new party place
Quest is leading the way for people to see VR as an avenue to have fun and share that fun with their friends. Meta, then Facebook, has a lot of history of gathering people together in one platform to share fun and connect with each other.
This week, we are about to witness the first Quest Night and witness its success. The game night evolution allows for anyone to create a party. You can call out your friends and send party invites to join your party.
Alternatively, you can check your friends list and see who's in a party and simply join them. Partying is made easy on Quest. And nothing to clean up after. So have the best fun and call everyone to have the biggest blast every Tuesday night.
Party any time
The official blog also confirms that anyone can create a party any day of the week. While Tuesday is officially Quest's Game Night. Any chosen day can be you and your friends' game night. All you need to do is plan the best games and interactive experiences for your friends to join.
#QuestNight
Have a great time at the first Quest Night of the year this week. Use the hashtag #QuestNight to share all of the fun you and your friends are having. If you are to host the party, what games do you have in mind?
Check out their introduction video to get a better glimpse of what Meta Quest is up to for the Quest Night.
Share your thoughts in the comments section and let's start a conversation here. Quest has been keeping the spirits alive, making things always exciting in VR. We are excited to see what other events would follow from other platforms and how much engagement these would get from the VR community. Have fun in VR everyone! Ciao VR fam!