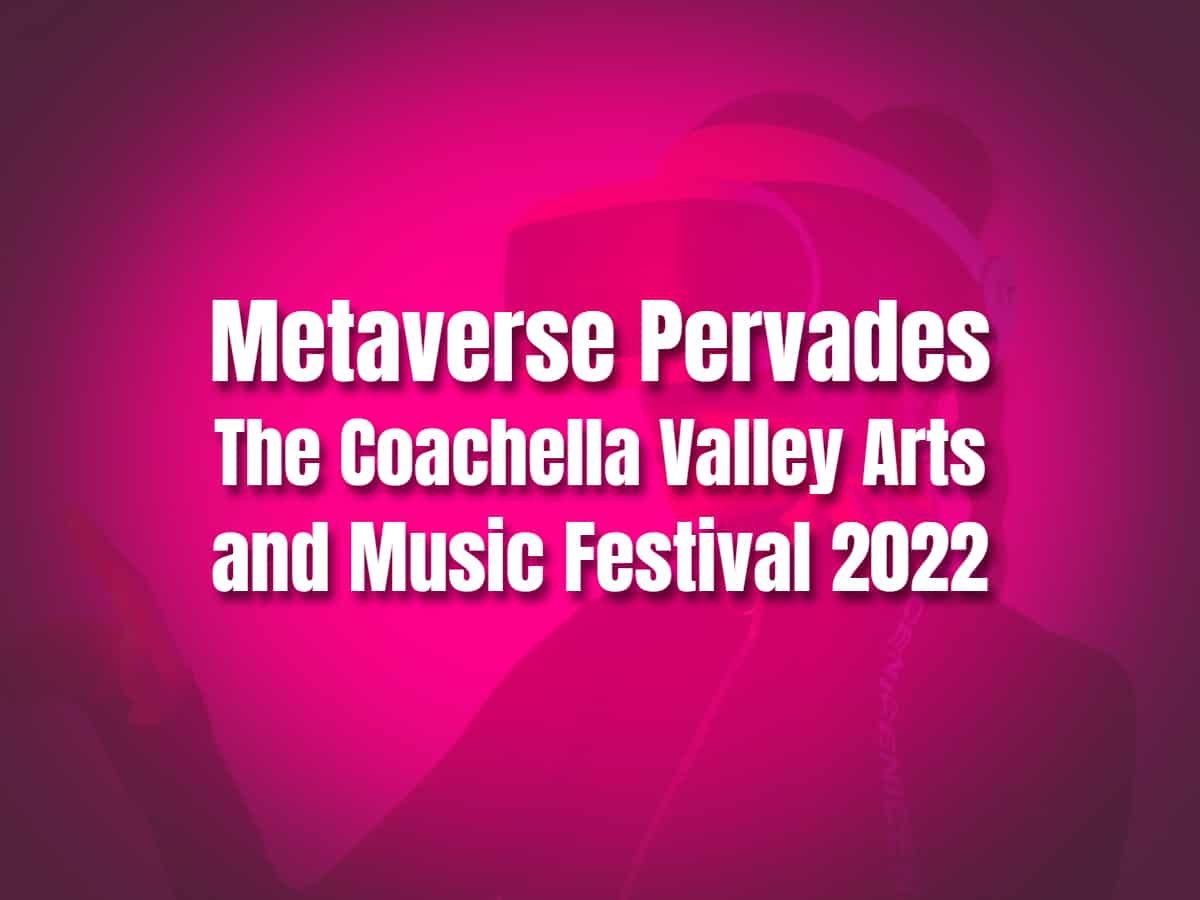 Metaverse Pervades The Coachella Valley Arts And Music Festival 2022
Published
April 26, 2022
under
MORE
This year's Coachella Valley Music and Arts Festival fuses arts and music with technology and innovation. After a two-year hiatus due to the epidemic, the popular festival made a triumphant return, raising the spirits of all arts and music enthusiasts from across the world. Coachella took a step ahead to embrace the world of the metaverse, which has blossomed instead during a period when the rest of the world is in isolation. Coachella, with its own metaverse, has changed and will continue to revolutionize the way the event attracts fans from all over the world.
Coachella organizers join other brands in the metaverse
With brands like Gucci, Nike, and NASCAR to name just a few, more and more brands are entering the metaverse. Most not only for promotions but fully investing in NFTs and virtual merchandise.
This year, Coachella has taken a big stride towards immersive experience utilizing AR technology, video games, NFTs, and the interactive online community. All these can be experienced by both attendees and virtual attendees.
Coachella organizers hope to bring a wider community of both virtual and physical participants together this year, producing a massive celebration of arts and music as well as innovations. This was made possible during the two-weekend-event.
Innovating performances in Coachella
Coachella has long pushed artists to reinvent their performances, according to the event's Innovation Lead, Sam Schoonover. Previously, they enabled live-streaming to offer Coachella to viewers at home. Because both home and onsite audiences watch the performances concurrently, AR technology is an ideal innovation for enhancing both types of audiences' experiences.
Just the beginning
The invasion of the metaverse has only just begun in Coachella. We may expect more AR-powered immersive performances in the future. The future of concerts was exhibited by Flume during the festival. Flume, an electronic artist, set the stage on fire with hybrid components. The entire performance utilizes both digital and real-world components to create a symphony of epic visuals.
Flume has collaborated with Epic Games to create the first Livestream that incorporates augmented reality technology into a musical performance using the Unreal Engine. We're talking about massive 3D visuals that are flawlessly integrated on stage, floating around the artist and up into the sky.
Coachella 2022 happened this month of April. Started from April 15 to 17 and April 22 to 24. The event was graced by numerous popular artists like Harry Styles, Billie Eilish, and more.
Indeed, nothing beats being there to witness festive performances with your own eyes. But there is more than a set of tech-powered glasses or headgear can accomplish to allow more people to see spectacular performances. With the new Coachellaverse, we know there is more to watch out for next year that involves these technologies and probably better ones. Our future of immersive entertainment is just around the corner.