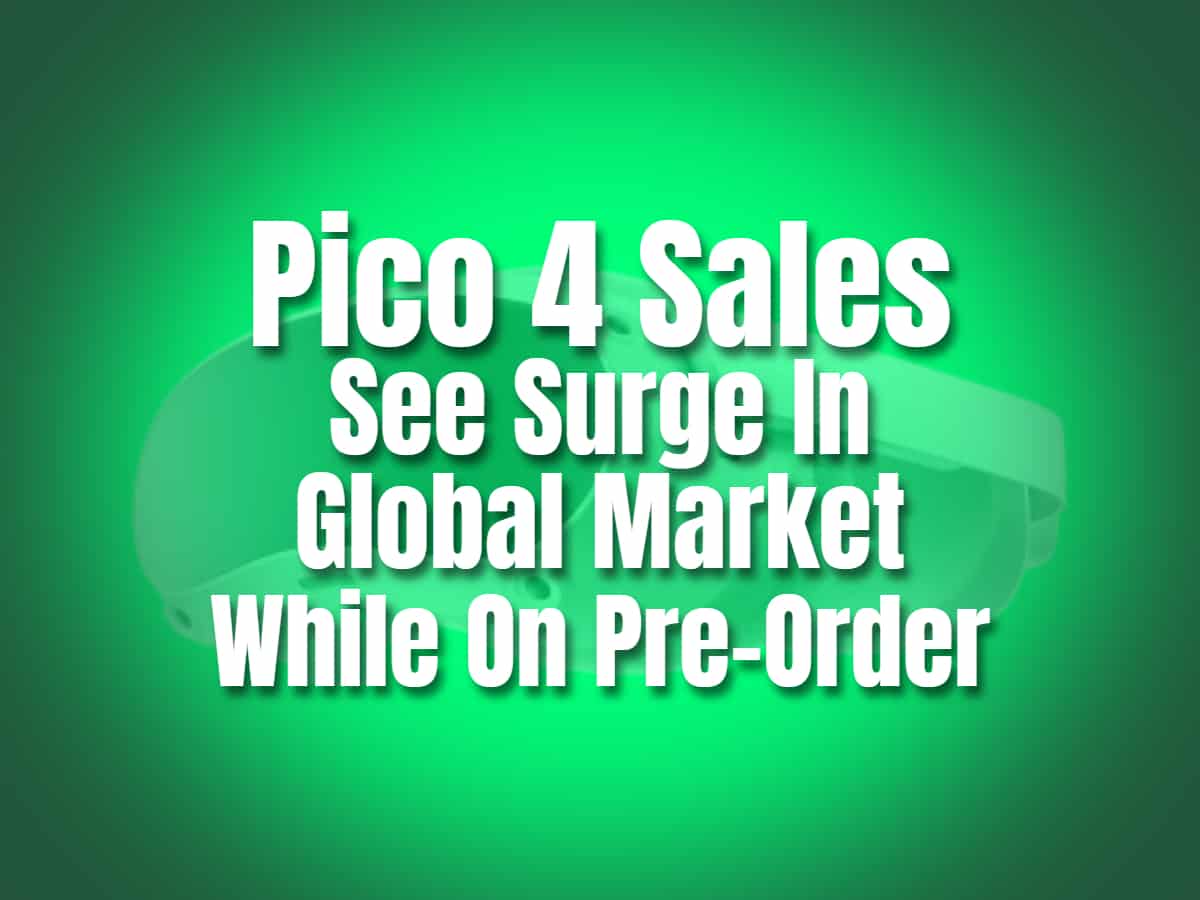 Pico 4 Sales See Surge In Global Market While On Pre-Order
ByteDance unveiled Pico 4 on September 22 in China and the following day on the global market. In August 2021, ByteDance, the company behind TikTok, one of fastest growing social networks today, acquired Pico. This month of October, the company released Pico 4 for preorder on selected markets globally. Pico 4 was described to be the closest to potentially rival the popular VR standalone headset Meta Quest 2.
Pico 4 announces delivery delays due to unprecedented demand
Pico 4 was first released on its local market in China. Pre-orders for the global market includes select markets: Europe, Japan & South Korea. It is scheduled to ship units to these countries by October 18, but recently announce delays on shipping the pre-ordered units to Europe. Pico 4 is currently unavailable for US consumers.
With that said, the delays will only affect European market and the rest ships as planned. The company reasons out that this is because of "unprecedented" demand of the Pico 4. The meant to imply that sales on the global market and China are more than they expect at launch. Also, they are probably prioritizing preorders from Asia before Europe.
However, the influx of preorders is always a great news for the company. Based on this, the sales show positive reception from these markets. Pico 4 recently launched in Malaysia. In an event on October 12th, the latest headset was unveiled. Pico 4 was open to be tinkered with for three days, giving Malaysian a feel of what this device can do.
Pico 4 headset features vs Meta Quest 2
Pico 4 is an all-in-one standalone VR headset similar to the Meta Quest 2. It uses the same processor used in Meta Quest 2, Qualcomm Snapdragon XR2 Gen 1. Similar but not quite.
Pico 4 claimed to have improved what Quest 2 can deliver. Regarding its form factor, Pico 4 is compact, slimmer and weighs less than Quest 2. The visor only weighs 295 grams compared to the Quest 2 that weighs about 470 grams. It uses pancake lenses which means smaller panels and shorter gap between the lenses.
Pico 4 has a wider and taller field of view. The device also has LCD resolution at 2160×2160 LCD compared to Quest 2's ~1720×1890. Pico 4 also improved the passthrough technology on their device, leading at high resolution color passthrough vs the low resolution gray scale passthrough of Quest.
Pico 4's battery was designed to bring balance onto the headset, placed at the rear of the device. This reduces the weight on the front-end of the visor. Here's a comprehensive comparison.
Current apps and games on the platform
Pico 4 official website highlights its fitness VR use with specific features such as the the Pico OS 5.0 Sports Center which integrates CalSense physical fitness monitoring algorithm. Pico 4 also offers a VR sports kit.
Here's a glimpse of the VR games you can play on the Pico 4 platform.
You can also stream PC VR games via wired display port option. However, recently Virtual Desktop confirmed that it will be available on Pico 4 devices. Virtual Desktop is an app that can wirelessly stream PC VR game on Pico 4 device, allowing you to access content on your PC VR.
As a stand-alone VR headset, the Pico 4 VR headset is a good contender. The 128GB and 256GB models are priced extremely competitively at €429 and €499, respectively. As it reaches the worldwide market and hopefully becomes available in more countries, we'll be watching how this newest VR headset competes with Quest 2 even though it isn't (yet) available in the US.