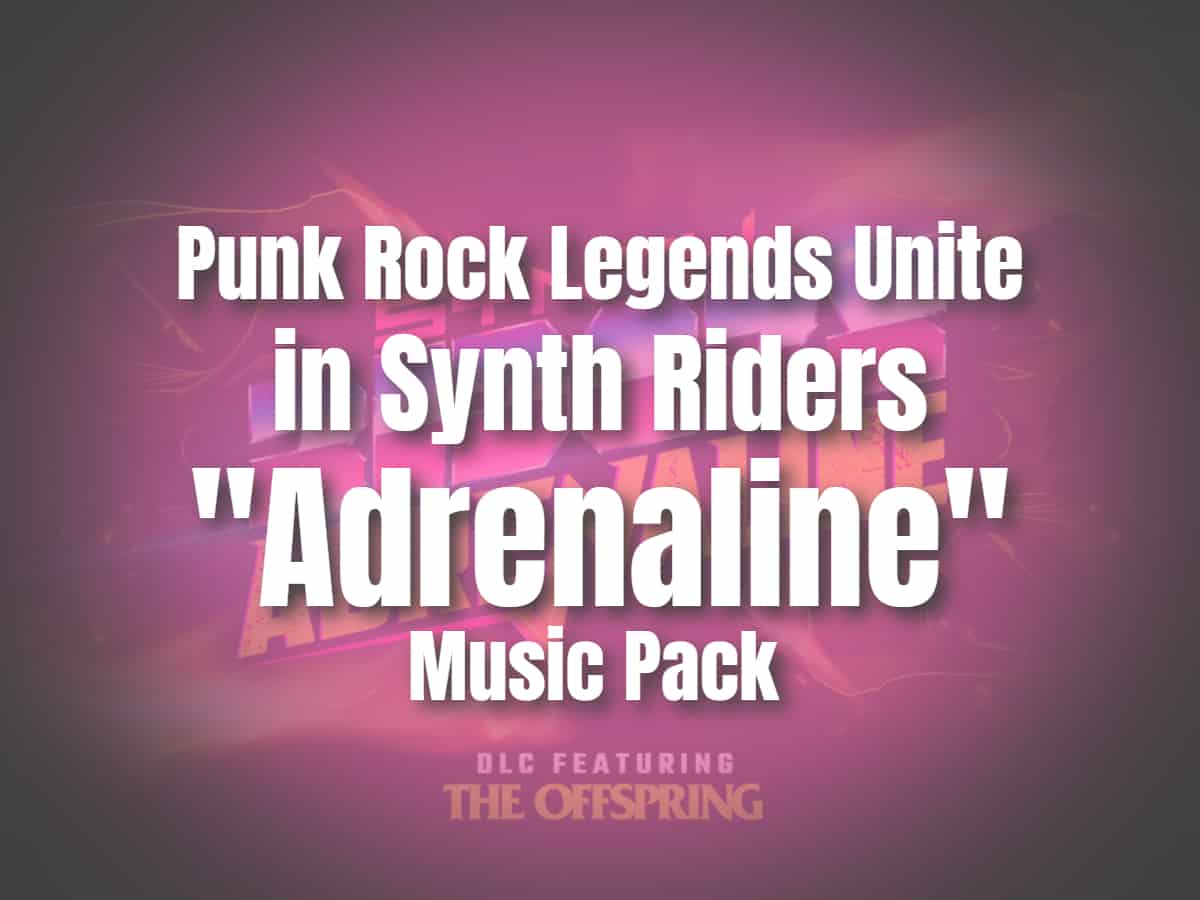 Punk Rock Legends Unite in Synth Riders' "Adrenaline" Music Pack
Come out and play all VR and punk rock fans!
Synth Riders invites everyone to come join the VR mosh pit with its new epic music collection. Featuring legendary punk rock bands, time to rock out to the tune of your favorite punk rock legends.
Synth Riders is a freestyle dance rhythm game on VR. Now on their fourth release of their music pack, they give avid VR groovers more to love about them.
What's in the new "Adrenaline" music pack? Let's get right into it. Synth Riders not only promises new smashing hits to groove and rock out. They also got you all VR users another special Synth Riders experience on VR.
Following three epic line up, Adrenaline Music Pack launches this March 2021
Synth Riders had released 3 music collections so far. Which of these music packs is your favorite?
"Electro Swing Essentials" Music Pack
Released: April 2020
Genre: EDM, Hip-hop, House, Vintage Swing & Jazz
"Cyberpunk Essentials" Music Pack
Released: August 2020
Genre: EDM
"Synthwave Essentials 2" Music Pack feat Muse
Released: January 2021
Genre: 80's music
Experience: "Algorithm" by Muse
The new music pack featuring "Come out and Play" by the Offspring
Have a peek at the second experience for Synth Riders users. Experiences are special Synth Riders' VR experiences like the previous "Algorithm". Also called an Alternative Reality Version. This experience has a special visual that is themed and synced perfectly with the music.
This time the new experience is heavily themed by punk rock. It has a lot of skull imagery perfect and ready to rock out your VR groove.
Adrenaline music pack includes 8 songs from The Offspring, Bad Religion, Rancid, and others
The collection has 5 paid DLC songs inclusive of a new experience and 3 bonus songs that you get for free.
Five paid DLC songs
The Offspring - "Come Out And Play"
The Offspring - "Self Esteem"
Bad Religion - "21st Century (Digital Boy)"
Rancid - "Time Bomb"
The Interrupters - "Gave You Everything"
Three songs free
Pennywise - "Never Gonna Die"
Too Close To Touch - "Hard To Love"
Plague Vendor - "New Comedown"
Available on Oculus, Steam, and Vive
The music pack is now available on Oculus and Steam.
Adrenaline's DLC paid tracks are priced at $1.99 individually. You get a 20% discount if you get it all together as a bundle. While the free songs will roll out as an update.
Currently, Synth Riders has a total of 20 DLC tracks and 55 tracks for free.
Oculus Quest demo
If you are new to Synth Riders, you can try it out via Oculus Demo. This is available on Oculus App Lab. In this demo, you can try 5 songs on all difficulty levels with all modifiers.
What we love about Synth Riders
Synth Riders listens and gets us the best experience we can get out of rhythm VR gameplay. The experiences are an absolute treat.
We think Synth Riders are pretty consistent about improving their gameplay and the total VR experience. The music packs are epic and it just gets better. Who knows what their next surprise is. What music genre or songs are you excited to be on Synth Rider VR? Comment down below.