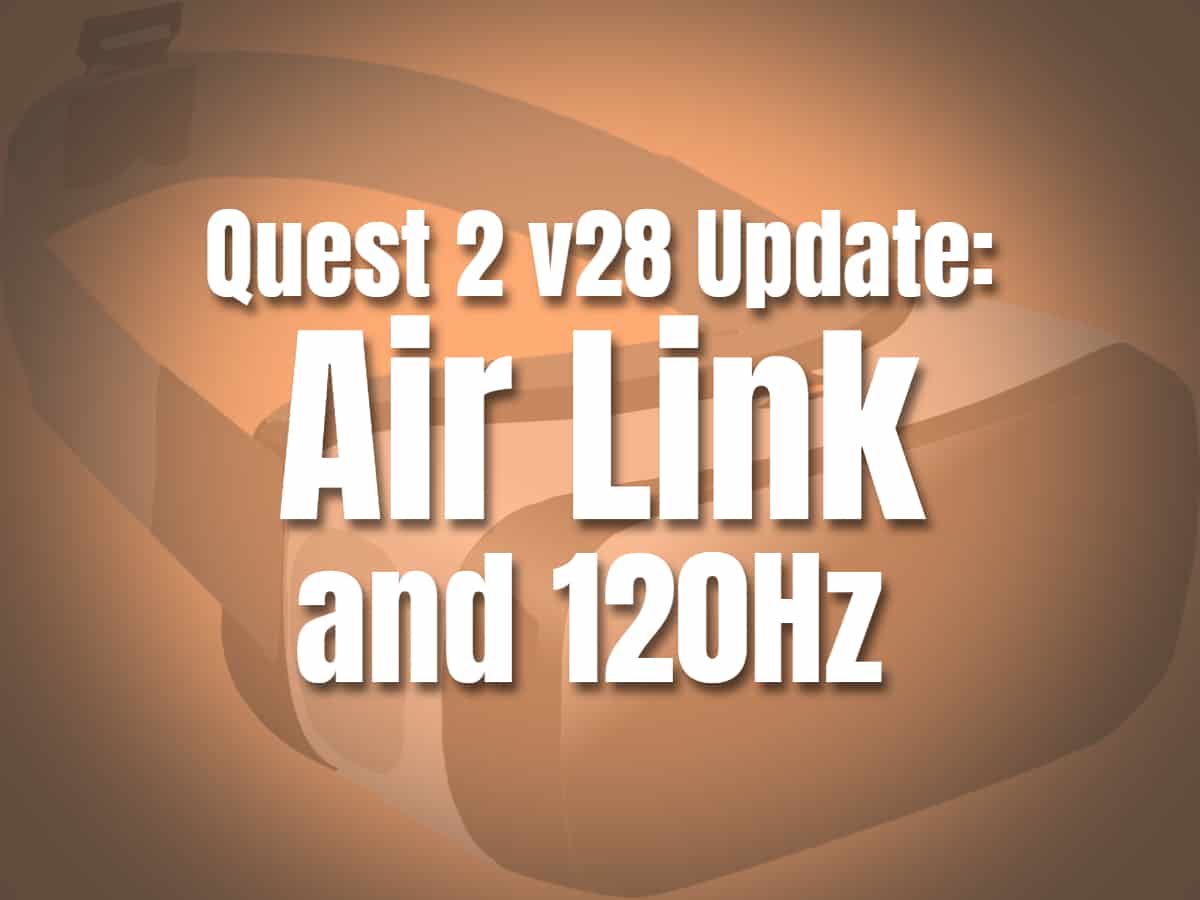 Quest 2 v28 Update: Air Link & 120Hz
Published
April 20, 2021
under
MORE
Oculus announces the new software update for Oculus Quest. The V28 software update will be rolling out soon.
Exciting new features and capabilities are coming out for Quest 2. Here's what we know so far about the latest software update.
Quest 2 will be ready for the wireless experience of PC VR games soon
The V28 update will allow Oculus Quest 2 a wireless PC VR game experience. This is through the Oculus Air Link.
Oculus Air Link is completely wireless using WiFi connection.To unlock Oculus Air Link, both PC and headset should get the V28 update. It will come in experimental mode for Oculus Quest 2 for now. But we can already expect it to make a big difference for the Quest 2 gaming community.
What this means to Quest 2 VR gamers is an unobstructed immersive experience of PC VR games. Before, experiencing PC only VR games were possible using the beta Oculus Link. This required a compatible USB-C cable hooked to a gaming PC. This, as expected, limits movement and partially affects immersive gameplay.
Now, Oculus Quest 2 users can enjoy PC VR game content with increased mobility. Wireless gives them the freedom to play high-end PC-only games without the cables.
Experience the improved virtual office environment
The update includes an improvement on Infinite Office. Infinite Office is a built-in set of features on Oculus Home. It is designed to assist VR users with more flexibility and productivity in the VR workspace.
Earlier this year, Infinite Office let VR users find their mouse and trackpad. This without leaving VR. This time they added two additional features that allow physical surface integration.
Infinite Office suite now makes it possible to track your physical keyboard while in VR. Right now, you can pair the Logitech K830 keyboard with your Quest 2.
A virtual representation of your keyboard is full-functional. This creates an improved virtual desk environment. It will allow you to sit back and type comfortably as you should while you work.
Ready for the future of high-performance apps and PC VR content
The software update also supports a native 120Hz refresh rate for Oculus Quest 2. Oculus Quest 2 system will still be running on 90Hz. But the update should give Quest 2 users the option to push on further with 120Hz. Should developers develop high-performance games running at this rate, Quest is ready. This improvement can be expected to ship later with the updates coming for Oculus Quest.
Facebook is pushing Oculus Quest 2 VR experience further
These surprising updates and product development are very much appreciated by the community. Although these are in its early development stage, it promises an amazing experience.
Oculus is moving forward with wireless comfort and more functionality in one device. With improvements in both gaming and productivity functions, the V28 updates show us something. VR technologies are constantly evolving, which makes it more exciting. We are ready for better things to come.