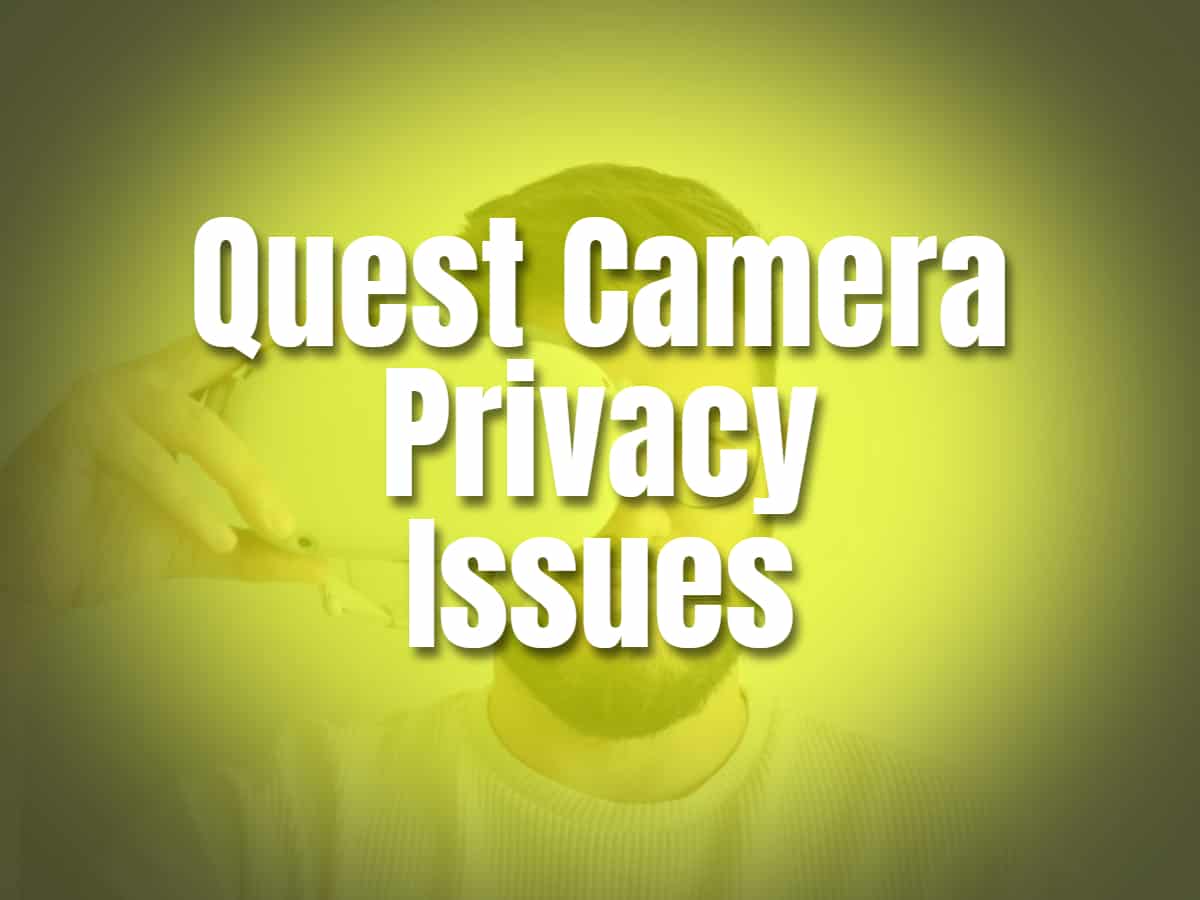 Quest Camera Privacy Issues
Published
November 22, 2022
under
MORE
For many of us, seeing how technology advances have always been fantastic news. Technology elevates us to new heights as newer devices provide a ton more functions. In the virtual reality industry, excitement is high about the new functions that gadgets will provide. Security, however, remains and always will be of the utmost importance.
Data collection is done when you are using a VR headset to enable functionality. Accurate tracking and a host of other VR possibilities are promised thanks to the device's cameras. One Meta product from the most recent release, the Meta Quest Pro, features 16 cameras altogether. Considering what these cameras capture in more detail, what kind of information do they gather each time?
Learn what is being captured by the cameras and what kind of data you are providing to the Meta platform and perhaps other third parties. You should be aware of these privacy issues before allowing a Quest headset into your household, whether you already own one or are simply intending to get one.
Meta's current issues on VR headset user privacy
Meta is currently facing a few challenges in addressing the privacy concerns of its users. Some of these are regarded by some as serious privacy concerns. This includes the company's failure to protect data privacy in the past, the increased number of data-gathering cameras, and the third parties.
Past data privacy issues
Facebook deleted its face recognition data in November 2021. The corporation experienced a significant internal document leak or data breaches. This happened just around the time that Facebook has just announced the transition to Meta. These information leaks originated from the 1 billion faces recognized by the system since it launched the feature in 2010.
The function enables the automatic identification of faces in photos shared by Facebook users, allowing the tagging of specific individuals. Facebook was compelled to delete the said feature and the stored face recognition data as a result of the leak. Since then, the business has encountered skepticism. It's not easy for many to trust Facebook when people start to publicly discuss personal privacy concerns.
The public was made aware of the "informed consent" problem with Ray-Ban smart glasses in July of this year. Meta addresses the problem of onlookers' consenting to be recorded while wearing smart glasses in its first human rights report.
The Ray-Ban Stories smart glasses have two cameras, open-ear speakers, and a microphone that can record videos for up to a minute. Though the problem was acknowledged, Meta stopped short of proposing a fix. The company did little more than advise to conduct additional user research and look for bystander consent cues.
Meta Quest Pro's 16-camera data-collecting power
Having a total of 16 cameras is a proud feature of Meta's latest VR headset. Each camera is responsible for the headset's different features. The mixed-reality headset Meta Quest Pro is designed for business people who wish to use VR productively. In order to improve body and facial tracking, Meta's newest headset comes with even more cameras. The Meta Quest Pro is better at collecting data. This is a concern for some.
However, Meta briefly outlined how Quest 2 and Quest Pro gather information in particular from these cameras.
Third-party apps access
Will Meta get others to access this information? Other businesses may also receive information on a Quest Pro user's face and eye movements. With the help of a new Movement SDK, outside developers will have access to abstracted data on the user's gaze and expressions for use in animating avatars and other characters.
What information is collected by Meta through your headset
How your headset and controllers are positioned and their orientation
Purpose: Make your avatar's movements more realistic by figuring out body position.
Changes in your orientation, the position of your headset, and the speed at which your controller moves
Purpose: Delivering a realistic and engaging virtual experience
Your audio data, when the settings for your microphone are enabled
Purpose: To animate the lip and face movements of your avatar.
Technical data, including estimated hand size and hand position data, is gathered if Hand Tracking is enabled.
Purpose: In order for the feature to function, this data must be provided.
They process abstracted gaze data if Eye Tracking is enabled. Gather and save some information about your experiences with eye tracking.
Purpose: To enhance your virtual reality (VR) experience, facilitate app interaction with virtual content, and animate the eye and facial motions of your avatar.
They process abstracted facial expression data if Natural Facial Expressions is enabled. They also collect and store certain information about your interactions with Natural Facial Expressions.
Purpose: To ensure that it functions properly and to make your avatar's expressions appear more realistic in virtual reality.
They process abstracted fit adjustment data if Fit Adjustment is enabled. Collect and save some information regarding your interactions.
Purpose: To determine if your headset is properly positioned and to offer advice on how to adjust it.
Features like natural facial expressions, eye tracking, hand tracking, and fit adjustment are optional. You always have the option to enable or disable it. Disabling it will also remove the feature without requiring data gathering.
Additionally, Meta affirms that the primary functions of the features are for their functionality and not for user identification. The raw photos are handled in the device; they are not stored nor forwarded to Meta or other parties. However, Meta is gathering abstracted data, which is information derived from raw images.
It's also vital to keep in mind that all of your headset's sensors, as well as all of the cameras that are always on when it's in use, are all disabled when it goes into sleep mode.
Quest Pro Light indication features you should know about
Along with the option to enable and disable features that collect data, Meta also includes LED light indicators to help users know when the cameras and sensors are active.
White light on the headset: When the LED on the front of the headset is white, the cameras are active.
Blue light on the headset: When the LED on the front of the headset is blue, the cameras are active and in passthrough mode.
White light on controllers: This means the controller cameras are active.
Protect your privacy in VR regardless of which VR headset you use
Virtual reality headsets are a thing today and in the future. When an increasing number of people connect virtually, regardless of which virtual reality headsets we are using, more and a lot more data will be collected. These data are needed to deliver better features and services. However, it should still be every VR company's main responsibility to protect the users that patronize their products.
As a user, take necessary precautions by not disclosing personal information anywhere in VR, including to other users. Always read data policies and terms and conditions. Also, be responsible for the security of any financial and account information.
Quest 2 and Quest Pro are one of the most popular hardware of today integrating exterior cameras and interior cameras which helped create great experiences in the platform. Beyond functions and features, security and risk remain relevant issues in the virtual reality world and the internet.