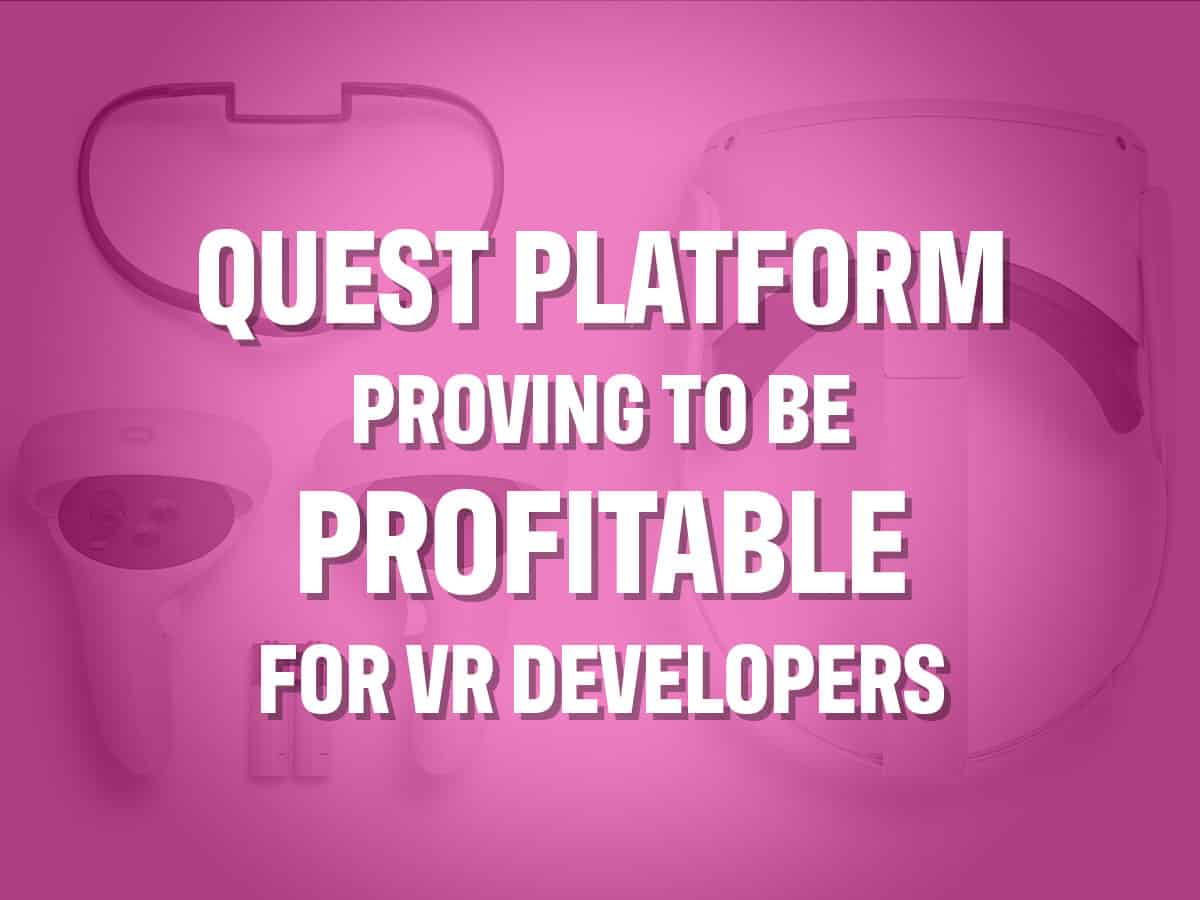 Quest Platform Proving To Be Profitable For VR Developers
The future of the VR industry is looking good. Oculus is heating things up with an impressive revenue report thanks to the Quest 2. From 35 titles generating millions of revenue, there are now 60 titles on the platform. This doubles the numbers from last year.
Oculus Quest's announcement gives us insights into the fast-growing VR industry. The figures are impressive and the developers are happy. This gives us an idea of what the future of VR holds for both devs and VR communities.
Oculus Quest 2 set things up for more developer successes this year.
Quest 2 is a major breakthrough in the world of gaming. Who would've thought that bringing VR to the masses would have come so quickly? Many saw VR somewhere in the future of gaming, but Oculus Quest 2's success proves that there's never been a better time for VR.
At Facebook connect 2020, developers shared impressive successes on the platform. Developers have generated a million dollars of sales in as little as four days. And the revenue has since doubled this year as the platform gained momentum over the holidays.
Developers of all sizes are eyeing significant revenues.
One title we are watching is Synth Riders. The developer of Synth Riders, Kluge Interactive, created this immersive music experience for VR users. It has a unique combination of incredible music, dancing, and fitness workout. Synth Riders attract more diverse users to the Oculus Quest 2 platform.
Synth Riders is one game that hit over $1M revenue on the Quest platform alone. Synth Riders reports a 3x increase of active players since the Oculus Quest 2 release. On a yearly comparison, Synth Riders increased its monthly revenue 9x every year.
There has been steady growth for titles like Synth Riders and many others on the platform. This is since the release of Oculus Quest 2.
Fast-growing revenue since the release of Oculus Quest 2
Oculus is happy to cite some of the fastest-growing revenue leaders on the platform. With Onward hitting $1M in just 4 days and Five Nights at Freddy's: Help Wanted surpassing the $1M mark in 1 week. Those are significant figures to start off with.
This news gives us a peek of where the VR industry is going this year. In addition to the VR developers, Oculus itself has doubled revenues already.
Even better news is that apps on the platform are growing revenue. Fitness apps and non-gaming apps are joining in. They are gaining popularity as more diverse communities are being formed.
There are more women using Oculus Quest 2 than other headsets before its release. Now, VR is clearly not just for gaming. Oculus Quest opens up more opportunities for developers as it gains momentum.
Something we also should keep an eye on is how Oculus Quest 2 gains traction on Social VR. Oculus reported a drastic change over the last three months. It's something we all want to see how this turns out.
Conclusion, it's a great time to be a VR developer
The Quest sales stats are encouraging for VR developers. The future is full of promise for the VR communities and the VR ecosystem in general.
Can we expect the VR industry to take the world by storm and into every household soon? Or is it too early to tell? Let us know what you think in the comments. The numbers say there is a lot to celebrate for the Oculus Quest 2's success. Both the present and the future are looking bright for VR.