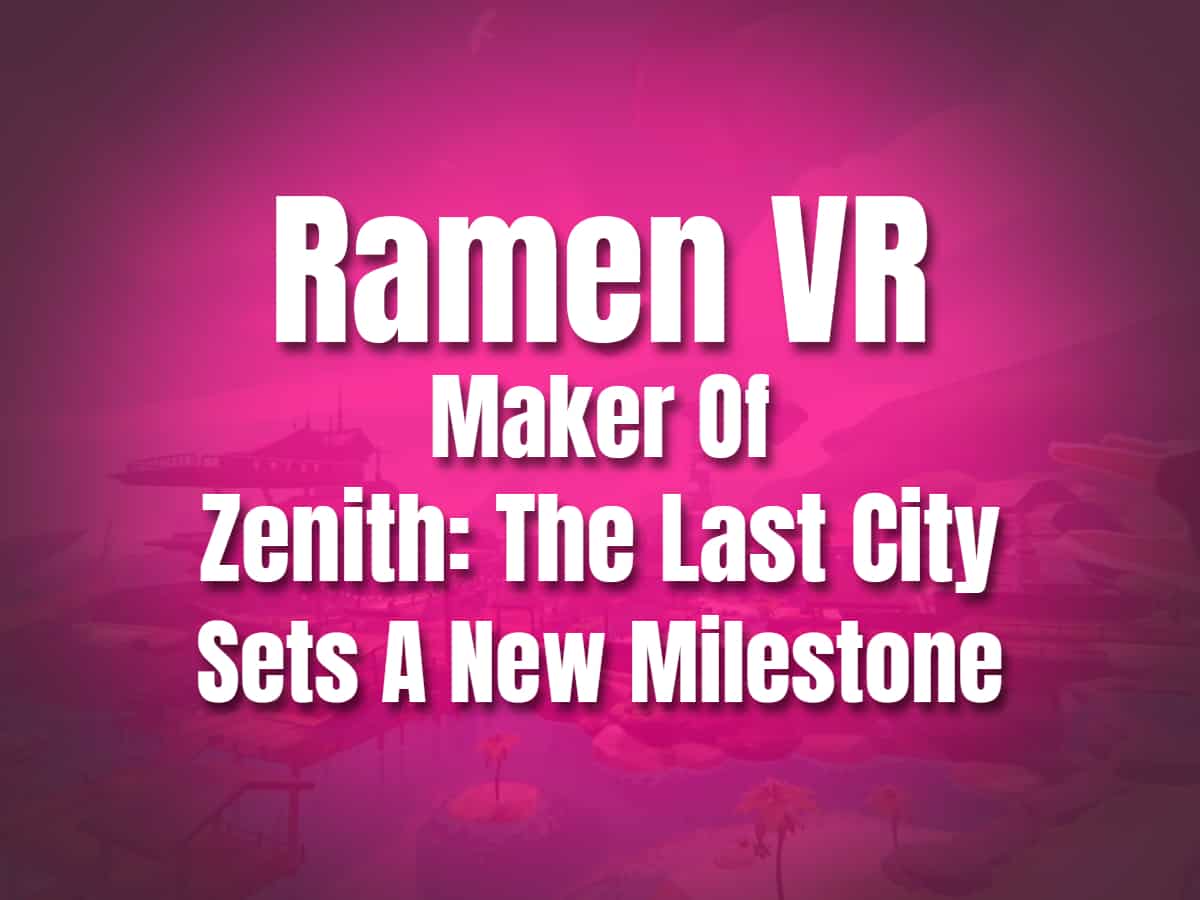 Ramen VR, Maker of Zenith: The Last City Sets a New Milestone
Published
March 22, 2022
under
MORE
January 27th this year saw the successful launch of Zenith: The Last City on different VR platforms. To date, it has topped the charts with impressive reception post-launch. Ramen VR, the game developers of this VR MMORPG have the full confidence of its patrons, enough to raise another $35 Million as Series B funding closes.
Zenith: an ambitious MMORPG
A few months after its release, Zenith has exceeded all expectations, paving the way for what comes next for this game. From the beginning, developers have expressed great plans for this JRPG-inspired game.
Many people's dreams have come true with this open-world VR roleplaying game. Many gamers have been longing for an MMORPG with this level of immersion. When you put on your headgear to play this game, you are instantly transported to another world. It immerses you in character while allowing you to engage with other players more naturally. Instead of typing to say hello or goodbye to other players, you may effortlessly communicate yourself by using gestures. While completely engaged in the Zenith universe, you may speak about your adventures and quests, make new friends, and meet new people. Zenith also allows crossplay and cross-progression across all VR platforms. Now that the game is causing a stir, the makers hope to move on with great plans for the future.
Explore the Zenith open world
The world of Zenith is designed for thrilling adventures and exploration. According to the developers, players explore the world of Zenith for an average of 2 hours a day on different platforms. Ramen VR's CEO and co-founder Andy Tsen is quite proud of the reception that the game received. The CEO thinks Ramen VR is ready to expand the horizon for Zenith. In a statement, Tsen mentioned building massive interconnected gaming worlds to explore.
What's next for Zenith: The Last City
With the additional $35 Million, the money will be used to double the size of the studio and grow the team. Right now, the studio is hiring for the following posts:
3D Environment and Prop Artist
Art Director
Tech Artist
Engineering Director
Gameplay Engineer
Graphics Engineer
Lead Backend Engineer
Chief of Staff
Game Designer
Lead Game Designer
QA Lead
Check out their official website for more information about the Zenith gameplay and the latest news and updates.
More to expect
Zenith will have a bigger and greater world of adventure thanks to the team's planned growth. These modifications are more likely to be implemented in the game.
New classes should be included. Ramen VR has already announced the addition of the Cyber Ninja stealth class. There could be more. Improvements such as new quests and legendary armor sets can also be expected in the future.
The future world of Zenith is projected to feature a massive new realm to explore and experience like never before, thanks to major sponsorship from Anthos, Dune Ventures, and the rest of those placing their confidence in this game to be legendary.
We quote from David Brillembourg, GP of Dune Ventures, "With the record-breaking launch of Zenith: The Last City, Ramen VR showcased its strength as the leading VR MMO studio. We are very excited to be tripling down on Andy and Lauren. Their vision for the future of VR has captivated us from the beginning. Seeing Ramen's vision play out has only given us more confidence that Zenith is just getting started."
Are you playing Zenith: The Last City now? Tell us what you love about it. Let's talk about other massive potentials of this game. Share your thoughts in the comments section below. Ciao VR fam!