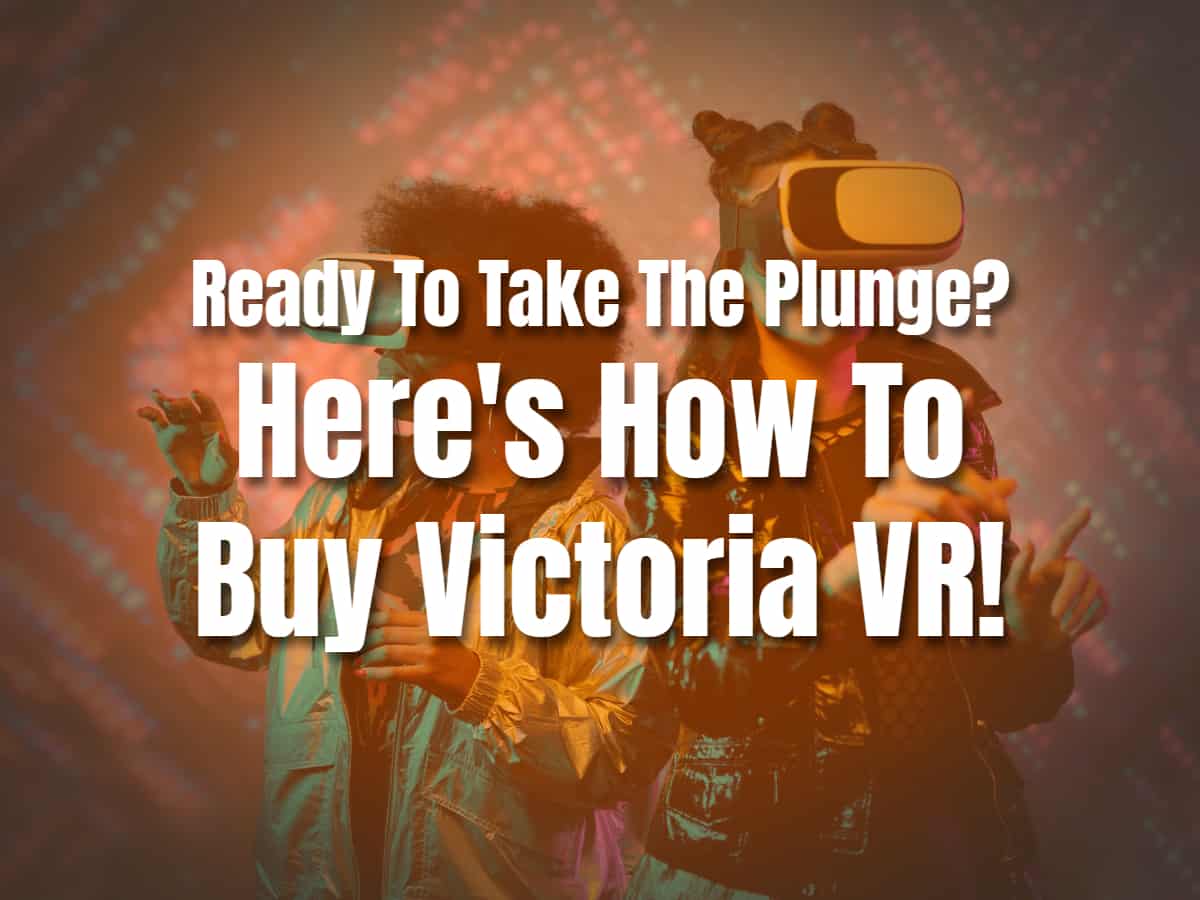 Ready to Take the Plunge? Here's How to Buy Victoria VR!
Published
February 14, 2023
under
VR GAMES
Are you ready to take the plunge and buy Victoria VR (VR) tokens? Buying Victoria VR is easy and can be done through a few different exchanges. KuCoin, Huobi Global, and Gate.io all offer the ability to purchase VR with a credit card, debit card, or Bitcoin (BTC). With these exchanges, you can easily buy Victoria VR tokens and start trading them on the market. You can also sell your Victoria VR tokens if you decide that it's time to cash out. No matter what your goal is, buy or sell Victoria VR tokens, these exchanges make it easy to do so quickly and securely.
This article will demonstrate how to buy Victoria VR and give you several things to think about prior to making a financial commitment in virtual reality.
What is Victoria VR?
Victoria VR, a blockchain-based MMORPG designed solely for virtual reality gaming, has garnered much attention for its realistic graphics and deep, engaging gameplay. It's quickly become one of the top virtual reality titles in the market. It was created using the Unreal Engine, which offers an all-in-one platform for play, the development of applications and games, digital realities, and more. This provides users with a safe and secure environment to engage with each other while still being exposed to a broad range of capabilities.
The game has become increasingly popular among investors due to its innovative use of blockchain technology. By using blockchain technology, Victoria VR ensures that all transactions are secure and transparent. Additionally, the game's token economy allows users to purchase items within the game using their own tokens or by trading with other players. This creates an interesting dynamic where users can invest in the game's economy by buying tokens or trading them for items within the game.
7 Benefits of Buying Victoria VR
Victoria VR offers a revolutionary way to handle the metaverse sector, which has a number of benefits. Here are just a few:
1. Easily Create NFTs
Victoria VR allows users to create their own Non-Fungible Tokens (NFTs) with ease. These NFTs can have more uses than just being decorative collectibles, as they can grant users superpowers within the game, like invisibility and flying. This can be extremely useful for those trying to stand out within virtual worlds.
2. A Self-Sustaining Economy
The project is working on building a universal platform for all virtual realities, games, dApps, and more, creating a self-sustaining economy with its own native VR token that can be used for staking, DAO models, buying lands and items within the game world among other things. This ensures that all activities within the metaverse remain connected and functioning properly.
3. Revolutionizing Businesses Models
Traditional companies will also be able to set up locations in the ecosystem to promote their goods and services both inside and outside of VictoriaVR. This helps create new business models and gives rise to digital entrepreneurs that will offer innovative goods and services globally without any real-world barriers.
4. Becoming part of DAO by Buying VR Lands
When you buy virtual plots of land within the Victoria VR ecosystem by purchasing NFTs, you become part of their DAO. This allows you to participate in the project's governance and take part in voting on proposals that will affect the project's future, as well as making your own suggestions for others to vote on.
5. Enjoy De-Fi features
Victoria VR also is a project that includes all major trends that emerged in recent years – including metaverse projects as well as NFTs and DeFi components. By holding their coins in staking platforms, users can receive passive income rewards – not unlike similar yields found across many DeFi platforms these days. Users are also eligible for passive income generated through their purchase of modificatory assets or what some would call yield farming activities!
6. Becoming part of the governance process
As mentioned previously, buying into Victoria gives users the chance to be part of the governance process. This means they can vote on proposals concerning aspects such as fees, inflation rates, changes in protocols, and more. Through this system, community members get to direct the growth and evolution of Victoria. The vision is for this world to evolve without having to depend on its original creators but on the community alone.
7. P2E Model
Ultimately, users playing Victoria VR's game have something special up their sleeve with its P2E model - they receive rewards by being active gamers and stakers; funds that they can use as they please whether it be investing back in the game or converting their earnings into another crypto or fiat currency on digital currency exchanges. This provides never-ending incentives for players to keep coming back and engaging in activities within VictoriaVR's gaming world.
Step-by-Step Guide to Buying Victoria VR
You can purchase Victoria VR (VR) quickly and easily on popular cryptocurrency exchanges such as KuCoin, Huobi Global, and Gate.io in as little as 15 minutes!
Here's what you need: a smartphone or computer, an internet connection, photo identification, and a means of payment.
Step 1 - Create an account.
First, you'll need to create account on the chosen platform. You will be required to provide personal information and verify your identity using an approved form of ID. This may require taking photos or scans of your documents and is necessary for security reasons.
You will need to verify your identity by providing a photo ID such as a driver's license or passport. This helps meet regulatory requirements, protect against fraud, and make sure that no one else gains access to your funds.
Step 2 - Deposit money to buy tokens.
Next, you'll need to deposit money into your account in order to buy VR tokens. You can use any accepted payment method such as local bank account transfer, credit/debit cards, ACH transfers, and cryptocurrencies like Bitcoin or Ethereum. Once you've made the deposit it should arrive within minutes and you're ready to buy!
Step 3 - Secure your purchased Victoria VR tokens
Finally if you want a safe place for storing your newly acquired coins – make sure to transfer them into a secure wallet such as hardware wallets. This way its extra secure against any potential theft or hacks on exchanges or platforms!
And that's all it takes to buy Victoria VR!
Things to consider when investing in Victoria VR
The key to any successful investment is understanding all the risk factors and making sound decisions. This is especially true when it comes to investing in cryptocurrencies, which can be extremely volatile and have a high degree of risk. Before purchasing VR tokens, there are some important things to consider.
Staking rewards
First, take look at the staking options available. Users can enjoy monthly rewards with their staked VR tokens including a dynamic annual percentage yield (APY), mystery airdrops, whitelisting on virtual lands, and more. Staking allows users to earn passive income so it's important to research how this works before acting on any purchases.
Ways of earning tokens
Another way to earn Victoria VR tokens is by farming/earning them through games, quests and other virtual activities within the metaverse. This means that all users can join for free if they're willing to put in some effort - something that regular investors don't have access to. Allowing users to earn tokens this way also draws attention to the currency, making it more popular and valuable over time.
When considering investing in Victoria VR tokens make sure that you research both ways you can acquire them (staking or farming) as well as any associated fees or risks before taking part.
Be aware of the competition
Be aware of competitive projects in the same space. Giant corporations have invested billions into the industry, such as Meta, Nike, Tencent, and Epic Games. Not only that but within the cryptocurrency industry alone there is competition from Decentraland, The Sandbox, Axie Infinity and Star Atlas. It's important to understand the competitive landscape and how Victoria VR stands out from the crowd.
Advertising features
In terms of advertising potential, the Victoria VR metaverse plans to include a virtual advertising feature that will allow companies to advertise directly to players within the virtual world. All costs would be paid for using VR tokens. This could increase demand on the native token but may also spoil user experience for some players.
Support from partners
.Fortunately, the project has already secured notable partnerships with Dell and several venture capital firms (DAO Maker, Altered Ventures etc). This should give them an edge when competing with larger projects for audience share.
Tokenomics
Lastly, it's important to consider tokenomics when investing in VictoriaVR. There is a max supply of 16.8 billion tokens which are scheduled to be gradually released into the market over time. 78.5% of the tokens will be allocated to metaverse rewards (playing, completing quests etc), 18.5% of tokens will be distributed as staking rewards, and 3% will allocated for development purposes.
Finally, always remember to do your own research and never invest more than you can afford to lose. With these tips in mind, you should be well on your way to buying Victoria VR tokens!
Is Victoria VR a good investment?
For investors considering whether Victoria VR is a good investment, the answer may depend on individual risk appetite and investment goals. While there are no guarantees, Victoria VR proved to be one of the most talked about coins in the crypto space this past year. With this in mind, it is reasonable to assume that Victoria VR has the potential for growth.
According to Coincodex's current Victoria VR price prediction,the value of Victoria VR is predicted to rise by 18.23% and reach $ 0.015243 by February 19, 2023. This enthusiasm seems to be backed up by technical indicators; currently, the sentiment is Bullish while the Fear & Greed Index is showing 48 (Neutral).
Although short-term investments involve a certain degree of risk due to volatility in the markets and other unpredictable factors, investing in VR could offer long-term value and even short-term gains depending on your investment strategy. It's important to do your research and remember that no investment carries zero risk but with careful analysis advantages such as these can be found when considering long-term investments like those available with Victoria VR.
Ultimately, it's important to do your own research before investing in any cryptocurrency, and remember to never invest more than you can afford to lose.