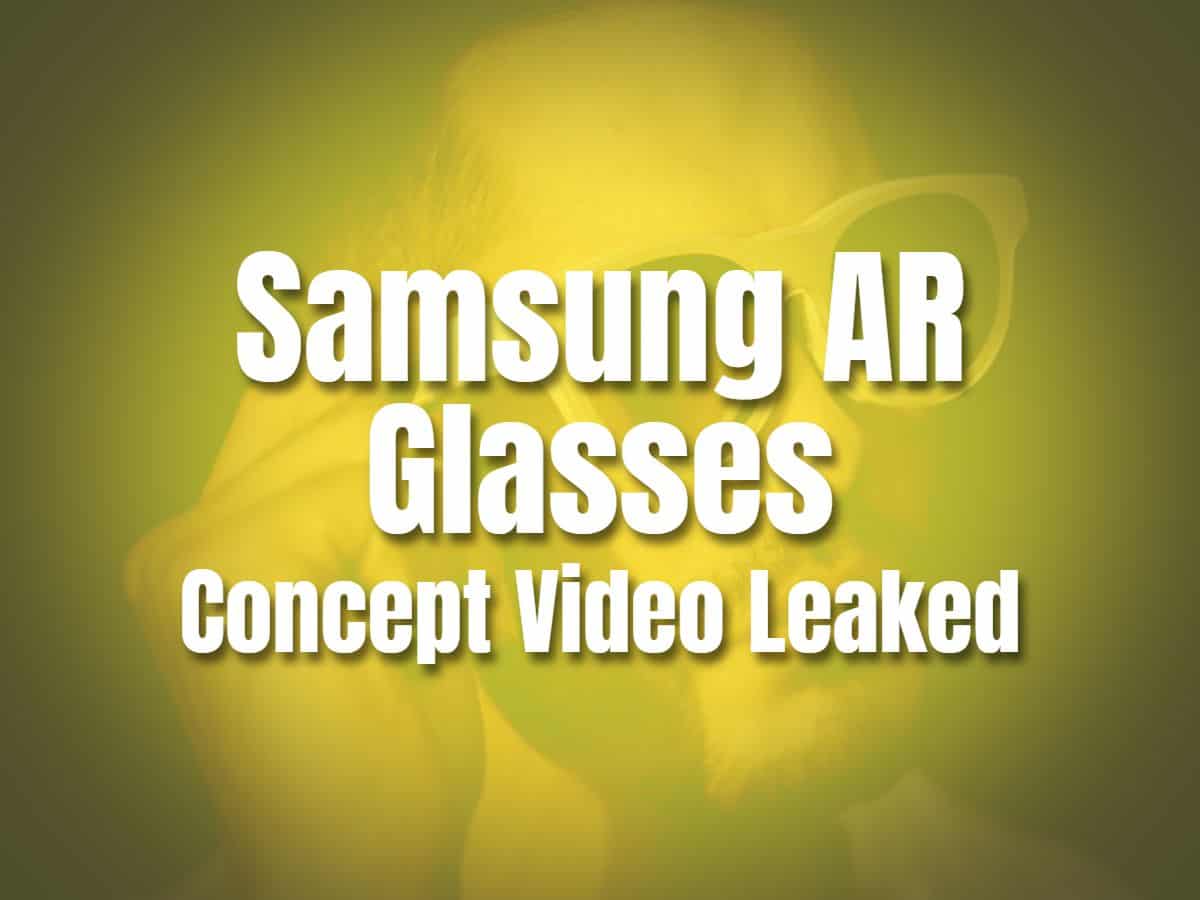 Samsung AR Glasses Concept Video Leaked
More exciting VR and AR news coming our way. Today, we approach the rest of the year with promising developments in the AR VR world. All the great technologies we are enjoying today were all just a concept first.
But many concepts were just cool ideas and remained like that. Unless the makers put on full force to make it a reality, we can all just dream.
Imaginations can run wild. But these concepts from a leaked video of Samsung AR glasses are pretty neat, too. Will these be the next reality in the AR world?
Two concept videos leaked
Leading makers compete for their own VR headsets versions and VR content. We've heard their thoughts about AR glasses, most say AR will have to wait after that.
There are a lot of finer details to look into. Making a handy sleek and wearable device is a challenge. Many think AR glasses will become more mainstream because of the features we expect from them.
Communication-enabled AR glasses require more time for their development. Makers want to create a kind of AR device that everyone would love. A handy piece that offers functionality with an immersive experience is definitely worth the wait.
WalkingCat is known for leaking concepts as it did with the Oculus Quest 2. It was done before its official press release. And now, WalkingCat just released two concept videos of what appears to be Samsung's take on AR glasses.
The videos have two versions: one with the title "Glasses Lite" and simply "Glasses". It seems to provide both casual media use and business immersive AR functionality. The first one appears to be for casual use and the other with a more immersive AR glasses design.
Samsung Glasses Lite video shows details for AR practical use
The concept shows casual all-day wear. It highlights the wearability and lightness of the device. It has a neat shading feature that makes it function as traditional sunglasses. Because of the sunglasses mode, this device should be comfortable enough to be worn all day.
More closely described as smart glasses, it's the smart glasses we expect to use AR for. We would usually want to have smart glasses to provide us an amazing viewing experience. All that while watching media, playing games, and doing video calls.
The video shows a feature enabling users to view media on a virtual flat screen. Also, accessing emails and communication functions via this virtual screen.
It can pair with other devices such as a smartwatch. That could be very handy for both to have for a more enjoyable experience with media on this new AR device.
If everything works out and if this is to be a reality, it would make for everyone's favorite device. Check out how it looks on this leaked video. Would you wear it?
So, what do you think? If the functions can be packed in one lite device, it would be an awesome must-have. But for now, we are happy that these things are taken into consideration. If this is indeed one of Samsung concept videos, that should be a reason to be excited about the future of AR. It is good to have it from different makers offering us more choices in the future.
Now, this leaves us to decide if we are a lite user or we need this for business use. The latter could mean an immersive AR experience. It gives us the possibilities of a functional virtual workspace shown in the next video.
The second video shows a more immersive use of AR glasses
Talk about immersive AR functionality in a single compact device. This video opens by tagging the device as the "next wearable computing". The video shows holographic capabilities for recreating an AR office.
Creating an immersive AR workplace could be the next incredible option. It's a great option for business people, designers, and different professionals. It has the capabilities to do holographic calls with your colleagues and teammates. This is good news for busy people. Creating interactive conducive augmented reality environments for meetings would be possible.
The following is a short video that shows an immersive full AR simulation at the end.
Do you think the cool uses of AR for business people can make a fully virtual workplace possible?
These two concepts address casual media and entertainment uses. It also shows functions people can use for work-related activities. They are great concepts. These features are great to have on AR glasses.
These short but exciting videos provide us with more hopes for the future of augmented reality.
Many believe that the concepts are cool but it's just rumors until they hear it from Samsung. What this gives us though are the exciting possibilities. It looks like Samsung is now joining the AR scene with these awesome concepts. We definitely would wish the world to have all these AR capabilities in a wearable device.
What other features are you looking for in AR glasses? Comment your cool ideas in the comments section below.