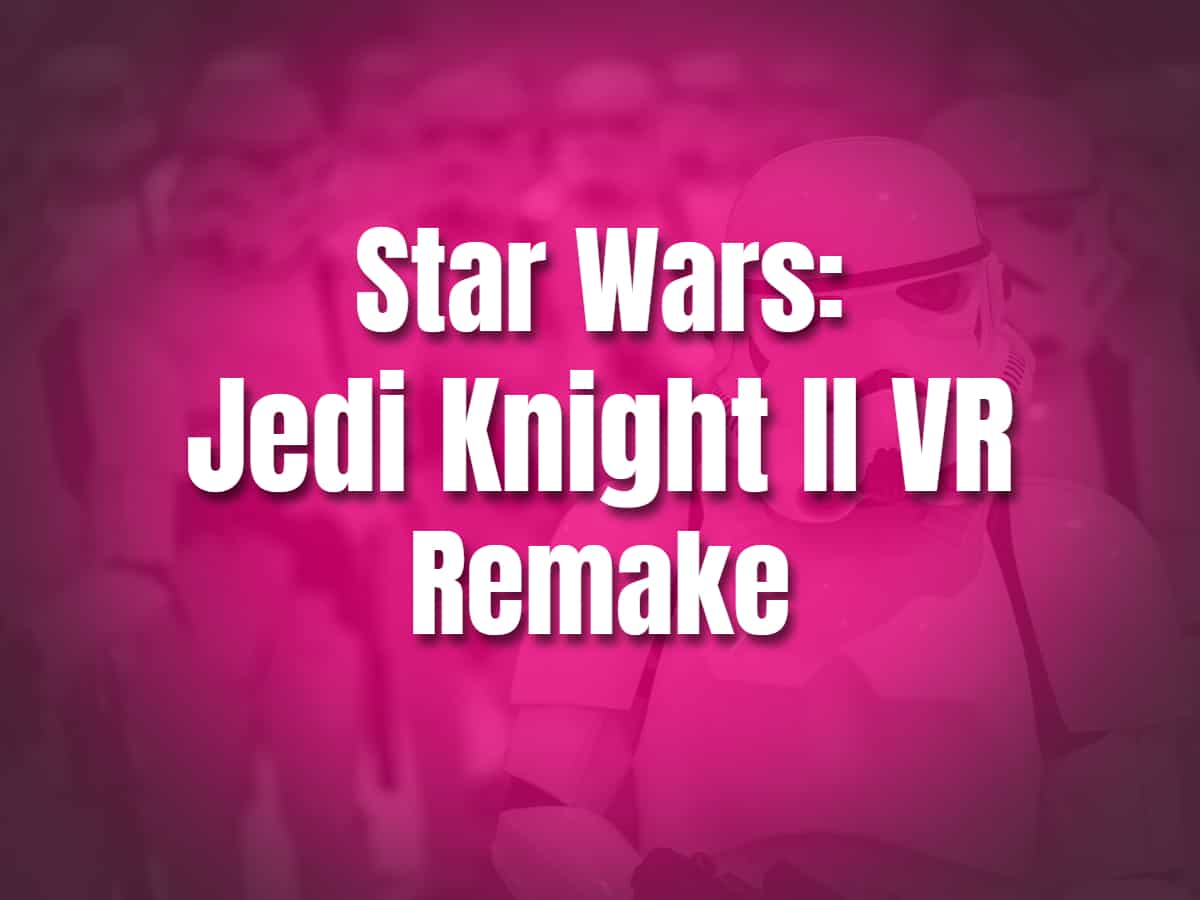 Star Wars: Jedi Knight II VR Remake is Looking Good
Who doesn't want good lightsaber combat in VR? This virtual reality version of the iconic Star Wars adaptation is not to be missed. You might be able to experience the beginning of another legendary game in virtual reality soon. Thanks to Guido Mariano, an independent developer who is doing a fan VR remake of the game Jedi Knight II: Jedi Outcast. Learn more about this fantastic game in VR. This week, the developer has some exciting news for you.
About Jedi Knight II: Jedi Outcast
Star Wars Jedi Knight II: Jedi Outcast is a sequel to Star Wars Jedi Knight: Dark Forces II. Jedi Outcast was first released as a video game back in 2002. It is a first-person and third-person shooter game released for Microsoft Windows, OS X, Xbox, and GameCube. All of these versions were published by LucasArts except for OS X. Now, because of fan projects, the original themes of these games are being used to develop excellent remakes in VR.
This year, 2022, the game Jedi Outcast is having a remake from a fan independent developer Guido Mariano, who is passionate about bringing the game to VR. The developer is posting some updates about this game via a Twitter account Jedi Outcast Fan Remake VR.
A recent announcement on June 5th reveals a demo coming out for free this week June 10, 2022. According to the creator, this is only the beginning of the demo. Meanwhile, based on the videos, Star Wars Jedi Knight II appears to be worth it even at this level. The future appears bright.
What to expect in the VR game Star Wars Jedi Knight II
So, what would the game be like as a Virtual Reality game? That thought of it must be exciting for both VR game enthusiasts and Star Wars fans, especially for those who can't wait to wield their lightsabers to engage in cool combat.
The VR game is being built using Unreal Engine. The developer though has been giving the fans some incredible glimpse of how the game is going. So far, some amazing stuff has been spotted, like this cool melting effect on lightsabers when you hold them against surfaces as seen in this YouTube video. 
Additionally, it looks like the developer is doing their best to stick to what the original game is known for. There is some serious lightsaber combat replicated with VR controls. It has also intensified the decapitation details where players can behead troops and it looks nastier.
Also, expect to see some display of full power as force powers are shown in the game. This means being able to push Stormtroopers around.
Fan remakes of Star Wars are looking quite good
This is probably one of the greatest VR fan remakes of the Star Wars classic and a must-see. We've seen several promising fan efforts lately. Surprisingly, another Star Wars game is in the works that is quite similar to this VR game.
Star Wars: Dark Forces is also being remade by Shadow Art Games. Jedi Outcast is a direct sequel to the game. Both games are well regarded in the United States and other countries.  Many people are on the search for excellent Star Wars VR experiences.  
For more videos of Jedi Outcast VR, visit their YouTube channel. You can also support the developer of this game through a Patreon subscription and learn more about how to play demos of this game. Join the force and go full power on getting this game to VR. It's amazing to see independent developers do epic work contributing to the VR community with pure enthusiasm and, of course, community support.