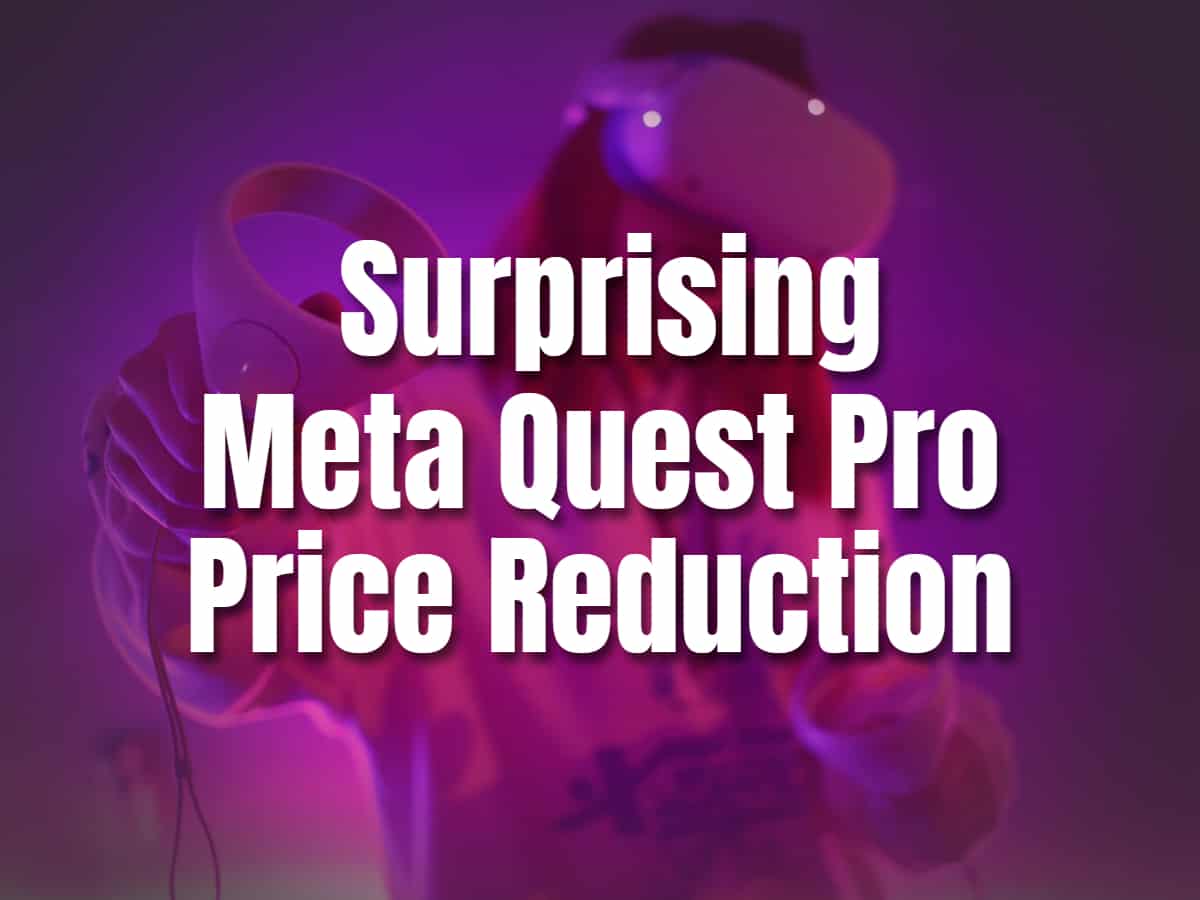 Surprising Meta Quest Pro Price Reduction – Don't Miss Out!
Published
February 2, 2023
under
MORE
If you've been having reservations about getting the fancy Meta headset, this may help with your decision. It's quite startling that they marked down the top-tier Meta Quest Pro in a sweeping price cut. Who would have predicted such a large decrease for a newly released headset? How does this impact the competition for the Meta Quest and its opponents? Take a swift view of the Meta Quest Pro and determine if it is worthwhile at its current price cut.
Meta Quest Pro Price Drop
It's only been three months since its launch, but those who purchased Meta Quest Pro at the standard price are now regretting that decision. Meta just announced a significant price drop for the mixed reality headset, bringing it to the same price as the Vive XR Elite from HTC.
Quest Pro debuted in late October 2022 for $1,500 with self-tracking controllers, partial light blockers and a charging pad included in the box. It was quite an expensive purchase and something not everyone could easily afford.
For a limited time, the company slashed $400 off its original price of $1500, making it much more affordable and accessible to a larger group of consumers. Now priced at $1100, many compare it to HTC's Vive XR Elite. The price cut is also applicable to the UK market where the headset can be bought at £1,499.
Overview of Meta Quest Pro
Meta Quest Pro is a high-end, innovative alternative to Oculus Quest 2. It was officially unveiled at the 2021 Connect event by then Facebook and now Meta, who introduced their latest VR headset: Meta Quest Pro.
It packs a lot of great features such as high-resolution sensors for mixed reality experiences, crisp LCD displays for higher resolution display, eye tracking and face tracking using natural facial expressions to create a more realistic avatar, a sleeker design with QLED lenses and local dimming zones, plus improved FOV and color fidelity.
One of the most impressive features of the Meta Quest Pro is its ability to blend real-world elements into the virtual world; it employs color passthrough technology which allows you to see your physical environment while in VR. This lets you interact with objects in your real-world surroundings while still being able to experience the benefits of virtual reality.
The Meta Quest Pro also has self-tracked controllers with no dead zones and next-gen haptics so you can feel what you're doing in VR. Plus it's equipped with a much more comfortable halo strap and twice as much RAM compared to other headsets on the market today. Additionally, QLED lenses with local dimming zones have improved the field of view and color fidelity.
The Meta Quest Pro can be an expensive investment, but there have recently been some nice price reductions in order to make this new device more accessible money-wise. The cost and quality make this device perfect for anyone looking for something that bridges the gap between casual use and professional-level quality.
Meta Quest Pro is a tool aimed at enterprise users and professionals who want to integrate augmented reality (AR) and virtual reality (VR) into their workflows. It also caters to developers and early adopters who are looking for innovative ways to create immersive experiences. The platform offers powerful tools that help bring AR/VR projects from concept to production quickly and effectively.
Do I need a Meta Quest Pro?
The first thing to consider when weighing up the value of this expensive headset is what kind of use would you get out of it. For some work environments and collaboration projects, like creating music or animations, for instance, it may be worth the investment.
The Meta Quest Pro is an exciting piece of virtual reality hardware. However, it comes at a steep price tag of $1,499. Is this headset necessary for anyone in order to enjoy the immersive experience of virtual reality?
For some, the answer might be 'yes'. The Quest Pro is best suited for work environments where companies can subsidize or cover the cost of the headset. This makes sense when the cost and benefits are weighed out and collaboration becomes very valuable in those contexts.
Also, developers may find value in testing out new features that accompany this version that do not come with their $400 market-leading Quest 2 model.
But for most consumers, however, though an upgrade in technology and visuals may make certain games more enjoyable to play when compared to their Quest 2 counterparts; it is not necessarily a must-have device. Especially now that its sale price has been reduced down to just $1100 recently - making it more affordable than before but still on the expensive side of headsets available today.
At the end of the day, it depends on the individual. The Meta Quest Pro is a gorgeous VR headset available for a discounted price of $1,100, but it's still not affordable for everyone. Therefore, it must be considered whether or not you really need this upgrade from its market-leading predecessor, Meta Quest 2.
A bold move from Meta
The price reduction of the Meta Quest Pro headset could be seen as a bold move from Meta to increase its market share in the high-end headset market. By lowering their prices, they are hoping to attract more customers who may have otherwise been hesitant to buy the product due to its high price tag. This could prove to be a great advantage for Meta and one that is likely to pay off in the long run if successful.
It will be interesting to see the market reaction and the potential impact this price reduction will have on Meta's competitors. It could be seen as an opportunity for Meta to grow its customer base and gain more consumers, but it remains to be seen what direction its rivals will take in light of this news.
Don't miss out on this discounted price - this deal won't stay for long. Click here for more details.