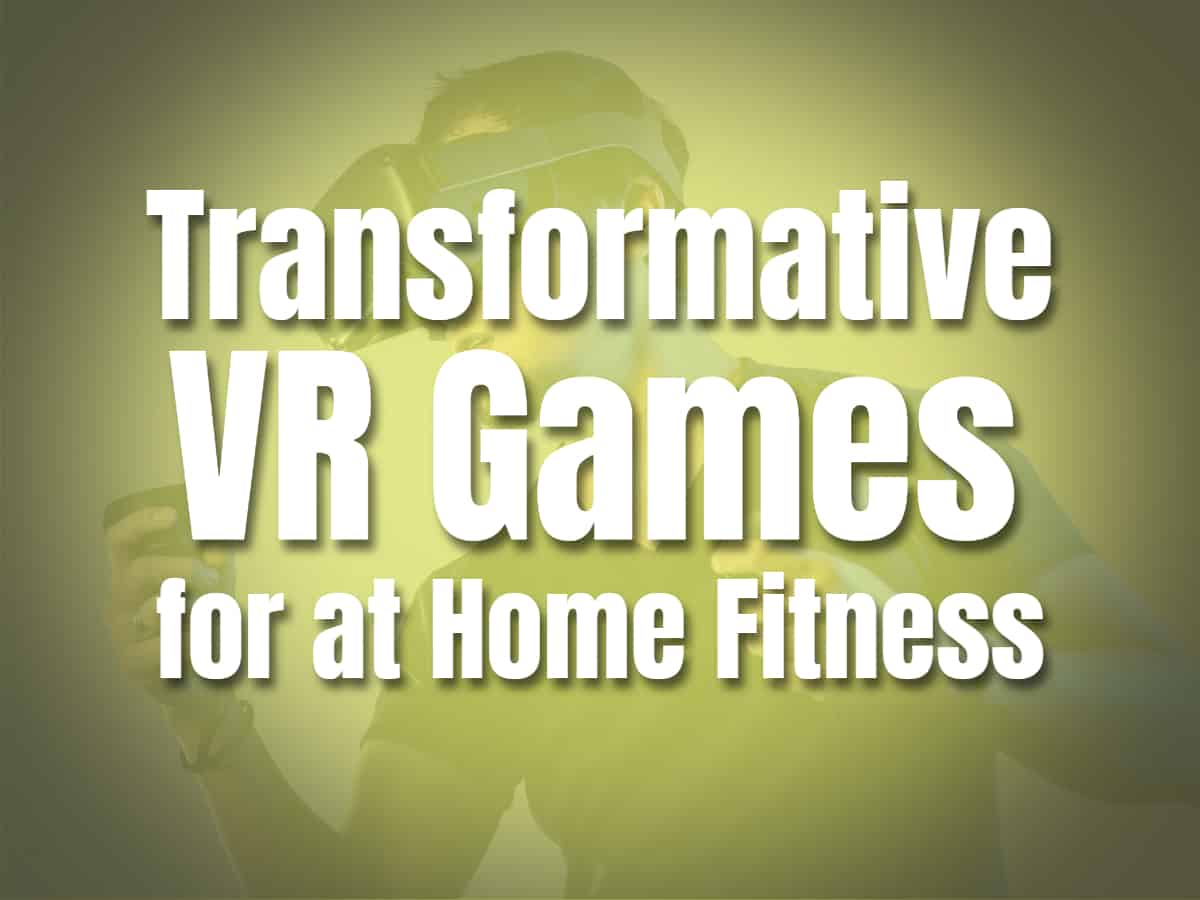 Transformative VR Games for at Home Fitness
We think it's the best time to talk about fitness. Well, we could've started healthy routines early on this year. But it is never too late to start.
We notice a lot of exciting video games and developments coming to VR this year. But let's have a different discussion. Since VR is slowly taking its own place in people's lifestyles, it's time to see a healthier route for everyone.
So, when we think of VR, we think of hours and hours of fun and immersive experience. What if we can set aside an hour or even a few minutes of that into something that can keep us fit. This, while not leaving the virtual reality world.
We know that it is possible. Fitness apps in VR are nothing new. But not everybody is set to create a healthy lifestyle using VR.
Today, we try to look for an easy way for everyone to develop healthy fitness routines using VR. And when we say everyone, that includes those who are not particularly into fitness.
Fitness enthusiasts can easily pick the best fitness app for their exercise routines. We can definitely learn from them and take their advice. But today, let us also include apps that aren't purely fitness-focused but can make fitness a lot of fun. Let's face it, not everyone has the motivation of the fitness buff.
What's stopping us from our fitness goals
If you own a VR device or are thinking about getting one, we hope you make healthy choices. Take advantage of this immersive platform to live a healthy life this year. It may not be the first thing that comes to mind when you get into VR. But it's something you shouldn't miss about this versatile platform.
To start a healthy lifestyle, you must start building a healthy mindset. First, try to know whatever is stopping you from doing it. And much better, find out what could stop you down the road.
The top hindrances for engaging in fitness activities are time, energy, and motivation.
The following are common excuses that people have. Here are some reasons for not staying or even starting their fitness routine in the first place.
"I am always too busy. I don't have enough time to exercise".
"Working out is not fun. It is boring".
"I am not confident about my body and am too self-conscious to be showing up in fitness classes and gyms."
"I am too tired and I'd rather rest".
"I'm too lazy to exercise regularly and keep a routine".
If you can resonate with any of these, it's quite understandable. But the good news is that VR may have the solution you need to change your thinking.
Virtual reality fitness is the solution you need
Change your mindset. It helps you a lot in creating a healthy lifestyle. With that, VR can give you more reasons to get into a fitness routine.
I guess we can find a lot of reasons why "we can't". And VR can give us more reasons why we should.
The fitness journey game-changer. VR fitness is a game-changer. It can provide you a fun gaming experience with the benefits of a full-body workout. You only have to create a workout playlist that can help work parts of your body.
The choice of content is expansive. You can choose from many different fitness apps, rhythm games, even adventure games, and so much more. All these provide immersive entertainment while letting you exercise.
A workout doesn't need to be a drag. Thanks to VR, you don't have to force yourself into VR fitness. It naturally comes when you start enjoying the game. Enjoy workouts at home and discover a companion app. It should help you look forward to another day of a fun fitness session.
If you are not much of a fitness enthusiast, there are plenty of ways to get distracted from a healthy routine. VR exercises can't fully replace traditional workouts. But it is a great alternative when it's hard to commit.
Practice your competitive power. VR gives you opportunities to practice competitiveness. With varying difficulty levels, you can test how you perform. This is compared to previous performances or against others. Often, we find motivation and commitment in wanting to do better. Which adds to the whole vibe of your VR fitness routine.
VR in many ways encourages users to focus on better performance. Competitiveness helps you keep your A-game and keep playing. Plus, it sets your mindset to win. With a competitive and winning mindset, you are set to achieve your fitness goal.
Develop techniques and coordination. Most of these games are all about techniques, precision, and body coordination. Playing VR also helps you develop better brain and body connections.
Convenience and privacy. If you are self-conscious and that's an issue, a VR workout is perfect for you. Especially these days that it's often not worth the risk to be outside. You could be finding more reasons not to go to the gym or attend fitness classes. These VR games provide you the best platform to get guided workouts through gameplay. And you can do it from the comforts of your own home.
Impact of VR fitness workout on our body
Do you have doubts about how effective VR exercises compared to traditional exercises? Here is the information you need. A study shows that VR has a positive impact on mental and physical well-being. That is for people during the lockdown period [1]. According to this study, it is an effective way for people to adapt to the changing times.
VR was able to ease the negative impact of the lockdown period caused by the pandemic. It is good to note here that VR has a positive effect not only on the mental aspect but also on the physical. This gives us to prove that VR fitness games are very valuable for our fitness needs today.
While another study proves the potentials of VR workouts. It proves to have positive effects on people's physiological, psychological, as well as rehabilitation [2].
VR fitness workout routine to try
Now, you probably are convinced that virtual reality workouts are worth the try. It is time to try one or a combination of these VR apps to create your own workout routine. Here are some of our suggestions.
Aerobic exercise
Pistol Whip
Available on Oculus, Steam VR, PSVR
Fight assassins and star in your own action movie. Choreograph your own fight scenes with heart-pumping soundtracks. This VR game is a good aerobic exercise and a good workout for your legs.
Synth Riders
Available on Oculus, Steam VR
Get your groove on this freestyle dancing VR game. This VR game supports multiplayer so you can play it with friends. Show your dance moves while bashing in-game objects and ride neon rails. This game is great as you guessed it, a dance aerobic exercise.
Until You Fall
Available on Oculus, Steam VR, PSVR
Here's another neon world but with a different vibe. In a world of knights and beasts, swing your sword like it's the end of the world. This is a run-based game that's great for your arms, shoulders, and back. It makes for a very entertaining immersive game type of aerobic exercise.
Endurance training
Phantom: Covert Ops
Available on Oculus
Traverse enemy territories as a special forces operative on a military kayak. No need for a rowing machine. You will experience a great shoulder workout. This with all the paddling required for this game. This game is a popular game that helps you work out your back and shoulders.
In Death: Unchained
Available on Oculus, Steam VR, PSVR
Journey with bow and arrow in hand. Meet the unforgiven souls and shadowy creatures. This game will make you so focused on aiming and shooting your arrows as fast and as precise as you can. It's another arms and shoulder endurance game.
Superhot VR
Available on Oculus, Steam VR, PSVR
This VR game provides you different scenarios to solve. With different stuff hurling at you that you need to avoid, survive and act at your own pace. Strategize your next moves. It requires squatting and a variety of full-body movements. This is great for developing full-body endurance.
Cardiovascular fitness workout
The Thrill of the Fight
Available on Oculus, Steam VR, PSVR
This is an oldy but goody VR boxing game that will keep you engaged for rounds and rounds of gameplay. You can also do training at your own pace with speedy bags and punching bags.
High-intensity workout
Ninja Legends
Available on Oculus, Steam VR, PSVR
This is a sword and archery combat game that is a good high-intensity workout.
Fitness can be fun with VR fitness games and apps
It is undeniable how new technology not only changes the way we experience the world. They can also allow us to experience new worlds. And in all the worlds, there is an opportunity to be the best versions of ourselves. Make it a priority to do your body a favor. Invest not only in entertainment but also in creating a healthy lifestyle.
Today when technology and gaming can easily be part of our every day, surely there is room for fitness. In the ways we adapt to the crisis, we can see human creativity to survive and thrive. We hope everyone would take the advantages given by virtual reality. That is not just to build worlds but to build ourselves.