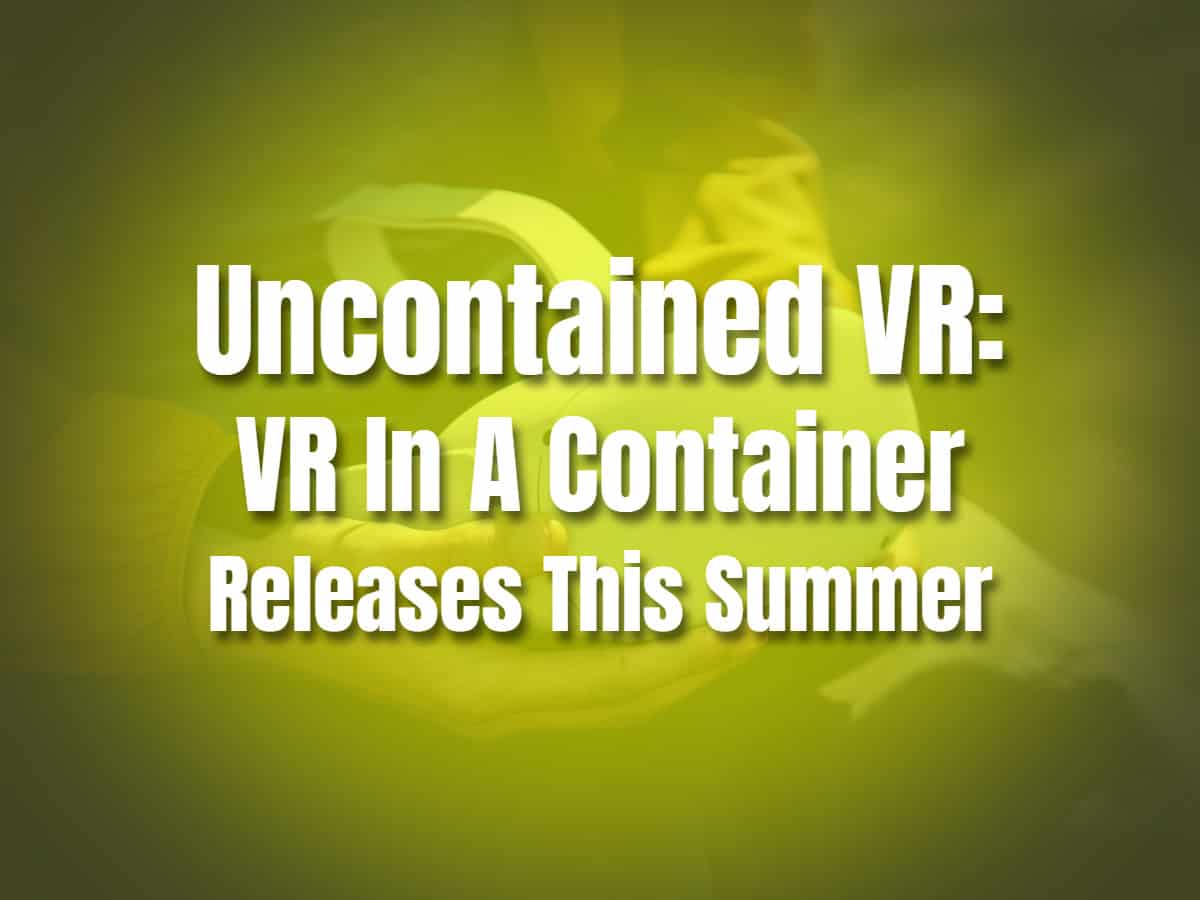 UNCONTAINED VR: VR In A Container Releases This Summer
Published
June 28, 2022
under
MORE
Summer is all set for fun-filled experiences in VR. This year, XR Immersive Tech Inc. is bringing us a location-based experience in a 40-foot shipping container. The company garnered media attention for this genius concept last year. Now, it just announced the debut of UNCONTAINED VR featuring a flagship game. Find out more about this unique VR experience in one fun-packed container.
UNCONTAINED VR's first venue
It will be available this summer, according to a recent announcement by XR Immersive Tech. UNCONTAINED VR will debut at Playland Amusement Park in British Columbia and the annual PNE Fair in Vancouver, Canada on July 7th.
"As a homegrown Vancouver company, we see the iconic Playland Amusement Park as a perfect fit. Not only is it one of Canada's oldest and greatest amusement parks, but it's also a place where we expect to get a lot of feedback from our own extended community. I am excited that UNCONTAINED gets to meet the world in a place so close to my heart. Similarly, I am supremely proud of our team, many of whom call Vancouver their home.", said CEO Tim Bieber of UNCONTAINED.
Amazing concepts and features
There is more to this experience that is noteworthy, in addition to the brilliant idea of using industrial shipping containers.
UNCONTAINED VR is a commercial VR that is intended to fill in for The Void. This leading name in the location-based VR industry had permanently closed down in 2020. Many others did during the height of the pandemic. These ready-to-go containers are bound to give location-based VR a great start for a big come back.
UNCONTAINED VR provides the following benefits in addition to being able to be dropped anywhere.
The Experience
So, what can we expect from this VR experience? The experience utilizes a combination of haptic feedback technology and physical interactions. It's a plug-and-play multiplayer experience for up to 6 persons. It has advanced physical effects with 5D sensory experience to be enjoyed by families, friends, or colleagues.
Expect the experience to include:
During the launch on their first locations, guests can experience the immersive flagship game with the title Deep Signal. It's a multiplayer sci-fi game you can now experience in the VR container. Enjoy intergalactic adventure with family and friends.
UNCONTAINED is paving the future of VR world on location
Future content for UNCONTAINED may be expected after the company's first developed game. The company intends to provide an SDK to enable developers to create content. This will be available via Immersive Tech's shop.
UNCONTAINED VR offers a useful paradigm to develop and revive local-based VR for usage in entertainment and other contexts. It is equipped with every feature necessary to meet the difficulties of the present time. We can expect to see more of UNCONTAINED in the future. One company that has signed a letter of intent for up to 10 UNCONTAINED VR units is Autobahn Indoor Speedway. More are anticipated to come in the near future.
Learn more about UNCONTAINED VR business opportunities here.