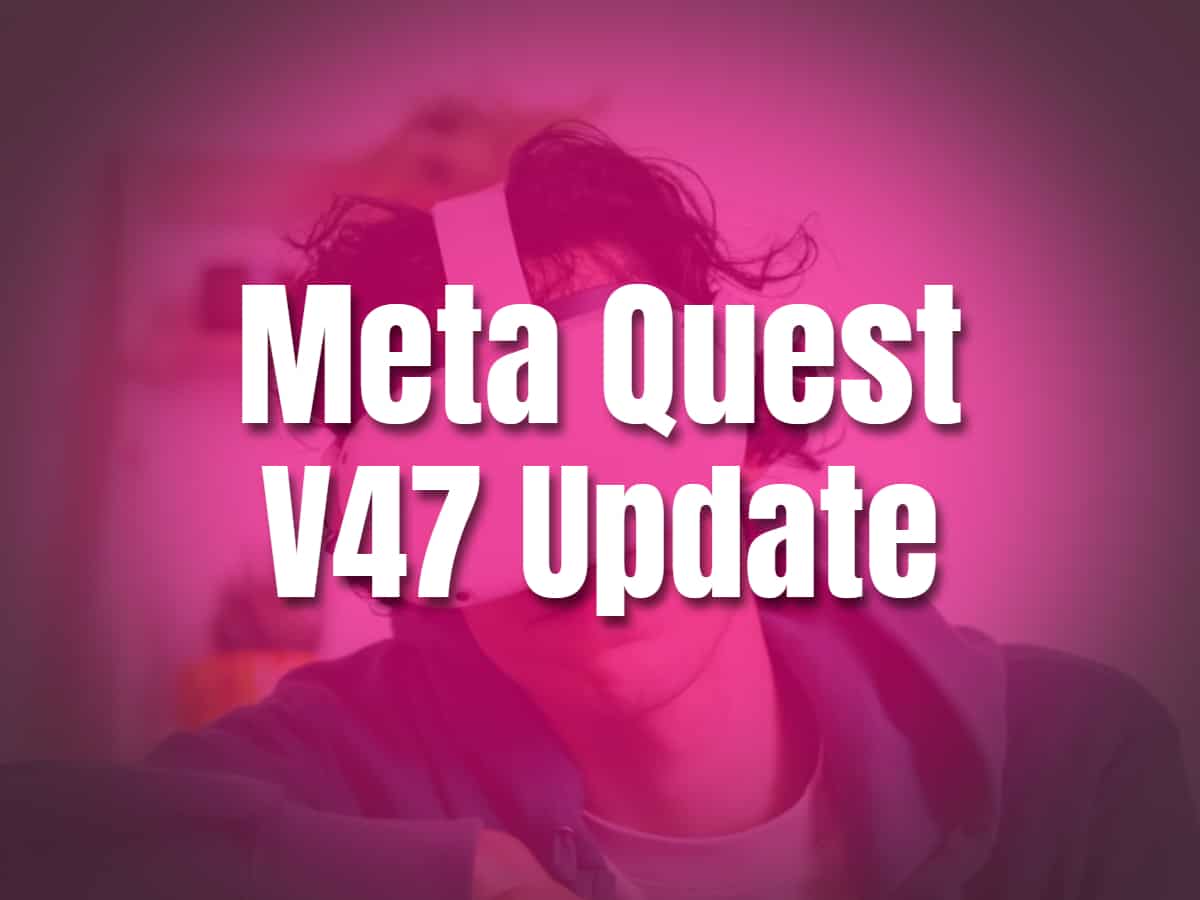 Unlock New Features in the Latest Meta Quest v47 update
Published
December 6, 2022
under
MORE
Are you a Meta Quest headset user? If so, then you'll be delighted to know that the latest version of the software has recently been released. Version 47 of Meta Quest is most likely the last update this year. It is the first update after the next-generation mixed reality headset Meta Quest Pro has been released.
Having said that, the latest update has some features dedicated to utilizing Meta Quest Pro's features to deliver a great experience. This includes a background audio playback feature and mixed reality capture for the Quest Pro.
Aside from these, we'll talk about the rest of the added features of v47 for Meta Quest Pro and the rest of the Meta Quest headsets. This new update allows users to enjoy standalone VR in a whole new way. Whether you're a veteran or a newcomer to the Meta Quest universe, this update offers something more to what you are currently enjoying.
Updates for Meta Quest Pro
There are two major updates coming to Meta Quest Pro. One is background audio playback, which will allow you to play music while you work on Meta Quest Pro. And the second is mixed reality capture, which will let you record gameplay footage and share it directly to Youtube or other social platforms. These updates are exclusive to Meta Quest Pro.
To enable background audio playback, open the Settings menu and find the Experimental Features Panel. Then scroll down until you see the option called Background Audio Playback. Turn it on and enjoy listening to music while working or on your game.
For those who want to share their experience online, mixed reality capture with passthrough is now possible. Just navigate to the Oculus button to get to the Quick Action Bar and access the Camera then tap the Record Video. So if you've ever wanted to record a video of your gameplay and post it online, you'll finally be able to do so with Meta Quest Pro.
Previously, mixed reality capture on Meta Quest Pro headset gets the in-app gameplay onto a black background. Now, players will be able to show and share exactly what they are seeing to an audience.
Updates to the Meta Quest Mobile App
This update brings a lot of cool stuff to the Meta Quest mobile app, including a brand new feature called Friends NearBy. You can now see who's nearby and chat with them directly through your mobile app.
They have updated the Cast button so it looks like an Oculus Go headset. And if you tap on it, you can easily launch any app that supports casting.
They added a widget to the home screen that will show your headset's battery level and let you quickly check out how much is left.
The Meta Quest mobile app update brings your VR friends front and center, so it's simple to see when they're online, what they're up to, send them messages, or play with them.
Now, whenever you add to your wishlist on the Meta Quest store, it becomes available for everyone to see. Anyone can view your wishlist, and people can easily send items in your wishlist to you as a gift.
It's easy—just go to your Wishlist tab on the store, click the Update to Public option, and then you'll be able to create a public link to share with others.
Make sure to update your wishlist to the public. Shareable wishlists are a great way to express how excited you are about upcoming apps and games. And sharing your wishlist with others makes it easier for those special people in your life to give you presents that you actually want. And this new feature makes it easy for you to do the same as well.
Or you can always go the spontaneous route and ask for a gift card. They come in prepaid amounts of $15, $20, and $30 USD and can be used immediately.
Avatar Mirror in Meta Horizon Home
The new mirror is a great feature if you're using Meta Horizon Home. You can now easily swap out your avatar's appearance in real-time.
In addition to changing your avatar's clothing, you can also change your hairstyle, facial expression, skin tone, and hair color. And since this is a real-time mirror, you won't need to wait until after it updates.
The Avatar Mirror in the Meta Horizon home environment works with both Meta Quest 2 and Meta Quest Pro. But it's only available in the United States.
Other features included in the Meta Quest build 47.0 release notes
Media Sync
This update makes it easier to sync media between your headset and Meta Quest. Now, you can automatically sync your media to the Meta Quest mobile application from your headset.
To disable the automatic syncing, simply head to the Settings section of your headset and uncheck the box next to the Sync Media to MetaQuest Mobile App option.
Meta Avatar Arms
This new version of Meta Quest adds Meta Avatar arms to your avatar. You'll be able to see your avatar's arms whenever you're in your home or anywhere else where there's a camera. And if you haven't created your avatar yet, your avatar will show a default avatar instead.
As of this latest update, Meta Quest users will also be able to see their avatar's arms and hands in their homes. Previously, the avatar would load in if you were inviting someone into your home, but wouldn't show their arms unless you had a headset rebooted. Now, your avatar will always show its arms.
If you've already upgraded to this latest version of Meta Quest, you should start seeing your avatar's arms and hands in your home immediately. If you haven't upgraded yet, you'll still be able to download the latest version, but won't see your avatar's arms until you reboot your headset.
This is a great feature if you're using the MetaQuest app. Now, you can pin and unpin apps directly from your Universal Menu. Just hover over any game or experience in your library and select. This will add the selected item to your Universal Menu. Then, simply click to remove it from your menu.
This makes it easier to find your favorite games and experiences quickly. And since you can only pin items to your Universal Menu once, you won't lose track of anything important.
Capture Controller Shortcut
This update makes capturing images and videos easier than ever before. You can now capture images and videos using a controller shortcut. Just hold down the left or right controller button and press the corresponding trigger.
To capture a picture, simply hold down the left or the right controller button and press its corresponding trigger. To capture a video, hold down the left or left controller button and press its respective trigger.
Meta Quest Pro Touch Controllers
Quest 2 is now compatible with Meta Quest Pro Touch Containers. v47 update unlocks this compatibility feature. If you're looking for a great controller for your Quest 2, then you should definitely consider getting yourself one of the Meta Quest Pro Touch Controllers.
The Meta Quest team has been hard at work updating the software before the holidays. What do you think of these new features and improvements? VR experience will never be the same as different VR platforms add more features. The Meta Quest store and other platforms have recently seen a large number of game updates and releases, right on schedule for the holidays. The finest time of year to spend and have fun in VR is right now.