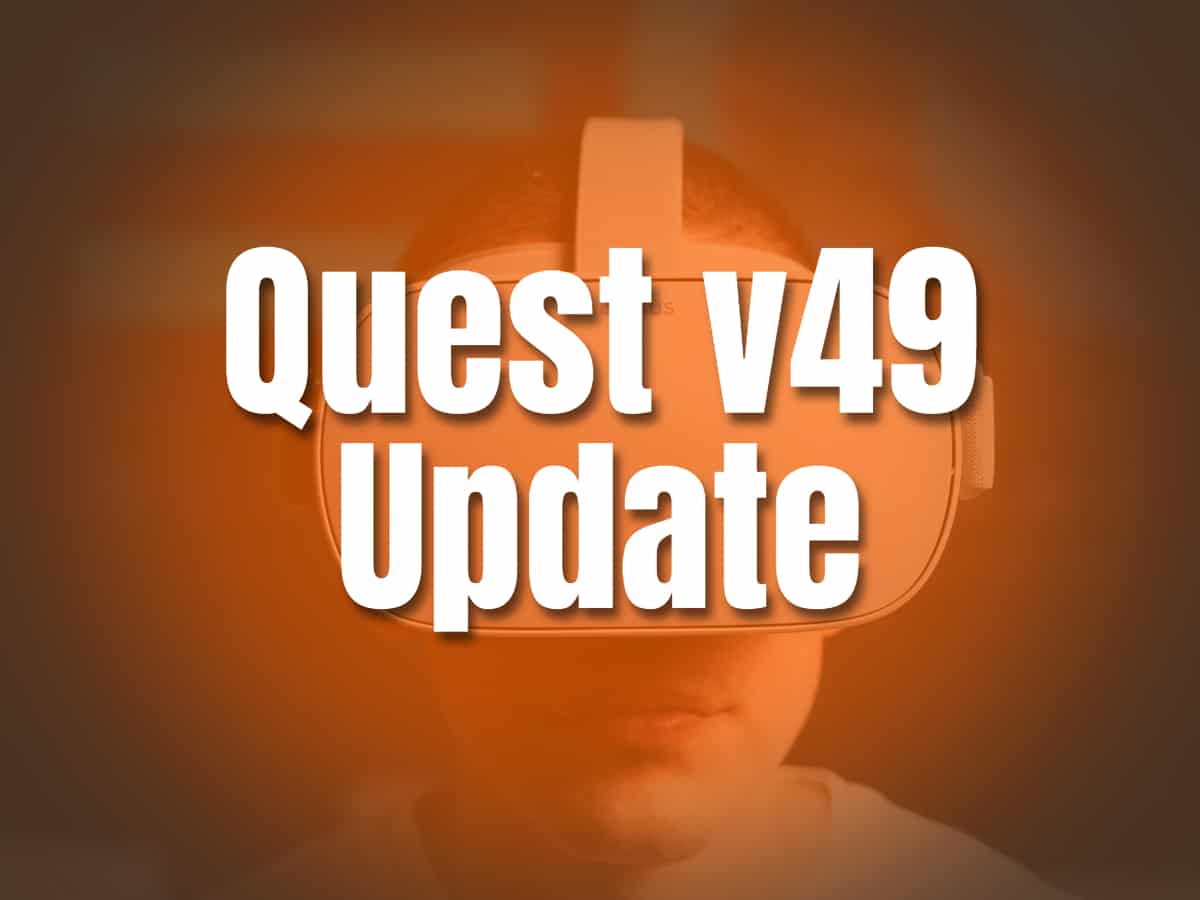 Unlock New Features with Quest v49 Update
Published
January 24, 2023
under
MORE
Meta Quest v49 Update begins rolling out for Quest headsets. Quest v49 update is the latest software version of the popular virtual reality headset, Meta Quest. No performance boost or couch mode at the moment as many had anticipated. This updated version offers new and useful features that will benefit parents with children who use the platform. In addition, it provides new and improved experiences for home environments.
The latest update to Meta Quest v49 includes a range of improvements and security measures to ensure that users of virtual reality (VR) can enjoy their experience safely. With the increasing popularity of VR, especially among younger users, Meta Quest is taking steps to ensure that its platform is secure and user-friendly.
Overview of the Quest v49 Update
The Quest v49 Update is designed to make Meta Quest system software even more user-friendly. With this new update, parents have more options to supervise teens while they explore in VR via the Family Center web page. Meanwhile, fans of new home environments and abstract art will be pleased with the addition of various new home environments. What's more, existing home environments are also getting updates for an improved experience.
Overall, the Meta Quest v49 update makes it easier than ever for gamers to adventure in a safe and comfortable environment from the comfort of their homes.
New Features in Meta Quest
The Meta Quest v49 update includes some great new features to make your virtual experience even better.
Abstraction: New home environment
The first feature is an unknown realm called 'Abstraction', which is noticeably more bizarre than the other home settings. This avant garde home environment is less rooted in reality than the other Quest home environments. This is an addition to the already existing home environments and this one specifically supports concentration.
Improved interactive hotspots
Further, the Desert Terrace, Space Station and Winter Lodge environments have been enhanced by adding more interactive hotspots. Friends' visits are more fun. Expect interaction with chairs and couches because now you guys can actually sit on them. Also using the home UI, you can now rotate your point of view while moving.
Do not disturb mode
The new Meta Quest v49 update introduces an exciting new feature: the "Do Not Disturb" mode. This mode helps keep the virtual reality experience immersive and free of unnecessary messages such as "Player X has started game Y". By disabling these notifications, you can stay in the zone without being distracted by pop-up reminders.

This mode is especially helpful since it also works system-wide. Whether you are checking out settings or playing a game, the "Do Not Disturb" mode will make sure that nothing distracts you from your journey in VR.
Quest Parental Supervision tools
Quest's Parental Supervision provides parents with the ability to customize their settings and access helpful educational resources for online safety through the Family Center web page.

Arriving along with the pretty straightforward features in this update mentioned above, this new feature goes beyond the surface of safety in VR for teens. So, we will talk more about this feature below.
Benefits of Meta Quest for Parents
It is important for parents to control how their children use virtual reality (VR) because of the potential risks associated with it.
VR can be a great tool for learning and entertainment, but it can also be used in ways that are not appropriate for children. For example, some VR experiences may contain content that is too intense or violent for kids, or they may include online interactions with strangers that could lead to dangerous situations.
Additionally, prolonged use of VR headsets can cause physical discomfort and even long-term damage to eyesight if not monitored properly. By controlling how their children use VR, parents can ensure that their kids are only exposed to age-appropriate content and activities while using the headset safely and responsibly.
The Meta Quest v49 Update provides parents with new tools to help them monitor and manage their child's usage of the platform, which is an important step in keeping kids safe while using VR.
The newest version of Meta Quest, v49, provides a slew of benefits for parents of teens who are using the platform. One such benefit is the ability to better monitor and supervise their teens' in-game activity.
Previously, teens needed to send a Parental Supervision request to their parents in order to invite them into Meta Quest and set up the tools to help monitor in-game activity. However, with v49, parents have the ability to send an invite instead. This makes it easier for parents to keep an eye on their teen's gaming activities, allowing for more secure playtime and peace of mind.
Parental Supervision Tools in Family Center Web
Parents want to ensure their teens are having a safe and positive virtual experience on Meta Quest. The need to supervise teen VR experience is important. To do this, they can access supervision tools directly by going to 'parental supervision' in the Meta Quest app or by visiting the Family Center dashboard.
The tools provide customization options and notifications so parents can work with their teens to determine which type of supervision works best for their families while allowing teens to explore immersive spaces safely.
With these tools, parents can monitor activities such as time usage, digital relationships, and purchases made in Meta Quest. With these insights, parents can better understand why kids are playing certain games, who else is playing with them, how much time they're spending in-game, and what digital products they're buying or downloading from games and other stores.
Insights are provided to help parents have meaningful conversations with their teens by using data collected from the Meta Quest app such as how much time they are spending on the game, which followers/followees they have, apps they're using, purchases and downloads made, or gifts given. Allowing teens some autonomy yet providing support helps cultivate resilience when faced with difficult situations or bullying online. Having a balance between the physical and digital worlds is key for teens' healthy self-regulation skills as well.
Additionally, access resources that help you foster good digital habits in your kids including encouragement of digital curiosity, modeling good digital behavior, and encouraging a balance between physical and digital worlds. Finally use tips for handling potential online bullying scenarios so you and your teen can feel more confident about exploring immersive content on Meta Quest with parental supervision guidelines in place.
The parental supervision tools are also accessible in the Meta Quest mobile app. The Supervision Settings menu has options like blocking apps, blocking Meta Quest link, blocking social features and more.
The newest version of Meta Quest, v49, offers fantastic features for parents of teenagers who are using the app. Parents can take advantage of the tools offered to ensure secure playtime and peace of mind while monitoring and supervising their teen's in-game activity. All of these features make Meta Quest v49 an invaluable tool for parents looking to ensure their teens are having a safe and positive virtual experience on the platform. Meta Quest's VR experience is enhanced by both home environment updates and making this platform a great choice for everyone, young and old.