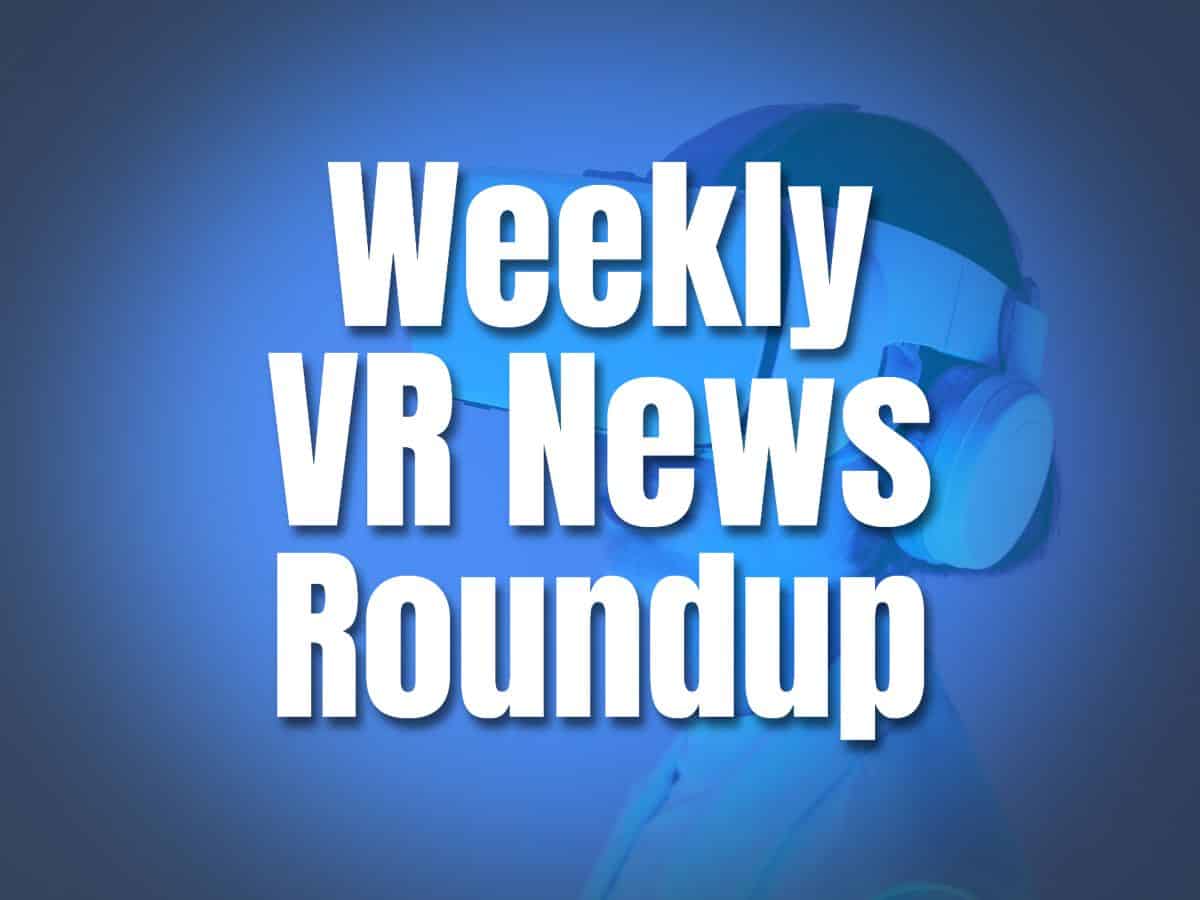 Virtual Reality News Roundup: VR Flakes April 22, 2023
Published
April 22, 2023
under
MORE
Welcome to this week's issue of the VR Flakes Newsletter. Our goal is to deliver the best virtual reality news from this week, all in one place. Get this delivered to your inbox every Saturday along with a surprise inside. Subscribe below on mobile or on the right if you're on a desktop.
This week we're focusing on some of the latest VR developments, such as the Cavs Arcade AR experience, Pimax Portal shipping this month, and more. Keep reading to find out all the details you need to know about these exciting new advances in virtual reality technology!
Get ready to hunt down monsters in the real world with the thrilling new Monster Hunter AR game!
Get ready to step into the world of Monster Hunter with the upcoming augmented reality game, Monster Hunter Now, set to be released on mobile devices in September 2023. Developed by Niantic, the creators of Pokémon Go and Pikmin Bloom, and in collaboration with video game publisher CAPCOM, this location-based AR game will allow players to hunt exotic monsters in the real world using their mobile devices.
Designed for players of all levels, Monster Hunter Now promises an exciting adventure for everyone. Players can explore their physical surroundings in search of monsters to hunt, using an item called the "Paintball" to tag them while on the go. What's even more interesting is that players can battle these monsters at home, with the option to play solo or with a friend. You can even team up with a companion who will tag monsters for you without you having to play, making it a great game to play with friends and family.
Scheduled for release in September 2023 on both iOS and Android devices, Monster Hunter Now has already generated a lot of excitement among gaming enthusiasts. Those interested in being a part of the upcoming closed beta can sign up for a chance to win a spot. With the promise of an immersive and thrilling experience, Monster Hunter Now is definitely a game to watch out for. For more information, visit the official website.
Apple is creating software and support for their mixed reality headset, says Bloomberg.
Apple is making waves in the virtual reality world with its upcoming release of a mixed-reality headset. Bloomberg reports that the tech giant is preparing a wide range of first-party apps for the headset, including gaming, fitness, video, and collaboration tools. Mark Gurman, a reliable source for all things Apple, has revealed a long list of apps and features that are rumored to be coming to the headset, giving us a glimpse into what we can expect.
Apple's WWDC conference this June is the much-anticipated platform where the tech giant will unveil their mixed reality headset, and recent reports suggest that they are also preparing a long list of first-party apps for the device. According to Bloomberg, users can expect a variety of first-party content including gaming, fitness, video, and collaboration tools, which will be available on Apple's mixed-reality headset. The report lists a number of iPad apps that have been adapted for mixed reality, such as Calendars, Contacts, Files, and Home control, among others.
The report also mentions that Apple's conferencing service, FaceTime, will generate 3D versions of users in virtual meeting rooms. A freeform collaboration app will enable users to work on virtual whiteboards together while in mixed reality, and Pages word processing, Numbers spreadsheet, and Keynote slide deck apps will be available for work purposes. Apple TV will feature both immersive sports content and traditional video content presented in virtual environments, such as a desert or the sky. Users will be able to read with Apple Books in virtual reality and exercise with Fitness+.
Multitasking and Siri will also be available on the mixed-reality headset, allowing users to run multiple apps at the same time, floating within the mixed-reality space. The Camera app will also allow users to take pictures from the headset. If these reports are accurate, Apple may be releasing the most feature-rich headset in the market, with a mature and battle-tested ecosystem of apps.
It's also said that gaming will be a major focus, which is a reversal from previous reports. This could mean we'll see a wider push for Apple to court third-party developers soon after release, which is said to be a few months after its June unveiling, priced at around $3,000. The hardware will feature a dial crown similar to the one seen on Apple Watch, which will allow the wearer to seamlessly switch between virtual and augmented reality views. Apple has not confirmed any of these reports, and we'll have to wait for the June 5th keynote to see if these rumors come to fruition.
Meta's Horizon Worlds is now available to users aged 13 and above
If you're a fan of VR, you're probably familiar with Meta's social VR platform, Horizon Worlds. Until recently, the platform was only open to users aged 18 and above. But that's about to change. Meta has announced that Horizon Worlds will soon be available to teens aged 13 to 17 in the US and Canada. The company says it's expanding its policy to include younger users in the coming weeks, effectively opening up its first-party social platform to its entire user base in those countries.
To prepare for the wave of younger users, the company is also releasing some age-appropriate protections and safety defaults. Safety features will include the ability for teens to control who they follow and who can follow them back. Profiles will also be set to private by default, obscuring active status and location. Worlds and events will have content ratings, so younger teens can't get in. A new voice mode feature is also rolling out to everyone, which garbles the voices of both unknown people and teen's voices by default. Raising your hand to your ear temporarily lets you hear other users when voice mode is switched on.
According to a memo seen by The Wall Street Journal, Horizon Worlds' weekly retention rate was 11% in January 2023, which the company aimed to increase to 20%. The goal outlined in the memo maintained that Worlds needed to reach 500,000 monthly active users (MAU) in the first half of 2023, ultimately reaching the one million mark by year's end. At the time, it was reported the platform was hovering around 200,000 MAUs, or just below the December peak.
Meta is also planning to release the flatscreen version of Horizon Worlds, opening the Quest-only social platform to web and mobile devices soon. If you haven't tried out this social VR platform yet, now might be the perfect time to dive in and experience it for yourself. With new safety features in place, parents and guardians can manage their teen's experience and support healthy conversations about safety in VR.
Valve's interview confirms VR project coming soon
Exciting news for VR fans! Valve, the company behind popular games like Half-Life and Counter-Strike, has confirmed that they are still working on VR headsets. While the company hasn't officially announced any specific products, Valve product designer Greg Coomer recently spoke to a Korean gaming publication and confirmed that VR is still very much in the works.
According to Coomer, Valve has a lot of expertise in VR devices and believes in the medium and VR games. The company hopes to remain open on PC platforms rather than having VR games exclusively on a certain platform. While adhering to this belief, Valve is continuing development on VR headsets, although they cannot confirm the existence of specific products or disclose the release date of their results.
This news follows Valve chief Gabe Newell's remarks last year that its handheld gaming PC platform, Steam Deck, is a stepping stone to standalone VR hardware. While Valve is notoriously tight-lipped about its in-development projects, hearing directly from Coomer, who has worked on major games up to Half-Life: Alyx, is exciting news for VR enthusiasts. We can only wait and see what Valve has in store for us in the world of VR.
Experience the AR-powered arcade at Cleveland Cavaliers Arena
Basketball fans attending a Cleveland Cavaliers game during the 2023 NBA Playoffs are in for a one-of-a-kind experience. The championship-winning team has partnered with fan engagement platform ARound to turn their home stadium into an augmented reality-powered multiplayer arcade.
The Cavs Arcade, as it is called, offers a shared experience that provides interactive features for fans to enjoy during live matches. Among the interactive games on offer is the AR Chain-Shot Contest, a skill-based challenge where attendees can earn official Cavs jerseys and autographed merchandise, as well as Landslide, a multiplayer game that splits the entire stadium into multiple teams. Fans can also expect to see real-time visual effects that bring the beloved Cavs mascots Sir CC and Moondog to life in the real world.
The Cavs Arcade experience is available on iOS and Android devices using the ARound app. Fans can access the experience during home games and away game watch parties at the stadium. For more information about this exciting game-changing experience, visit aroundar.com. Don't miss out on this unique opportunity to experience a basketball game like never before!
Get ready, because Pimax Portal is finally hitting the shelves this month!
Get ready, because Pimax Portal is finally hitting the shelves this month! Pimax, a Shanghai-based company known for its wide field-of-view (FOV) PC VR headsets, has announced that its hybrid VR headset, Portal, is almost ready for launch. Portal is based on a Nintendo Switch-style console and is set to offer both 6DOF head and controller tracking for VR gameplay, in addition to acting as both a handheld console and living room entertainment hub.
Portal works as both a Nintendo Switch-style handheld (running Android) and a Samsung Gear VR-style headset. The device is being couched as a jack of all trades, with its Kickstarter campaign attracting over $350,000 from backers in 2022. Pimax has now finalized Portal's hardware, with mass production set to start. However, Pimax is currently optimizing the software for Portal, with heat dissipation, power consumption, and controller connection marked as areas in need of improvement.
By the end of May, Pimax will have "more than 20 VR games" available for the Portal VR mode. Furthermore, the QLED version of the Portal will support native PC VR via HDMI, while other versions will support streaming PC VR content via WiFi e6 and USB-C. This comes on the heels of the news last month that Pimax had secured a $30 million series C1 financing round, something the company says will aid in the rollout of both Portal and Crystal headsets.
With its wide FOV optics and high-resolution displays, Pimax is one of the few companies to offer such devices directly to consumers. However, with the announcement of Portal and the standalone headset Pimax Crystal, the company seems to be striking out in a new direction from its PC VR roots. Yet, the hybrid device has garnered much attention, and its release is eagerly anticipated by VR enthusiasts.
We have reached the end of this week's VR Flakes. We hope you enjoyed it and look forward to the next one. We are happy to share VR news and developments with you. Please let us know your thoughts and opinions in the comments. Stay tuned for more VR technology news next week. Goodbye for now, VR family!