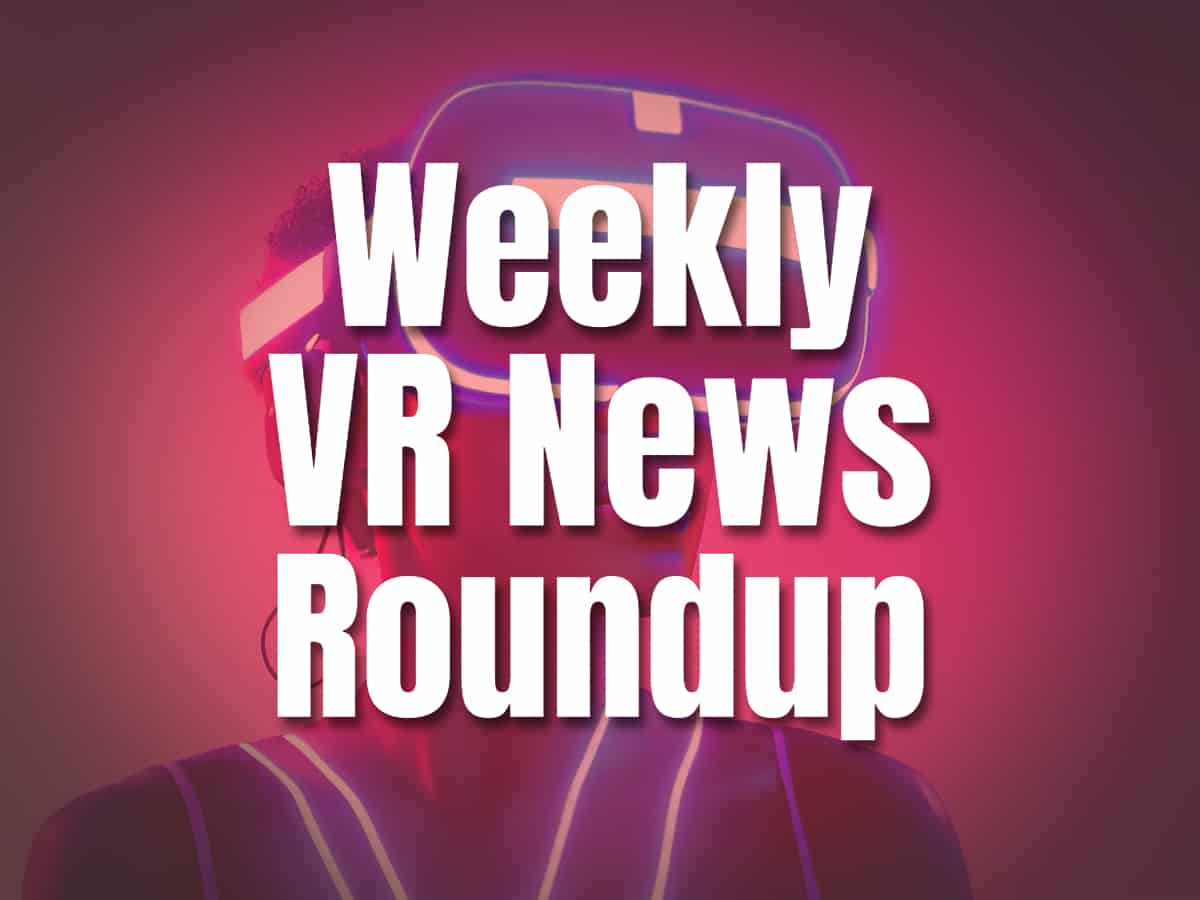 Virtual Reality News Roundup: VR Flakes December 10, 2022
Published
December 10, 2022
under
MORE
Welcome to this week's issue of the VR Flakes Newsletter. Our goal is to deliver the best virtual reality news from the week, all in one place. Get this delivered to your inbox every Saturday along with a surprise inside. Subscribe below on mobile or on the right if you're on a desktop.
The roundup for this week includes information on the latest Apple VR headset's release, new AR lenses from Snapchat, new AR/VR applications and uses, and a number of updates on current gaming trends. Without further ado, let's go!
Another hiccup in Apple headset delivery?
According to TF International Securities analyst Ming-Chi Kuo, the highly anticipated Apple VR headset will be released in late 2023.
Kuo is well-known for his forecasts of Apple product movement. He earlier projected that the said headset would be available in late 2022. Kuo believes that it will be delayed further after Gunman revealed that it will not be ready until 2023 owing to camera and software overheating.
The new release date for the Apple VR headset is now planned for the second half of 2023. Kuo also estimates that 500.000 units will be shipped by the end of 2023. This figure is lower than the previous estimate of 750,000 units.
There is no official word, but this should set expectations for people anticipating the arrival of Apple VR.
Play non-VR games in VR with GameVRoom
GameVRoom lets you play all of your favorite Steam non-VR titles in VR. Fast Travel Games is launching this new app that works with any major VR headset and controller.
With GameVRoom, you can create your own personal virtual environment where you can play your favorite non-VR titles. Or you can join others in shared spaces where you can play multiplayer games together.
Some of the coolest features of GameVRoom include:
Pick up GameVRoom through early access on December 15th for only $9.99.
Unlock AR Possibilities with Snapchat Paid Powerups
With Lens Fest taking place on December 6th, we thought it would be interesting to discuss how you can unlock AR possibilities on Snapchat with paid power-ups.
Snap's annual developer conference, Lens Fest, is centered on the global community of augmented reality creators. Snap announced a new feature at Lens Fest that allows selected developers to sell premium upgrades for their AR lenses.
Snap tokens, Snap's official in-app currency, can be used to purchase additional content such as digital goods, effects, and tools. The company is presently testing the new feature with a small sample of people.
According to Engadgetsources, participating lenses will be available in certain areas across Australasia within the next few weeks. They may be found in the Lens carousel and Lens explorer on your Snapchat app, which is available for free on iOS and Android smartphones.
Aerobanquets RMX: A Gastronomic Journey Into Virtual Reality
This virtual reality art piece was created by Italian artist Mattia Casalegno. He wanted to combine virtual reality with delicious food to create a new kind of dining experience.
In the multisensory experience, guests dined at a table where they wore a MetaQuest2 VR headset with an external hand tracker. They could choose between two menus: regular and vegetarian.
Inspired by F. T. Marinetti's futurist cookbook, a collection of fictitious recipes from the future, this installation supports up to 16 guests at once, each of whom wears a Meta Quest 2 VR head-mounted display equipped with an external hand tracker.
As they ate, the textures of each dish were rendered using VR. The experience also included text brought to life by Gail Simmons, a Top Chef judge.
Mattia Casalegno used VR to bring the dishes to life. And he did it in a really interesting way.
He took inspiration from F.T. Marinetti's futurist cookbook, a collection of fictitious recipes from the future. Casalegno decided to translate these imaginary dishes into actual ones. His idea was to combine VR with delicious food to create an immersive experience.
The result is called Aerobanquets Rmx. It combines VR with delicious food to deliver an unusual dining experience. For more information, visit the official website.
Discover A World of Languages On Quest with Noun Town
Noun Town is an immersive language learning app for Quest 2 or Quest Pro users. It lets you learn languages by interacting with items on an island. You can play games, find hidden treasures, and progress through thousands of words and phrases.
Noun Town is compatible with Quest 2 and Quest Pro. The app costs $14.99 on Quest, and there will be a PC version coming soon.
This virtual reality language learning app is ideal for anyone who loves traveling abroad and wants to learn a foreign language.
With Noun Town, you can explore a world of different language options by playing games. Currently, Noun Town supports Japanese, French, German, Spanish, Italian, and Chinese.
Watch the video to see how it works.
Modify Your Pistol Whip Experience
Pistols whip is a virtual reality experience developed by Cloudhead Games. It's a first-person shooter where you play a bounty hunter trying to hunt down criminals. You use your pistol whip to shoot enemies and collect bounties. But if you're hoping to unlock all of the weapons in the game, you're going to have to beat the challenge mode.
But before you start playing, you may want to know how to modify your pistol whip experience. Cloudhead Games announced a modding tool called Pistol Mix. It's expected to launch sometime next year.
There's no doubt that the virtual reality experience has changed forever with the introduction of Mods. Now there's an opportunity for you to modify your experience with Cloudhead's upcoming official Pistol Whip modification tool.
Pistol Mix is a new modding tool that will let players create custom scenes with the virtual reality community. Players can craft their own unique experiences using Pistol Mix to bring life to their favorite games.
Once created, users can upload their scene to Steam, Google Play, or the Oculus Store. And after that, they can link their account with the Steam Workshop, so anyone can enjoy those creations.
In addition to Pistol Mix, Cloudhead also promised OverDrive, a new collection of free 5 scenes coming throughout Spring 2023.
New Vertigo 2: Prepare for an Early 2023 Launch
While there were plenty of great games released in 2022, none was quite as exciting as the upcoming launch of Vertigo 2, especially given the news that it would be arriving early next year.
Zach Tsiaklis-Brown recently announced that his upcoming game Vertigo 2 will launch in early 2023. He's already shared several screenshots of the title, showing off the improved graphics and mechanics. We expect that this game will continue the legacy started with Vertigo and Vertigo Remastered.
Developed by Zach Tsiakalis-Brown, Vertigo 2 will feature a number of new mechanics and gameplay elements. Vertigo 2 will launch on March 30th, 2023.
Inside Look At Gambit's New Gameplay Trailer
Gambit got a brand new trailer to show off its new gameplay. You'll be playing as a group of mercenaries, Frank, Cody, Udo, or Kevin, as you try to steal loads of loot across a pre-apocalyptic world. There's plenty of action and gunfights, plus lots of cool gadgets to unlock along the way.
In addition to the main game, there's also an extensive single-player story mode that takes place before the apocalypse. You'll play through nine levels split between three separate chapters. Each chapter has five levels, and you'll be able to play through them in any order.
XREAL Games originally said that Gambit! would feature a lengthy campaign that would take 20+ hours to finish.
While the original plan was to release Gambit! on December 8, XREAL Games said that they're delaying it until sometime next year. Instead, they're planning to release it early next year.
New VR game titles on Quest
Quest has taken a step forward to provide gamers with new and exciting VR games. Here are some upcoming, announced, and released VR game titles on the platform.
Ghost Signal: A Sterraris Game
With hand-tracking 2.0
Coming in 2023
Attack On Titan: Unbreakable
Coming in 2023
Compound
Released
Maskmaker
Coming December 15th
We Are One
Coming May 2023
That's all for now! This week's VR Flakes were fun, we hope you enjoyed them. Let us know what you think about this week's VR news and interesting VR updates. Let us start a conversation here. We'd love to hear your ideas and feedback. Next week, you'll receive even more cutting-edge VR content. Ciao, VR family!