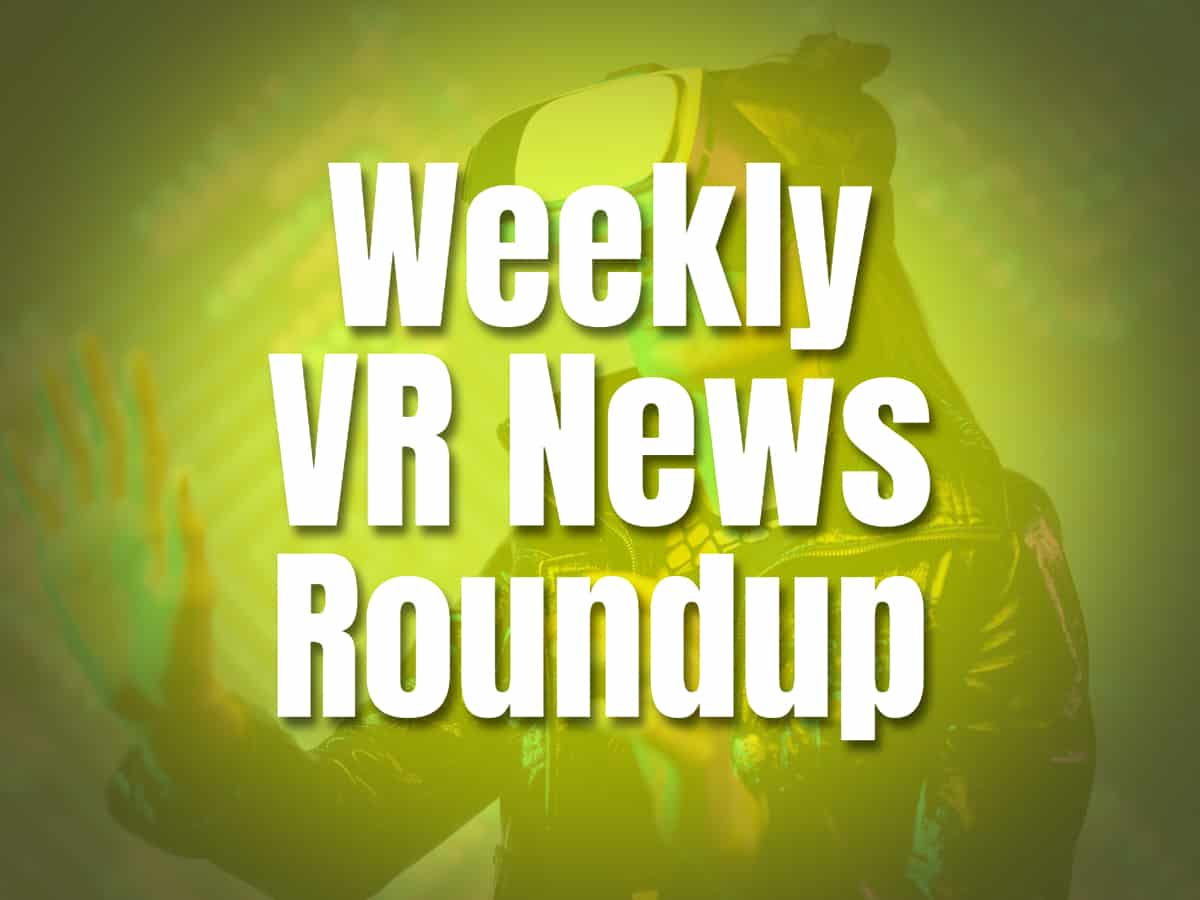 Virtual Reality News Roundup: VR Flakes January 14, 2023
Published
January 14, 2023
under
MORE
Welcome to this week's issue of the VR Flakes Newsletter. Our goal is to deliver the best virtual reality news from this week, all in one place. Get this delivered to your inbox every Saturday along with a surprise inside. Subscribe below on mobile or on the right if you're on a desktop.
This week, we're bringing you the latest updates from CES 2023 and beyond. From Meta's upcoming changes for Quest 1 to Roblox VR coming to Meta Quest headsets and FitXR's two new studios, there's plenty of exciting news in the world of AR and VR. Stay tuned for more details on these announcements and more as we dive into this week's roundup!
HTC VIVE XR Elite reveal
At this year's Consumer Electronics Show, HTC took their place as the frontrunner with their long-teased VIVE XR Elite reveal. Compared to its competitors, the VIVE XR Elite was equipped with several never-seen-before features that had fans excited and intrigued.
One of the key features of the HTC VIVE XR Elite is its modular design, which allows users to wear it either like glasses or in a more traditional headset fit. With an adjustable lens setup, people with corrective eyewear can enjoy a clearer virtual experience. The headset also comes with several helpful features for better tracking accuracy and immersion, such as an enhanced refresh rate, greater visual field, and adjustable sound levels.
The price tag of the VIVE XR Elite places it well below its main competitor, Meta's enterprise-focused Meta Quest Pro headset. Though it does not include eye or face tracking technology (which will become available via an accessory at a later date), its lower cost does put it within reach for many consumers who were already looking to invest in past models such as HTC's original VIVE. Even though the technology is still at the prototype stage right now, it looks to be ready soon enough for integration into offerings from major players in the industry.
The new Lumus 2D Z Lens technology
At CES 2023, Lumus showcased the latest generation of its augmented reality (AR) optical technology. The company specializes in developing reflective 2D waveguide displays which are incorporated into eyeglasses. This new display architecture has been shrunk down to a package so small that it can fit into the top corner of a lens.
The 2D Z Lens technology from Lumus promises to enable people to use high-resolution, full-color AR content with smaller and lighter eyeglasses frames. It features a resolution of 2,048 x 2,048 pixels, a 50° field of view, and over 4,000 nits per watt LED illumination – making it bright and clear enough to see in even direct sunlight. Additionally, the lenses are compatible with prescription glasses which should make these much more practical for those who need corrective lenses.
Overall, this new lens system from Lumus is promising and should bring us closer to an immersive virtual reality experience. The combination of sharp images, brightness, and compatibility with prescription glasses should be perfect for outdoor AR experiences such as sports or navigation.
Somnium Space VR1: Modular VR to consumer PCVR
At this year's CES, Somnium Space showcased the latest version of its VR headset, the Somnium VR1, which has been in development for some time. Fitting into a broader modular ecosystem that is intended to bridge the gap between standalone and PCVR devices, the device was met with much interest by attendees.
The specs of the device were impressive as was. It sports a 2,880 x 2,880 resolution display and 120-degree field of view (FOV) along with eye and hand tracking capabilities. What made it truly unique though was its modularity.
The interconnectivity options on the VR1 are plentiful with three 10Gbps USB-C ports allowing users to connect any variety of accessories to the headset while three anchor points provide very ergonomic comfort levels when combined with 3D printed accessories from Somnium's website.
The company didn't provide pricing info or a specific launch date for their new unit yet but gave us a hint at what we can expect from them in the near future. We can't wait to give it try when it becomes available
OVR Technology ION 3
At CES 2023, OVR Technology made a splash with the unveiling of their latest product – the ION 3. This one-of-a-kind wearable scent technology solution for consumers is slated for release later this year.
The ION 3 can contain up to eight distinct aromas that can be combined to create different scents. An earlier version of the device has been integrated onto VR goggles, allowing users to experience smells ranging from a romantic bed of roses to a marshmallow roasting over an open campfire.
Now, with their newest version, OVR has decided to go beyond just professional use and make this technology accessible to everyone. It will come with scent creation tools that will let any creator share multi-sensory experiences through the accompanying app.
OVR is also marketing this product as something of a digital spa experience that'll help users relax and recharge at home, much like an Instagram feed but enhanced with smell. With all these features in tow, OVR's ION 3 looks set to revolutionize virtual reality news in the near future!
Brelyon Fusion immersive virtual monitor
At the Consumer Electronics Show (CES) 2023, Brelyon unveiled their latest virtual display: Brelyon Fusion. This 8K OLED virtual monitor features a massive 110-inch screen and 110-degree field-of-view designed to provide an immersive experience for its users.
Brelyon Fusion was made possible by the company's Ultra Reality lightfield technologies. Users can use this technology for a variety of immersive experiences, from gaming and entertainment to education and remote collaboration.
According to Barmak Heshmat, CEO and Founder of Brelyon, "Brelyon Fusion™ allows the blending of light to scale field-of-view in a new way that achieves multiples of resolution." This new device is capable of providing things like 8K visuals with three times the number of pixels compared to conventional displays without sacrificing refresh rates or latency.
This kind of technology has huge potential for many different fields and the possibilities are endless when it comes to using Brelyon Fusion™. With its high-resolution visuals and immersive experience, it can be used for anything from home entertainment to professional training simulations.
Planet Theta: Dating in VR
Love is in the air as FireFlare Games prepares to launch their new dating app, Planet Theta, next month. Set to launch just in time for Valentine's Day 2023, Planet Theta promises an exciting new way to meet and connect with others.
With virtual reality technology now becoming more widely available on the consumer market, FireFlare Games has taken full advantage of its capabilities by developing a social platform that matches people looking for love. Aurora Townsend, the chief marketing officer at Flare, said her team is building their app to eventually incorporate more sensations like touch once the technology advances enough.
This development from Flare brings a whole new level of immersion and connection as gamers explore Planet Theta's dating destination, where they can meet potential dates and even share unique experiences like never before. With its easy-to-navigate interface and realistic graphics, this virtual world could revolutionize how we find relationships and bring daters one step closer to a real-world connection.
TCL RayNeo X2 revolutionized AR glasses
At the CES 2023 tech conference, TCL unveiled a revolutionary pair of AR specs dubbed the TCL RayNeo X2. This product is similar to other smart glasses on the market today, like the Nreal Air and VITURE One XR Glasses. However, this product looks and operates differently than these models.
The main difference between the TCL RayNeo X2 glasses and its competitors is that they feature screens in both lenses which helps make information look more clear and fit into the environment around you. The technology used to make this possible is known as an optical waveguide display which means that there are no pixels or electronics located within (or in front) of the glass itself. Instead, light projects down through it via angled grooves that then reflect towards your eyes.
If you happen to require corrective lenses, lucky for you these can be purchased along with your glasses so you won't have to invest in a new pair if need be. Additionally, with this model, it's easy to swap lenses in the future without having to buy a new frame. Hopefully, VR enthusiasts will have loads of fun using their TCL RayNeo X2!
AjnaXR mixed reality headset
At CES this year, the Indian company AjnaLens unveiled their entry into the advanced mixed-reality headset world with their AjnaXR. This headset is designed for learning, offering the wearer a wide range of immersive courses to teach them new skills or hone existing ones.
What makes AjnaXR truly unique is its use of haptic feedback gloves to provide an even more immersive experience. These gloves are connected to an algorithm which simulates reality, giving you feedback through the gloves in real time as you learn and practice what you're studying. This innovative use of VR/MR allows for hands-on training from remote locations.
This has had far-reaching implications for those who have difficulty accessing traditional forms of learning due to distance or a disability. Not only does it reduce costs and time associated with travel and accommodation, but it can also help level the playing field for those traditionally disadvantaged by access to education or specific skills development programs.
The AjnaXR provides unprecedented opportunities for distance learning, allowing anyone with access to the internet and appropriate hardware the chance to benefit from experience and knowledge in virtually any field or industry, advancing their career prospects without geographical constraints.
Meta is ending social features and all updates for Quest 1 this year, according to an email from the company. The email, with the subject line "Upcoming Changes for Quest 1″, revealed that Meta would be cutting off the headset from all built-in social features.
The original Quest headset was first revealed in September 2018 and began shipping in May 2019. It was eventually replaced by the Quest 2 late last year, which came with a much more powerful XR2 processor and a slimmer design overall compared to its predecessor.
Although owners of the original device will still be able to use it with "available apps", they won't have access to any more new features or updates. As such, "Quest 1 users will no longer be able to create or join a party" according to what was set forth in Meta's email message.
This news certainly isn't surprising given how long it had been since its release – however, many fans of the original headset may feel somewhat disappointed at the lack of support and availability of newer features going forward.
Roblox VR is coming to Meta
It was announced earlier this week in the website's official Command Line newsletter that Roblox, one of the biggest online video game platforms in the world, could be heading to virtual reality (VR) on Meta Quest headsets sometime later this year.
This is a huge deal; in 2021, the Roblox game company went public with an overall evaluation of $41 billion USD. In the third quarter of 2022, the game had over 58.8 million daily active users and currently shows no sign of slowing down. With more than 32 million developers creating cutting-edge 3D experiences every month, it's no surprise that Roblox wants to bring its massive library of content to virtual reality through Meta Quest headsets.
It's worth noting that Roblox is technically already available to play in VR using PC VR headsets such as HTC VIVE and Valve Index. However, bringing their popular platform to Meta Quest headsets would open the door for more people to experience super immersive 3D worlds full of games and activities via a console-level headset at prices lower than costlier PC-based alternatives.
With so many people already playing Roblox as well as an ever-thriving array of user-created content, adding support for Meta Quest definitely seems like a step forward for Roblox and for VR gaming itself. We look forward to seeing what sorts of new possibilities open up when it's released later this year!
2 new studios join FitXR
FitXR is expanding its range of virtual reality fitness experiences with two new studios. This month, Sculpt and Combat will be added to the app for Quest users to enjoy.
The Sculpt studio concentrates on low-impact strength and conditioning workouts inspired by barre, pilates, and isometric strength training. Eight classes are now available in-app with more to be added regularly.
Combat focuses on "fun and fierce workouts" inspired by various martial arts - karate, Muay Thai, taekwondo and boxing - with four classes launching on January 16th. Further classes will be continually added over time.
This news comes as a welcome surprise to VR fitness fans as they can now experience a variety of different exercise styles within the immersive world of virtual reality. Splitpad owners are also able to enjoy these new classes, making FitXR an even more attractive proposition for anyone wanting to get fit from home or workplace.
Whether you're looking for something low-impact or fun and fierce, these two new studios have something for everyone so make sure you check them out today!
Wrapping up this week's edition of VR Flakes! We truly hope you have gained something from the insights found in this newsletter. Share your thoughts and opinions on the incredible announcements featured here, and join the conversation! Your perspectives are greatly appreciated. Be sure to come back next week for more stimulating VR content! Farewell, VR family!