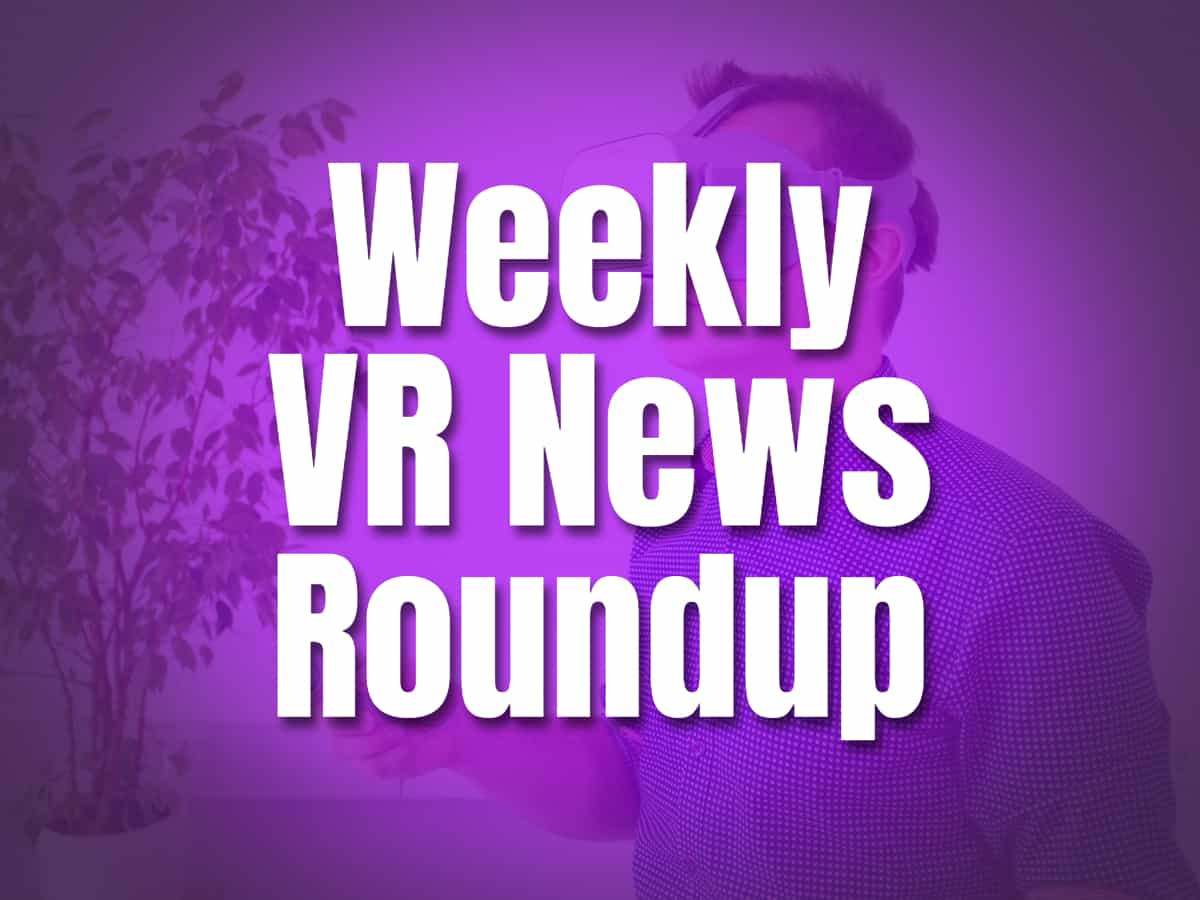 Virtual Reality News Roundup: VR Flakes January 21, 2023
Published
January 21, 2023
under
MORE
Welcome to this week's issue of the VR Flakes Newsletter. Our goal is to deliver the best virtual reality news from this week, all in one place. Get this delivered to your inbox every Saturday along with a surprise inside. Subscribe below on mobile or on the right if you're on a desktop.
his week, we bring you the latest news in virtual reality technology. From new hardware and software to exciting developments in the world of VR, we have it all covered. Get ready for a deep dive into the world of virtual reality as we explore the newest advancements and trends that are shaping this rapidly evolving industry. So sit back, relax, and get ready to be informed about all the latest news in virtual reality!
Puzzling Places: Lunar New Year Special
Puzzling Places, a VR puzzle game from developer Realities.io, has just released a new 3D puzzle inspired by the Lunar New Year! As you might expect, this special installment comes with plenty of prosperity and luck for the start of 2023.
The "Lunar New Year Special 2023" is available now to existing owners for free and comes with decorations that invoke good fortune and joy ranging from two plaques that explain the importance of the ancient scholar building in Beijing, China, and plenty of colorful decorations.
The most impressive thing about the latest puzzle is how hyper-realistic it is thanks to the 3D photogrammetry technology used to capture this environment. Once you finish constructing the entrance, animations will begin playing and regional audio will play in the background to create an even more immersive experience.
Furthermore, this new addition also includes a secret Easter egg hidden away for you to discover as well!
If you want a taste of Puzzling Places' new Lunar New Year edition, then make sure to check out their title on Meta Quest ($14.99), PlayStation VR ($19.99), and PICO 4 VR headsets today!
Sirius Ski Goggles: AR built for the mountains
The newest addition to the world of snow sports is the Sirius Ski Goggles, developed by Swiss company Ostloong. These goggles are equipped with all sorts of amazing features that make exploring the mountains much easier and more enjoyable.
These AR goggles are made for serious skiers, with GPS navigation, cellular data, and an HD camera built into the device. Built to revolutionize the world of snow sports, it has the potential to make adventures in the mountains more enjoyable, or at least safer.
As stated by Ostloong's CEO Amber Gao: "It is a huge yet outdated market which would benefit from new technologies to keep up with a new generation of tech-savvy skiers who are used to using their smartphones". If you're looking for a ski tech upgrade this winter, then look no further than Ostloong Innovations' Sirius Ski Goggles!
Visit their website at www.ostloong.com. Watch out for updates on its official release.
Eli Roth's BE MINE: A VR Valentine's Slasher premiers on February
On February 10th, get ready to experience Eli Roth's BE MINE: A VR Valentine's Slasher. Written by Roth himself and directed by Adam MacDonald, this combination 180/360-degree slasher film is just 30 minutes long but packs a punch with its immersive horror experience. Peyton List plays the lead role of Becca, who faces a murderous psychopath wearing a Cupid mask.
The film is available on Quest 2 and Quest Pro headsets via Meta Quest TV and Horizon Worlds. It is produced by Crypt TV and Roth in partnership with Cream Productions. Don't miss out - BE MINE: A VR Valentine's Slasher premiers at 7 pm PT on February 10th!
Prisms Math is now on Quest
Prisms, the popular Math learning program launched in schools in 2021 has recently received a consumer release. The new Prisms VR experience for Meta Quest users offers Grade 8-11 students, teachers, and tutors a fun and engaging way to learn math.
The Prisms VR app provides three different ways for at-home learning, including content modules that can help you revise key mathematics concepts. Also included with the app is a web-based dashboard that parents and educators can use to keep track of progress, as well as a multiplayer sandbox that encourages collaboration through problem-solving exercises.
With the launch of this exciting new educational product, it's clear that Virtual Reality could be used as an innovative teaching tool. Prisms VR allows people of all ages to familiarize themselves with complicated topics in an immersive way – perfect for when traditional teaching methods and online tutorials have fallen short.
Prisms VR arrived on January 19th on Meta Quest and can be purchased as an annual subscription for $24 USD. With so many valuable learning experiences available at such affordable prices, now is the perfect time to utilize virtual reality in your educational pursuits!
App Lab In-app purchases for Gorilla Tag brought in $26 million in revenue
The App Lab launch of Gorilla Tag has proven to be a success in more ways than one. According to an interview with GamesBeat, the free-to-play VR multiplayer hit generated a whopping $26 million in revenue from in-app purchases during its 13 months on App Lab.
The game initially launched in February 2021 in Steam Early Access for PC VR and soon after became available on SideQuest and then App Lab (March) for Quest headsets. By November of the same year, it had already achieved 1.5 million players. The game is offering in-app purchases featuring cosmetic items.
Just one month later (December), the game graduated to the full Quest Store, but that didn't stop player numbers from continuing to grow. According to Axiom, who spoke with GamesBeat, peak monthly user counts are now at 2.3 million players while an impressive 760,000 users were playing Gorilla Day on Christmas Day in 2022.
As a reminder, all this can be yours without spending any money since Gorilla Tag is still free-to-play on both the PC VR and the Oculus Quest platforms via Steam and the full Oculus Store respectively. So go ahead – give it a try today and be part of Gorilla Tag's ever-growing community!
PSVR 2 Launch Day Confirmed Games List
The long-awaited day has finally arrived - PlayStation has officially confirmed the list of games on launch day for the PSVR 2 headset! Coming February 22nd, 2023, these games are sure to bring gamers a truly unique virtual experience.
The list includes:
After the Fall
Altair Breaker
Cities VR
Cosmonious High
Demeo
Dyschronia: Chronos Alternate
Fantavision 202X
Gran Turismo 7
Horizon Call of the Mountain
Job Simulator
Jurassic World Aftermath
Kayak VR: Mirage
Kizuna AI – Touch the Beat!
The Last Clockwinder
The Light Brigade
Moss 1 & 2 Remaster
NFL Pro Era
Pavlov VR
Pistol Whip
Puzzling Places
Resident Evil Village
Rez Infinite
Song in the Smoke
STAR WARS: Tales from the Galaxy's Edge
Synth Riders
The Tale of Onogoro
Tentacular
Tetris Effect: Connected
Thumper
Vacation Simulator
What the Bat!
Zenith: The Last City
In addition to the launch day title, PlayStation also announced a handful of "launch window" titles which should arrive within March – The Walking Dead: Saints & Sinners: Ch. 2: Retribution (Skydance), No Man's Sky (Hello Games), Creed; Rise to Glory – Championship Edition (Survios), The Dark Pictures: Switchback (Supermassive) and Before Your Eyes (Skybound Interactive).
PuttView X Gives Golfers an Edge on the Course
PuttView X is a revolutionary app for Microsoft's HoloLens headset that can project valuable putt information directly onto golf courses. Using augmented reality (AR) technology, the app provides everything from setup lines to green contours, offering golfers an exclusive advantage during their rounds on the course.
PuttView X has several features that make it stand out from other applications. For one thing, you can select from different settings and views using HoloLens' built-in hand-tracking technology. One of the best parts about this app is that it works with both indoor greens and outdoor courses, so no additional tools are needed to get started.
In addition to all those great features, PuttView X also includes a handy companion app that allows you to adjust settings on the fly, as well as remotely cast what you're seeing so your friends and family can benefit too!
PuttView X isn't available yet but if you want to explore some similar options now, you can scroll through the selection of PutAview Indoor systems at putview.com.
Could Apple replace its glassy dreams with a cheaper alternative?
Apple was reportedly hoping to deliver AR/VR glasses by 2023 as a more advanced version of their glassy dreams, but with technological obstacles, this plan has been indefinitely postponed. Although the development of standalone Apple Glasses has been pushed back, Apple is still investing in headset research, rather than glasses.
Apple postponed the release of its augmented reality glasses, indefinitely as the technology was not deemed ready for launch. That hasn't stopped it from exploring other options reports say, such as building a more affordable headset model than its current Reality Pro range. The said headset could cost about the same amount as an iPhone and be called Apple Reality One.
Supply chain analyst Ming-Chi Kuo predicted that launching this affordable model would allow Apple to reach around 10 million consumers, compared to less than 1 million for Reality Pro. However, according to Mark Gurman from Bloomberg, the production of this cheap model will take longer given the long history of delays with Reality Pro and it is currently just in the early stages of development with no fully functional prototype yet available for testing. It is estimated that it may be available sometime in 2024 but until then we can only speculate about how technologically advanced yet affordable it will be when launched!
VR Game Updates: Releases, announcements, and more
The world of virtual reality gaming is constantly evolving, with new releases and announcements coming out all the time. Whether you're a fan of first-person shooters, puzzle games, or anything in between, there's always something new to explore. In this roundup, we'll be taking a look at the latest VR game updates and releases, as well as any upcoming announcements that you should keep an eye out for.
Pavlov announced
February 22, 2023 release on PS VR 2
The Last Clockwinder announced
February 22, 2023 release on PS VR 2
Peaky Blinders: The King's Ransom gameplay reveal
March 9, 2023 release on Meta Quest and PICO 4
Colossal Cave official launch
Release on PlayStation 5, PC, Mac, and Nintendo Switch on January 20, 2023. Xbox Series S|X and PS VR2 versions TBA
Divine Duel Beta Launch
Release January 27 - January 30, 2023, on Meta Quest
Primal Hunt official launch
Released January 19, 2023 on Meta Quest 2 and PICO
Don't lag behind and make sure you know all the fresh developments in AR/VR. Leave it to us, so don't fuss. We were quite joyous to present this week's news on virtual reality. And that closes off today's VR Flakes. Leave your thoughts in the comment section below. Till next time, adieu, VR world!