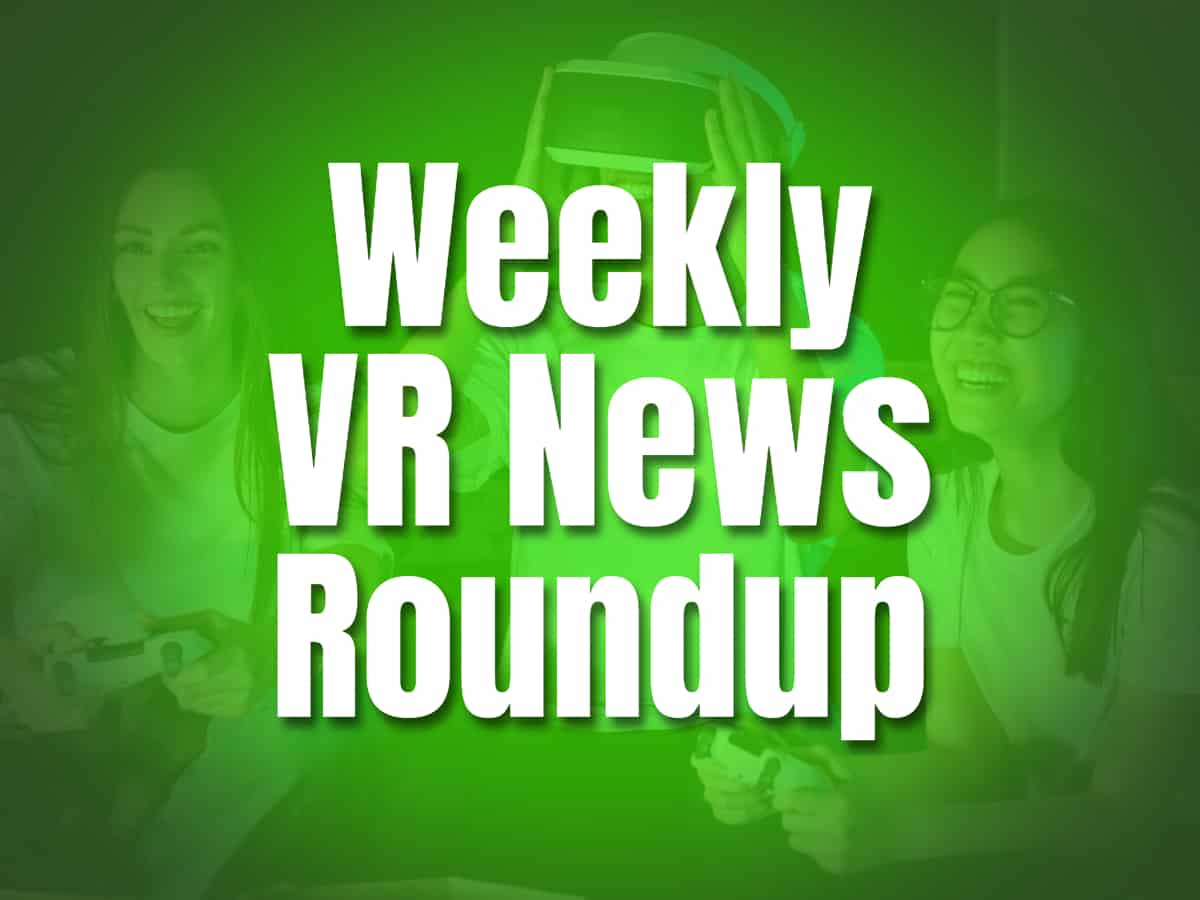 Virtual Reality News Roundup: VR Flakes January 28, 2023
Published
January 28, 2023
under
MORE
Welcome to this week's issue of the VR Flakes Newsletter. Our goal is to deliver the best virtual reality news from this week, all in one place. Get this delivered to your inbox every Saturday along with a surprise inside. Subscribe below on mobile or on the right if you're on a desktop.
Discover the newest advancements in VR technology with this week's Virtual Reality News Roundup. We'll be discussing how VR makes science lessons more fun and we'll also talk about what's new in Rec Room and the metaverse. We also have the latest updates on the imminent Apple headset. Catch up with more news in this week's VRNews round-up. Let's get started!
Virtual Reality Chemistry lessons with Futurclass
Futuclass Education is revolutionizing the way students learn science. Developed in cooperation with science teachers and schools, Futuclass provides students with basic chemistry lessons through virtual reality.
The game contains modules based on Atom Structure and Reaction Balancing, alongside educational escape room challenges that focus on Oxgyen or Moles & Molarity. This allows students to learn, test their knowledge, and have fun all within a single package.
Futuclass stands out from other education apps, however, by also providing easy-to-use lesson plans from the official website which can be used to supplement each module. These lessons will guide you through the module step by step, test your understanding of what you've learned and provide additional activities for further study.
A subscription mode of Futuclass is available now via App Lab within Meta Quest, offering players additional content through the subscription module and four free demo lessons. However, if you prefer to play your VR games on a PC instead, fear not! A free version of Futuclass is also available through Steam which charges $9.99 for extra learning modules.
This game allows science education to be fun again, with an engaging platform that opens up pathways to deeper understanding through immersive experiences that you couldn't otherwise have in a classroom setting. Check out www.futureclass.com  for more information.
Explore a different reality with Rec Room Full-Body Avatars
Rec Room, the virtual reality world filled with millions of players and endless opportunities to explore, recently announced their Avatar Initiative team that is developing full-body avatars. While their original avatars were released in 2016 without arms or legs, this new developmental progress could completely change how users engage and experience the world of Rec Room.
The team also revealed that all existing items and outfits will be compatible with full-body avatars. That said, they have made it clear that they won't be changing the look of the avatar for existing users. Importantly though, adopting the full-body avatar isn't mandatory; you'll still have the option to use your current avatar if you wish.
Rec Room is available on multiple platforms including PlayStation VR, PC VR, Meta Quest, Pico platforms, and iOS and Android to name a few; however, juniors are not allowed on Quest due to safety reasons. Furthermore, users have also been given access to flat-screen versions of Rec Room so users can enjoy the game without needing any special equipment from home. The best part is that progress is synched between devices so users can start off playing on mobile but then continue on PlayStation at any time.
Oreo's world is now in the metaverse
This week, OREO unveiled a new one-of-a-kind flavor, the Most OREO OREO cookie, which features real OREO grind within its creme. To celebrate the launch of this new product, OREO has created an exciting and immersive metaverse experience that can be accessed on Meta Quest 2 and Meta Quest Pro headsets.
The world of the OREOVERSE offers all sorts of delicious treats for eager players to discover and enjoy. Players will get to enjoy a variety of "cookie-themed" games that can win them up to $50,000! For a truly memorable experience, popular tv personality Martha Stewart and her gardener Ryan McCallister will stream themselves exploring the OREOVERSE next week on the brand's social channels.
"The Most OREO OREO cookie gives fans a whole new way to playfully engage with us," says Julia Rosenbloom, Senior Brand Manager, Oreo. "By scanning the pack they will 'dunk into' into this new world via Horizon Worlds."
The Oreorverse adventure begins Monday, January 30th only on Facebook and Instagram at 10 AM ET paired with Martha Stewart and Ryan McCallister's streams! Get ready for Cookie Conquest as you join the duo alongside your favorite treat for a wild ride!
Among Us VR reaches 1M sales
The buzz around Among Us VR continues after the team behind the VR adaptation of the popular party game announced that it has sold over 1 million copies across all platforms. The success of Among Us VR is phenomenal, considering it was released less than 10 weeks ago in November.
Not only does it boast impressive sales figures, but Among Us VR has achieved great levels of user engagement as well. According to stats from Innersloth, Schell Games, and Robot Teddy - developers for the game - Among Us VR has been played more than four million times by users across 122 countries. On average, 44,000 matches are held per day with 89,100,000 minutes dedicated to tasks, sabotages, and betrayal.
The good news doesn't stop there either as the team behind Among Us VR has a number of planned updates on the horizon, such as new maps and custom lobby settings. In-game reporting and voice chat moderation features are also expected to arrive soon while improved accessibility features will be added in order to make sure everyone enjoys playing too. Of course, don't forget that a version for the upcoming PSVR 2 is also arriving as a launch day title on February 22nd!
Among Us VR's major milestone shows that there is always room for innovation in today's world and gamers are always ready to jump on board when quality content arrives in their living rooms. We can only wait and see what other amazing projects come our way this year and whether they reach similar levels of success!
Get courtside without leaving home: Xtadium's NBA VR experience
Starting this year, everyone has the opportunity to watch professional NBA matches live in VR with the help of Xtadium. Xtadium is a sports-based app for Quest headsets that allows you to host private watch parties in VR and get courtside without leaving home.
Meta announced an extended partnership with the National Basketball Association (NBA) to broadcast more professional basketball games in VR on Meta Quest 2 and Meta Quest Pro headsets. You'll also be able to subscribe to the NBA League Pass for even more content, as well as purchase official NBA/WNBA-licensed apparel for your Meta avatar.
Using the Xtadium app, Quest owners can now watch NBA games alongside friends in VR. Meta is broadcasting 52 free live NBA games over the course of this season via Horizon Worlds, its social VR metaverse. On top of that, there will be 180-degree videos captured in 2880 resolution with commentation provided by celebrity broadcasters. By subscribing to the League pass, you'll have access to WNBA, NBA G League, and NBA 2K League games as well.
To access all these game highlights, recaps, mini-games, and much more all you have to do is hop into the Horizon World's NFL Arena now. Get ready to gear up your avatar and experience some ultra-realistic courtside action from home!
Get the full breakdown of the Horizon Worlds 2022/2023 NBA schedule here.
Phone to Court: NBA All-Worlds AR gaming by Niantics
Niantic, the developer behind Pokémon Go, has released a new free-to-play mobile AR game – NBA All-World – available on both Android and iOS. In this game, players will be able to recruit NBA stars and build their dream team or compete against them in 1v1 matches. Just like in Pokémon Go, you'll be exploring real-world locations to find these players, taking on challengers across 100,000 different basketball courts, and collecting gear for your team.
Unlike most other multiplayer games on phones and tablets, there is no way to play against other players directly. Instead, you'll face an AI-controlled member of someone else's team as you work your way up local leaderboards. This marks the first time we've seen an official NBA AR game from Niantic though they have previously collaborated with Horizon Worlds and Rec Room in VR previously.
NBA All-World is the latest free-to-play Niantic project that has been coming out over the years and seems to really bring a new level of engagement to mobile gamers who would otherwise never have tried virtual reality gaming.
The latest report on the upcoming Apple headset shows eye-tracking finger pinch
The latest report on the upcoming Apple headset shows a unique eye-tracking and finger-pinch technology that could revolutionize how we interact with virtual reality. According to Bloomberg's Mark Gurman report, the headset will use both eye-tracking and hand-tracking technology in tandem to allow users to select options by simply looking at them. Once selected, they can then "pinch their thumb and index finger together" to activate tasks without having to touch or hold anything.
The latest report on the upcoming Apple headset shows that it will make use of both eye-tracking and hand-tracking technology in tandem to drive a truly unique system of user interactions. The headset's core interaction mechanism allows users to select items by simply looking at them, and then "pinching their thumb and index finger together" to activate tasks without having to hold anything.
This is a unique feature, as no other headsets currently offer this combination of eye and hand-tracking technology at the same time. It also comes with a Digital Crown, similar to the dial found on an Apple Watch that users can physically turn to switch between virtual reality (VR) and augmented reality (AR).
In terms of software, the interface for Apple's headset will be "nearly identical" to that of regular iOS home screens, with users able to customize their grid of icons and add widgets for various apps. Immersive video watching will be heavily integrated into the headset experience, with Apple reportedly talking with multiple media companies - including Disney and Dolby - about creating VR content specifically for it.
Finally, after making the decision this week to move its battery from inside the headset externally into a pocket pack connected via cable, reports indicate that it'll be roughly "the size of two iPhone Pro Maxes stacked on top of each other" and will allow for around two hours' worth of battery life when fully charged. See Mark Gunman's Bloomberg report here.
Altspace shutdown
Microsoft-owned immersive social platform Altspace VR announced its closure this month, effective March 10th, 2023. The decision comes after the company experienced significant layoffs at Microsoft earlier this month, drastically affecting the Mixed Reality (MR) division that operated Altspace VR alongside the further development of Hololens, Azure AI, and Mesh immersive solutions.
As part of the company's "sunset" statement, AltspaceVR moved its remaining staff and resources to Microsoft's Mesh development project – a collaboration service focused on augmented and virtual reality (AR/VR). Mesh enables users to interact with real-time 3D visuals of others in a shared space, making it ideal for remote work or collaborating with friends or colleagues in a 3D environment.
Given the closure of Altspace VR and its shift to Mesh, many are speculating what this means for future H2 (or Hand Tracking)VR gaming. Microsoft itself has been promoting Mesh as its go-to platform for immersive social communication, suggesting that there may be potential in this space.
Microsoft's investment in XR technology has already made a significant impact since they acquired Altspace VR and its entire staff back in 2017. It will be interesting to see how they continue to apply the expertise gained from their former team members into their Mesh development and future H2VR projects or games.
There will always be surprises and fresh breakthroughs in the AR/VR arena. Make sure you don't miss them. Don't worry, we got it all covered. We hope you enjoyed this week's virtual reality news. This concludes this week's VR Flakes. Let us know what you think in the comments section below. See you next week for another VRnews roundup. Good day, VR family!