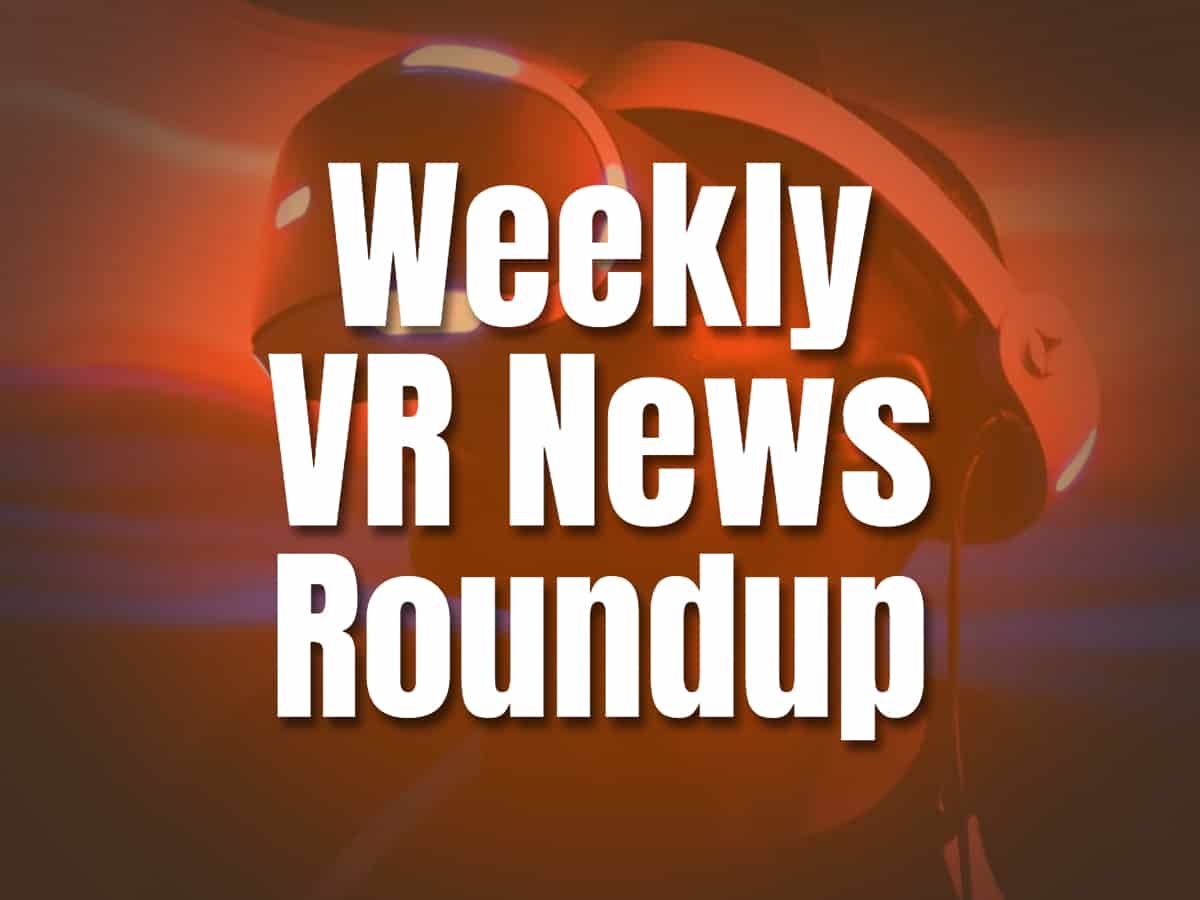 Virtual Reality News Roundup: VR Flakes January 7, 2023
Published
January 7, 2023
under
MORE
Welcome to this week's issue of the VR Flakes Newsletter. Our goal is to deliver the best virtual reality news from this week, all in one place. Get this delivered to your inbox every Saturday along with a surprise inside. Subscribe below on mobile or on the right if you're on a desktop.
This week, we're bringing you the latest news from the world of virtual reality. From revolutionary devices that can bring an incredible experience to any vehicle, to Emmy Award-winning games, there's plenty of exciting news to explore. Join us as we take a look at some of the most captivating stories from this week in VR! This week's round-up looks into the most captivating snippets of news.
Thanks to the current Consumer Electronics (CES) 2023, this week was loaded with amazing announcements at the start of the technology event. To discover them and more intriguing stories, join us in our regular VR news round-up! Let's dive right in!
Equip any car with the Holoride Retrofit technology
Holoride retrofit is a revolutionary device that can bring the incredible experience of "elastic content" to any vehicle. Developed by in-car VR company holoride, this lightweight device is roughly the size of a smart speaker and easily attaches to your windshield via a dedicated suction cup. The battery lasts up to 14 hours on a single charge and it allows you to connect up to two VR headsets at the same time - perfect for treating yourself and a friend to an amazing virtual reality adventure!
Using the same tech as found in holoride-ready 2023 Audi vehicles, it connects via Bluetooth with VR headsets and provides real-time movement and location data. This allows holoride's software to create a dynamic in-headset experience that adjusts content based on motion, keeping users comfortable while traveling. And the best part? These experiences are available for literally any vehicle!
Plus, when you sign up with Holoride they even throw in a free game from Emmy Award-winning studio ARVORE called Pixel Ripped 1995: On the Road that centers around saving virtual friends and recovering lost Pixel Stones.
Holoride offers plenty of experiences. Check this out.
Holoride Retrofit was officially released on January 4 and is now available for $199 USD at shop.holoride.com. The company is selling their retrofit Pack for $799, which includes an HTC VIVE Flow headset, a one-year holoride platform subscription, and a safety trap.
Razer Adjustable Head Strap System and Razer Facial Interface
Razer recently unveiled two new accessories for the Meta Quest 2: an adjustable head strap system and a facial interface. The adjustable head strap system is designed to provide another option for those who don't want to use the default fabric straps that the Quest 2 comes with.
The Razer Adjustable Head Strap System is designed to replace the Quest 2's traditional fabric head strap and does so by removing the rear wheel in favor of adjustable straps. Meanwhile, The Razer Facial Interface offers innovative solutions that claim to eliminate facial pressure, allowing users to enjoy smoother play sessions without worrying about skin irritation.
Razer's Quest 2 accessories are set to launch in Q1 of 2023 across the US, with plans to expand into other markets soon after that.
Acer eKinekt BD 3 Bike Desk: Convert pedaling into energy
At CES 2023, Acer unveiled their eKinekt BD 3 Bike Desk which is an eco-friendly way of charging electronic devices. The best part about it is that you can easily convert pedaling into energy with a full charge for a Quest 2 headset taking roughly 2.5 hours to complete.
Additionally, the bike desk has two modes; 'Working' moves the desk surface closer to the chair while 'Sporting' lifts the desk up providing more leg space while you pedal. Your workout stats are then tracked via a companion smartphone app, factoring in your height, weight, age and additional information as defined by you.
In terms of charging multiple devices simultaneously, no problem – It's equipped with two Type-A USB ports and a Type-C port – making sure all your electronic items are charged at one go! You can have your hands on this amazing device from this June onwards across North America, Europe & Taiwan for $999 only.
HTC Vive XR Elite: A cheaper rival to Quest Pro unveiled
HTC is looking to challenge their rival, the Meta's Quest Pro, with their newly announced Vive XR Elite headset at CES 2023. This consumer-focused device boasts a feature set that parallels that of the Quest Pro VR headset — but with a much more wallet-friendly price tag of $1,100.
Vive XR Elite seems to carry its portmanteau name 'Flowcus' quite well; its design is reminiscent of both Vive Flow and Vive Focus 3 as it features pancake lenses and has enterprise-focused technology built into it. Pre-orders for the device are available now and shipping is expected in late February.
This mixed reality device allows you to play standard VR games as well as those utilizing color passthrough AR technology. You can also connect it to a PC via USB-C or wirelessly over WiFi (up to WiFi 6E) for PC VR content.
Vive XR Elite features four room-tracking camera sensors on each side plus an RGB camera and a depth sensor in the center. Android app streaming is also supported, so you can stream any Android app or game on a virtual cinema screen. Bluetooth gamepads are linkable too, creating an immersive mobile gaming experience.
HTC has also kept this headset slim by including pancake lenses and fitted in 2 open-ear speakers into the arms of Vive XR Elite. Additionally, it supports Vive Wrist Tracker and offers headsets specially designed for enterprise users later this year.
The device is charged via USB-C ports and comes along with specialized controllers as well as face and eye tracking modules planned for 2023 release. And last but not least, it comes preloaded with plenty of gaming content ready to get you started!
Pico presents the Calvin Harris Experience in Virtual Reality
Pico is partnering with virtual production company Wave for an exclusive concert series, starting with Grammy Award-winner Calvin Harris. The Calvin Harris Experience will be a unique opportunity to experience the artist in a complete virtual universe on Pico, allowing attendees to explore as avatars while they take in his performance.
A shortened version of the concert will be available through TikTok Live, but only those attending the show in VR will get the full experience. According to Pico, attendees will even have the chance to influence the live performance through dynamic music elements during the show. This marks the first Pico-exclusive concert and it premieres on Friday, January 13 at 12pm PT across Europe and Asia — although there will be rebroadcasts available until February 26.
Snapchat's Chipotle-inspired AR lenses let you work out
Chipotle, the popular chain restaurant that engages in the development and operation of classically-cooked, real food with wholesome ingredients without artificial colors, flavors, or preservatives, has teamed up with Snap Inc. to offer a new augmented reality (AR) Lens for the Snapchat app that encourages physical wellness. This is said to be the first Snapchat lens created by a restaurant that promotes fitness.
The interactive experience will launch on Friday, January 13 - also known as "Quitter's Day" - in which users can get up and moving with a series of "Chipotle-inspired exercises" like AR running and meditative activities. To motivate those taking part in virtual workouts and exercising in this way, Chipotle is offering free guac to 100,000 participants!
In addition to the AR workout lenses, Chipotle has also released new Lifestyle Bowls that are available exclusively in the U.S. and Canada! These healthy meals are designed to appeal specifically to GenZ and Millennial customers looking for something fast, easy, and nutritious to eat when they're on the go.
VR Game Updates: Releases, announcements, and more
Stay informed on the latest virtual reality games you don't want to miss.
Newly announced games coming to PSVR2
Gran Turismo 7
This week during Sony's CES 2023, Jim Ryan confirmed that Gran Turismo 7 will be one of the first titles available for PlayStation VR2 when it launches on February 22.
Beat Saber
Also announced was the popular rhythm-based virtual reality game Beat Saber which is landing on PSVR 2 and has received an additional layer of polish for an even better gaming experience.
Song In The Smoke
In addition to these two highly anticipated games, Sony also revealed that survival game Song In The Smoke will be getting a PSVR 2 remaster by 17-Bit studio. The studio has called the remaster of this beloved game the "ultimate edition" and has promised tons of polish and additional features not included in the original version.
Hitman 3 is named VR Game of the Year at the 2022 Steam Awards
It's official - Hitman 3 won the fan-voted title of VR Game of the Year at the 2022 Steam Awards.
This exciting development comes after Hitman 3's initial 2021 release on PSVR, followed by PC VR support exactly a year later. This title stood amongst competitions such as Bonelab and Green Hell VR, Both Among Us, and Inside the Backrooms in the awards race for the prestigious award.
This wraps up another installment of VR Flakes. It was fun, wasn't it? We trust you appreciated finding out about the most recent virtual reality updates. Leave us a comment below with your thoughts. Next week we will have more news related to VR. Check back here in a week's time for our new report on the topics you love to read about. Until then, fond farewell, VR fans!