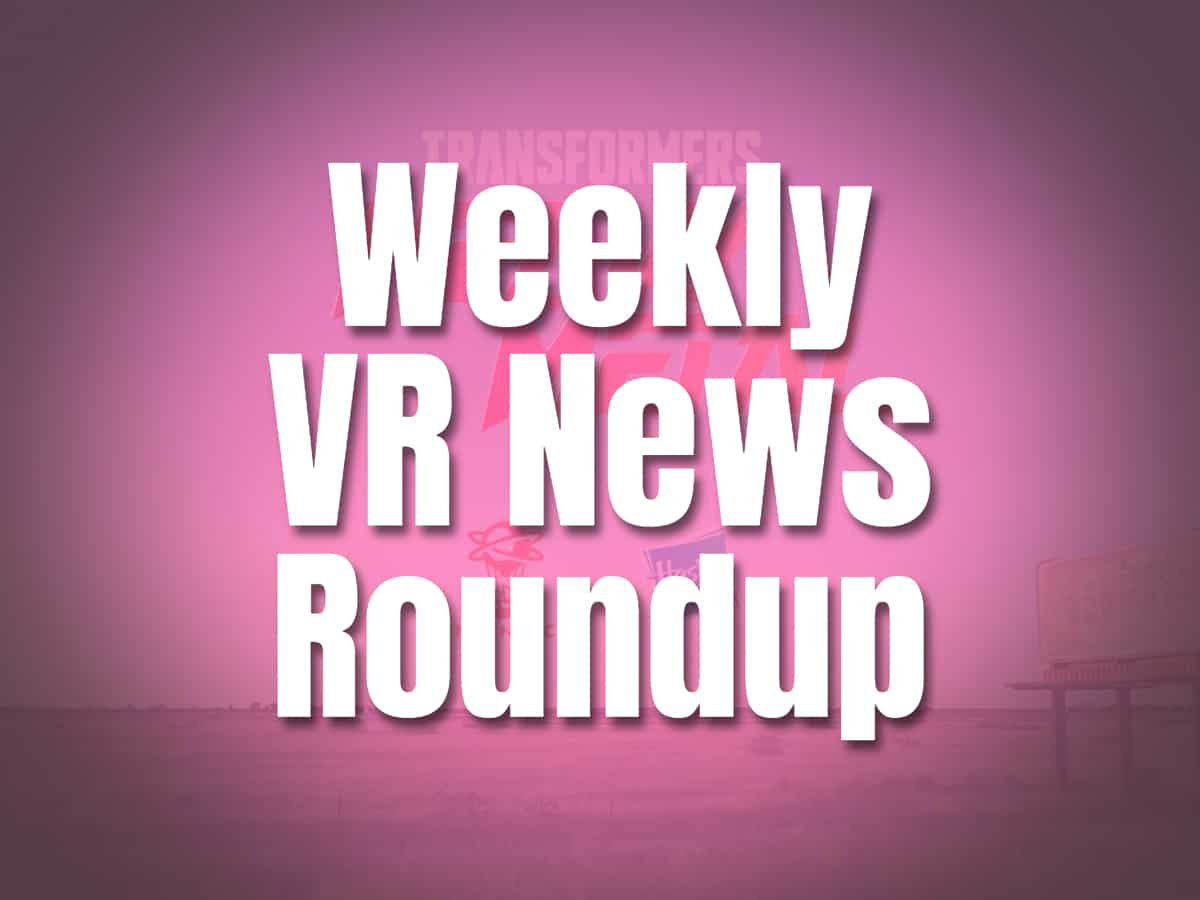 Virtual Reality News Roundup: VR Flakes June 19, 2021
Published
June 19, 2021
under
MORE
Welcome to this week's issue of the VR Flakes Newsletter. Our goal is to deliver the best virtual reality news from the week, all in one place. Get this delivered to your inbox every Saturday along with a surprise inside. Subscribe below on mobile or on the right if you're on a desktop.
This week witnessed E3 2021. It's the 26th Electronic Entertainment Experience event. This is an annual event where the gaming industry shows off upcoming games, best titles, and updates. In this week's roundup, we'll give you some of the biggest announcements in VR and some cool updates on the most favorite VR titles.
The Biggest Upcoming Games and VR Favorites
Niantic, Hasbro announces a new big title AR game on mobile rolling out this year
A new mobile AR game is coming. This big title is a partnership of Niantic, Hasbro, TOMY, and Very Very Spaceship. Transformers: Heavy Metal is coming late this year and everyone's excited.
Very Very Spaceship will be using the Niantic Lightship platform. The former is the lead developer of the game. It has a great storyline as we expect. The game will ship franchise characters such as Optimus Prime, Bumblebee, and more. Join them as they battle against the Decepticons. The mobile AR game experience is like the game Pokemon Go, where players explore the global map.
Join the Guardian Network. This is a group of humans who teamed up with the Autobots to defeat the Decepticons. Players will set off to find hidden regions across the Earth. They'll be looking for resources and encountering battles. They can take on battles on their own or with friends.
Popular arena shooter game is coming to VR in 2022
All you Nerf fans, rejoice! Nerf is finally coming to VR. We'll just have to wait until next year. Nerf Ultimate Championship is one of the biggest titles we're keeping an eye out for until it ships in 2022 on Oculus Quest. Now it is official, we are excited to hear new updates. Their very short but sweet official trailer is such a tease. The game hasn't released an official gameplay yet or a sneak peek into the game. But the clip is enough to expect good things coming for VR next year.
Build new worlds with your friends in VR with BricksVR multiplayer
Inspired by the popular building toy LEGO, BricksVR allows players to create structures. Players can build worlds using different shapes of bricks. In early access, it has 50 different shapes. But after early access, the goal is to expand it to more than 200 different bricks in over 16 million colors.
BricksVR aims to bring the flexibility of LEGO into VR. The aim is to create limitless possibilities in easily manipulated environments. You can resize your character to suit the scale and size of what you are currently building. Up to 5 players can build together with a spatial voice chat. Spatial voice chat changes the way you hear others based on how near or far they are from you in the VR space you are in.
You can also make the worlds you created viewable by others by setting them public. You can save your game and lock these worlds so visitors won't be able to alter them. Having said that, you can explore user-created brick worlds, too.
Early access to BricksVR is available for Quest via App Lab starting on June 30. It is also available on PC VR via Steam. Wishlist BricksVR now so you don't miss the early release. The full release is expected this September 2021.
Wishlist BricksVR now so you don't miss the early release. The full release is expected this September 2021.
Here are fresh new trailers from the most anticipated games in VR
Sniper Elite VR New Gameplay Trailer
Green Hell VR – PCVR Gameplay Trailer
Rhythm Of The Universe: Ionia – Release Date Trailer
Larcenauts – VOD Gameplay & Roadmap Trailer
Facebook VR Developments Updates
Facebook has been a major game player and game changer in the VR world. We can't deny that this company is working relentlessly to push the VR world forward. This by engaging both consumers and developers into building the future of VR. And now with their latest partnership and steps, they are one of the giants who are continuously making things interesting in the VR world. Here is what they are currently up to.
Ads in virtual reality
Facebook is at its testing phase of putting advertisements in VR. The attempt is being made to see if putting ads in VR can help developers advertise and create better revenue. Facebook should be able to see how VR users interact with the new information. They'd see who clicked the ads to find out more and also learn who hid the ads. Facebook believes this to be important to know what VR consumers want and so they'll be able to provide them more relevant content.
And here's another thing. Facebook is said to use the money they get from advertisements to subsidize the cost of Oculus VR headsets. What do you think?
Facebook fifth studio acquisition
BigBox VR, the maker of Population: ONE just joined the list of Facebook's VR studio acquisitions over the past years. Facebook doesn't disclose any of what's included in the agreements. What we know is that BigBox VR reassures VR players. They promised they will continue to provide better experiences of their games. That's for all the different platforms. Four other studios that were bought by Facebook are Beat Games, Sanzaru Games, Ready At Dawn, and Downpour Interactive.
Watch out for the PS5 VR headset coming next year 2022
We got some new updates regarding the PS5 VR headset. This new VR headset is expected to launch by the holiday of 2022. Seems far ahead but we'll give you extra new information about the much-awaited VR headset right now. There is still no official name for this VR headset yet.
The PS5 VR headset will come with OLED Display from Samsung, reports said. The original PS VR, Oculus Rift, and HTC Vive all use OLED. However, Facebook and HTC now use LCD panels. The advantage of LCD is that it is cheaper and can always render higher resolutions. But OLED can be more expensive but it can display the true color of black, which the LCD can't.
That's it for this week's VR Flakes. We hope you liked the latest updates and VR developments in the news this week. Tell us your thoughts about them in the comments below.
More VR news coming your way next week. See you here again for another week's roundup. Ciao VR fam!