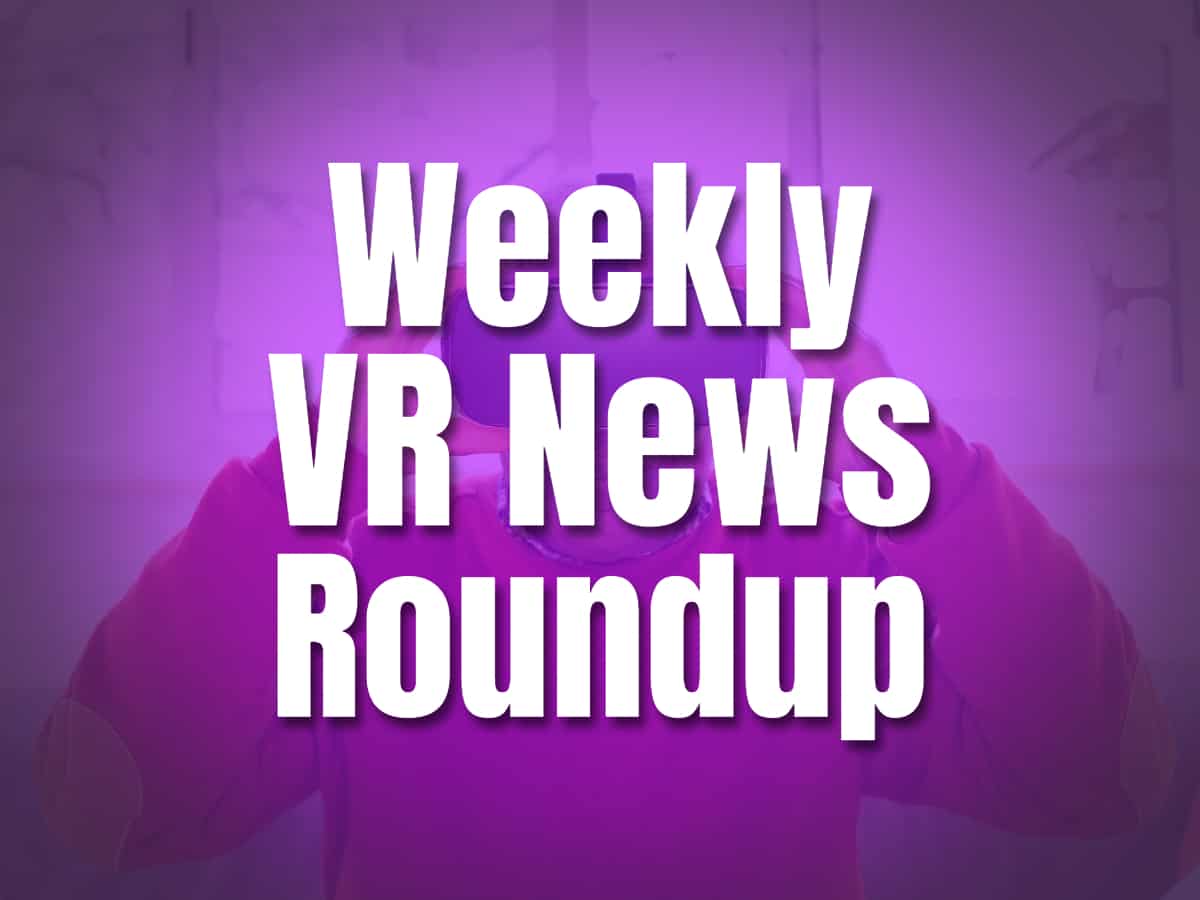 Virtual Reality News Roundup: VR Flakes March 4, 2023
Published
March 4, 2023
under
MORE
Welcome to this week's issue of the VR Flakes Newsletter. Our goal is to deliver the best virtual reality news from this week, all in one place. Get this delivered to your inbox every Saturday along with a surprise inside. Subscribe below on mobile or the right if you're on a desktop.
Welcome to this week's VR Flakes! This week, we bring you the latest news about virtual reality which is sure to excite any VR users. We have updates on new products, upcoming features, and more that are sure to give your VR experiences a boost. Get ready for some amazing developments in the world of virtual reality, from new free-to-play games on the Quest platform, to RFID-tagged objects and enhanced accuracy with X-AR headsets. Plus, get ready for even more exciting content coming soon like a single-player mode, dynamic bots, and in-game rewards – it's time to upgrade your virtual reality adventures! So don't wait - read on and find out what's happening in the world of VR today!
Save Echo VR!
The gaming world was absolutely rocked by the recent news that the popular VR esports game Echo VR would be shutting down on August 1st, 2023 conveniently—or not so conveniently—at 10:00 am PST. This announcement sent shockwaves throughout the entire global VR community and many users desperately sought out a way to save the beloved e-sport game whose history and charm has become an irreplaceable part of gaming culture, prompting one group, Fight for Echo, to look for solutions.
The response from Fight for Echo was truly impressive as it took it upon itself to purchase a sky banner circling over Meta headquarters in Menlo Park. The message clearly reads "Zuck, Don't Kill VR Esports FIGHTFORECHO.COM" and circled the skies above Meta headquarters for three full hours on March 1st, 2023. The amazing thing is that Fight for Echo even managed to host its own live stream which garnered about 3,000 viewers! That's no small feat at all.
Duncan Carroll of Fight For Echo shared his opinion in an official statement saying "This event is a plea to Mark Zuckerberg to reverse Boz's decision to shut down one of the most popular and well-loved VR games in history; the community believes that Echo VR is not just an e-sport, it's part of gaming history."
It goes without saying that time will tell us whether or not this initiative will end up paying off but you bet gamers around the world are keeping their fingers crossed that Echo VR survives this turbulent turn of events—download and play now before it's too late!"
The Verge leaks 3 headgear projects by Meta
A report from The Verge recently claimed that Meta intends on releasing three additional VR headsets over the next several years, beginning with an upgraded version of its current Quest 2 device. Citing an internal roadmap presentation given to Meta employees, the report states that a Quest 3 is slated for later this year, offering twice the power of the Quest 2 and 41 new games and apps at launch.
According to Rabkin, Vice-President of VR at Meta, the device will be "at least" twice as powerful as the current Quest 2 and include new features such as a "smart guardian" for enhanced safety, front-facing cameras for mixed reality support, as well as improvements to make content sharing easier. In terms of pricing, it's estimated to cost slightly more than $399.
In 2024 Meta plans on making their technology more accessible with the codenamed "Ventura" headset. La Jolla is an even more advanced VR headset with codec avatars that offer photorealistic experiences scheduled to release after Ventura in 2027. Finally, Meta plans on releasing its augmented reality glasses sometime in 2027.
Clearly, it looks like Meta has big plans for VR in the coming years. Alongside its focus on user engagement and providing customers with accessibly priced headsets as well as rich media experiences via its codec avatars, gamers can look forward to their ever-expanding library of applications and games arriving soon along with additional mixed reality features!
Next-generation eyewear-free 3D tablet
ZTE Corporation recently revealed their latest offering to the mobile technology world, the nubia Pad 3D. This powerful 12.4-inch tablet utilizes AI and light field technology to give users access to a variety of unique 3D experiences without needing additional eyewear.
The device features an AI face-tracking system that allows you to easily enjoy 3D games and videos, as well as convert existing 2D content into stunning 3D versions using its advanced neural network and deep learning algorithms. You can also produce original 3D content with the help of two dual cameras: a 16MP rear camera for shooting video and an 8MP front camera for video calling. To top it off, you can even pair the device with various software for an enhanced creative experience.
For mobile applications, make sure to check out the Leia App Store where you'll find all sorts of interesting apps from entertainment and education programs to medical aid applications. The nubia Pad3 also has potential commercial use cases such as digital exhibitions or communication purposes.
Samsung files for patent on new XR hardware
It looks like rumors of Samsung's latest developments in their XR technology are coming to fruition. This week, Samsung filed a patent for both their rumored "Galaxy Ring" and "Galaxy Glasses."
According to the characteristics of the Galaxy Ring, as noted by KIPS, it features similar metrics as the recently released Galaxy Watch 5 and 5 Pro – such as taking blood pressure readings – making it a significant tracker device of both activity and health indicators.
Aside from the Galaxy Ring, Samsung also filed a patent for their AR device, dubbed 'Galaxy Glasses.' Not much information was disclosed about this patent filing, but we do know that it has something to do with projecting virtual data over the real world.
It seems that Samsung has been gearing up for an amazing 2023 lineup in terms of XR hardware, especially after the company previewed its updated platform back in February during their Unpacked event.
We can only hope that this new tech lives up to our expectations and actually hits store shelves soon!
Pimax secures series C1 funding for new VR devices
Pimax, the China-based creator of the wide field of view (FOV) VR headsets, has announced it has secured a $30 million series C1 financing round. This follows the company's $20 million series B in 2020 and brings the company's lifetime outside investment to over $69 million.
The funds will be used to help roll out a new portfolio of VR devices, including the Pimax Crystal and PImax Portal, as well as boost its position both as a consumer and enterprise-focused company. Also, they'll be used to invest more in research and development (R&D).
Pimax is most popularly remembered for its 2017 Kickstarted "8K" headset which included dual 4K panels providing an estimated 200-degree FOV. Now the company is set to launch both its VR standalone Pimax Crystal and hybrid Portal device. The Portal device can convert between a Nintendo Switch-style gaming handheld and a VR headset.
The Pimax Crystal is available for pre-order on their website and the Portal device is still in the fulfillment stage from its successful 2022 Kickstarter campaign garnering over $350,000 from backers. Both are expected to release at some point in early 2023.
X-AR: X-ray vision AR headset
Researchers based out of the renowned MIT have created a new augmented reality (AR) headset that can provide users with "x-ray vision" to help them locate and find hidden objects. As part of its features, the X-AR headset utilizes a wide-band antenna powered by Radio Frequency (RF) sensing to provide assistance with object finding.
The device works by first capturing data from its sensors to make a 3D representation of whatever environment it is in. The antenna then uses an AR-based SAR localization algorithm aided by RF signals to identify where within that space RFID-tagged objects are located, even through items such as cardboard boxes and plastic bins. To aid users in locating said items, an interactive hologram sphere is displayed within the real world above where the item is supposed to be found. Then a selection of "virtual footprints" guide users toward the hidden objects upon putting on the headset.
Once located, the headset is capable of verifying whether or not it's holding onto the right object with over 95% accuracy by means of providing RF signal confirmations sent from its tag. If all checks pass, the mission is accomplished! You've reached your goal!
Population: ONE is free to play this month
This month, get ready to jump into the intense world of virtual reality battle royale with POPULATION: ONE. The hit shooter from BigBox VR is going free-to-play on the Quest platform starting March 9th, and it's sure to bring in a whole new wave of players!
To sweeten the deal and encourage members who already own the game beforehand, BigBox VR announced an 'Original Banana Bundle Rewards' which includes legendary character skins, rare gun sets, and lots more freebies that are estimated to have an $80 value.
Notably, this free-to-play update only applies to Quest versions of the game; the Oculus Rift and Steam versions will be priced at $20 from March 9th with 1,200 Bureau Gold ($20) included for each player as a safety measure against potential cheaters through account swapping.
As for content updates for this month, there are lots of goodies in store such as dynamic bots for single-player mode with in-game rewards, additional lobby sizes from 12 to 24 players, and a newly upgraded shop with over 100 new character/weapon skins. A sandbox battle royale mode and playlist are planned for March 30th – stay tuned for plenty more action in the meantime!
That's it for this week's VR Flakes. With new and innovative products on the market, exciting upcoming releases, and plenty of content updates to keep us entertained, there's never been a better time to explore the world of virtual reality. We can't wait to see what next week has in store for us – make sure you join us here again for another round of news from the world of VR! Ciao VR fam!