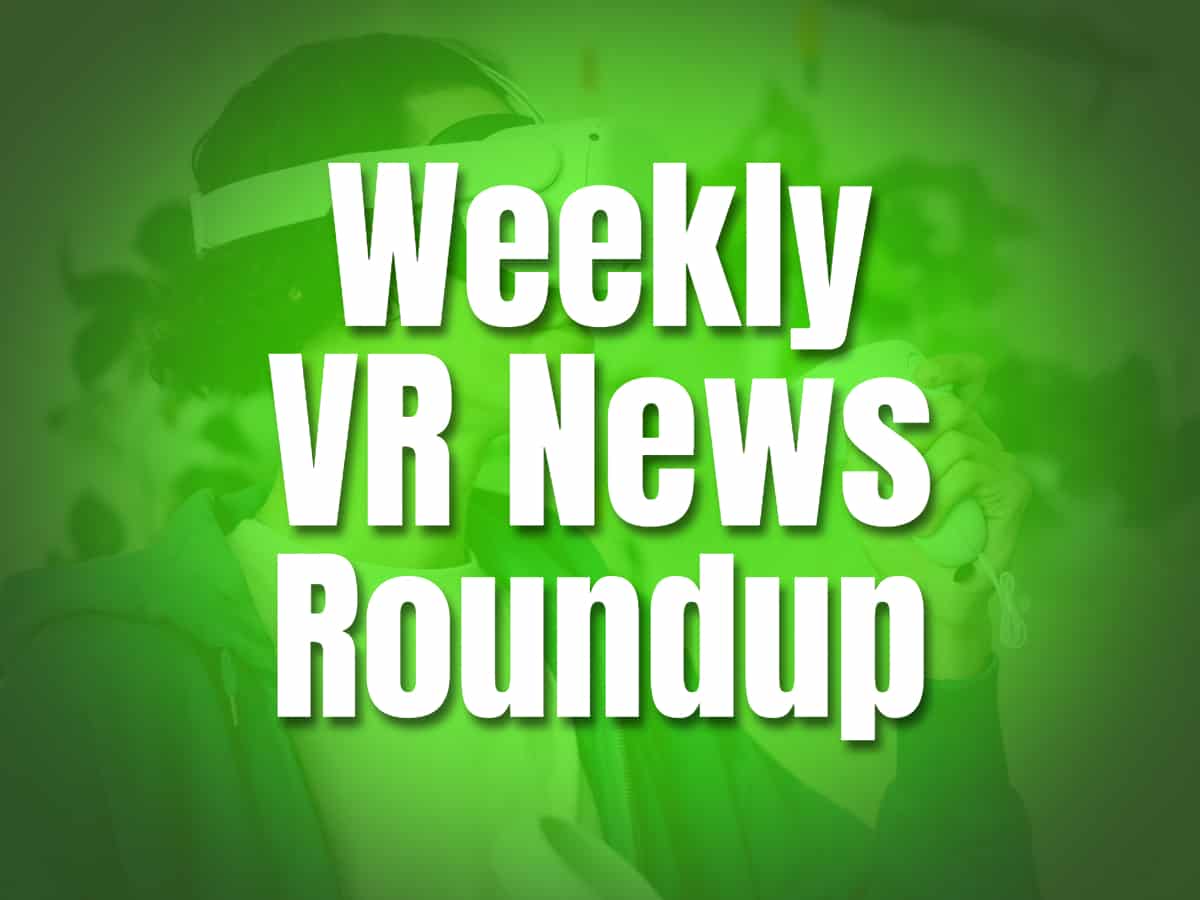 Virtual Reality News Roundup: VR Flakes October 8, 2022
Published
October 8, 2022
under
MORE
Welcome to this week's issue of the VR Flakes Newsletter. Our goal is to deliver the best virtual reality news from this week, all in one place. Get this delivered to your inbox every Saturday along with a surprise inside. Subscribe below on mobile or on the right if you're on a desktop.
This week's round-up covers new releases, experiences, and teasers from the AR/VR world. This week HTC shows they have something up their sleeve to look forward to. As AR finds new applications in every imaginable field, new experiences surface involving books and leprechauns. This week's roundup of VR news includes all of these and more. Let's get to it!
HTC teases a new upcoming headgear
HTC releases a teaser for a new device, providing little to no information about it. What is confirmed though is that it is indeed a new headset.
On October 6, HTC takes to Twitter with a mysterious image of a black surface of an unknown device. It carried what seems to be a tagline "Go small or go home".
A compact VR headset is expected to be introduced soon because of this teaser. Many want to dig more into this mysterious device but taking a closer look at the image only shows "Nice try". Guess we all just have to wait out what's next for this new HTC headset.
Beat Saber releases Lizzo Music Pack
Pop sensation Lizzo's music made its way to the popular VR rhythm game Beat Saber. Lizzo's song "About Damn Time" has been making waves in TikTok and is a very familiar one to many. So, the title is the highlight of the new Beat Saber Music Pack.
Lizzo Music Pack is a paid DLC consisting of 9 tracks. Each track can be bought separately. The bundle is priced at $11.99, while the individual tracks can be bought at $1.99.
The music pack is a combination of elements of hip-hop, funk, and pop. The complete pack includes the following songs:
Lucky Charms and Niantic produce an augmented reality game with a leprechaun theme
Niantic takes on another project to take AR into another form of experience. Now partnering with breakfast cereal brand Lucky Charms. The brand is known for carrying a leprechaun-themed product and this theme goes into its own AR experience called Journey to the Magic Gems.
Journey to the Magic Gems is an AR mobile game that utilizes a web-based AR experience via 8th Wall. Niantic's 8th Wall makes it possible for people to play the game without requiring any download.
It is easy to access the game. Just scan the QR code that you can find on the limited edition Lucky Charms cereals box. This will lead you to the link to open the game on your mobile browser.
The basic concept of the game is exploring your real-world environment to search for magical gems. Just visit a park nearby and the app will turn it into an AR magical world. Join the sweepstakes before starting out on your magical gem adventure. You might win a chance to turn the park into a sparkly LED-lit version in AR.
Finding the first magic gem unlocks the dark mode. This is the Rainbow Vision mode where the game shifts to exploring dark places in search of hidden gems.
The experience includes a Park Finder which will make it a lot easier for you to select a park where you experience this magical world.
Paperback Metaverse: Books meet AR
Another AR application grabs the attention of book lovers. Paperback Metaverse is an installation shown during the Adaptations: Land at The Drawing Room Annex, 780 Valencia Street San Francisco.
Adaptations: Land is a mixed-media art exhibit that began showing different immersive installations and media possibilities on October 3. The exhibit continues until November 13.
Paper Metaverse was produced and created by Imaginary Foundation. It is an AR experience meant to marry paperback and AR in a uniquely immersive experience. Visitors of the exhibit can scan the paperback books with their smartphones and this should unlock AR-powered NFTs.
D-Link VR Air Bridge is now available
VR Air Bridge is a USB adapter for Meta Quest 2 to connect to your PC, expanding your VR content library with PC VR quality content. The little device directly connects your Meta Quest 2 and your PC via a WiFi 6 connection.
And here are the advertised specs of the device:
Wi-Fi 6 technology for enhanced speeds of up to 1800 Mbps
IEEE 802.11ax protocol with OFDMA and MU-MIMO technologies ensure a fast and efficient Wi-Fi connection • Low-latency features to reduce Wi-Fi latency for VR traffic
USB 3.2 Gen 1 dongle delivers maximum performance and reliability • Includes USB cradle for better placement and performance
Seamless integration with Quest Link Software on Windows 10/11
Software support from Meta
PC Host Interface Requirement:

Available USB 3.2 Gen 1 port
The device will function on lower USB version ports but will cause performance issues resulting in a sub-optimal VR experience.

Dimensions (L x W x H): 95 x 30 x 10 mm
Weight: 23.6g
Temperature: Operating: 0 to 40° C (32 to 104° F)
Storage: -20 to 75˚ C (-4 to 167° F)
Humidity: Operating: 10% to 90% (non-condensing)
Storage: 5% to 95% (non-condensing)
Certifications: FCC Class B CE
Power consumption:

Standby mode - 154 mA
Operating mode - 464 mA
Currently available only for US consumers and Canadian consumers.
Google invests in SideQuest
The app store and sideloading service for Meta's Quest and Quest 2 announced that it has successfully raised $12 million in a Series A funding led by Google Ventures, Google's investment arm (GV).
To create the central content portal for an XR Ecosystem, Google Ventures contributes $12 million to SideQuest. SideQuest is an alternative to the Quest official app store as the go-to platform for sideloading Quest and Quest 2.
New VR Games to check out this weekend
Townscaper VR
Platforms: Quest 2, Pico
<RUNNER>
Platform: Quest 2
There will always be surprises and fresh breakthroughs in the AR/VR arena. Make sure you don't miss them. Don't worry, we got it all covered. We hope you enjoyed this week's virtual reality news. This concludes this week's VR Flakes. Let us know what you think in the comments section below. See you next week for another VRnews roundup. Good day, VR family!