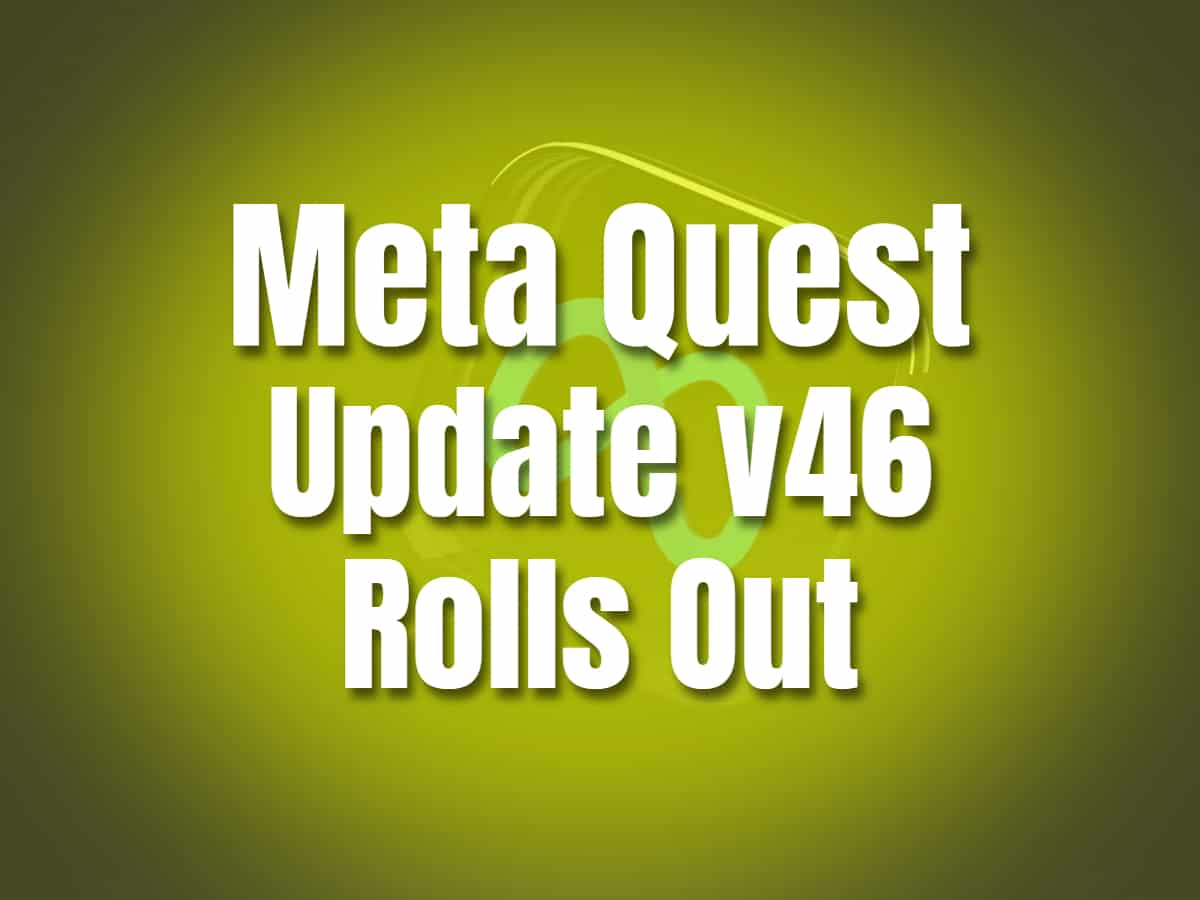 Meta Quest Update v46 Rolls Out, Adding New Features Ahead of Connect 2022
Published
October 11, 2022
under
MORE
Last week, Meta Quest made a surprise release of the v46 update without the v45. The reason is unclear but the company has much more important things to talk about now that Connect 2022 is just around the corner. Just two weeks after v44 rolled out, Meta moved swiftly skipping v45 and rolling out v46 right before Meta's big developers' event this year. Meta Connect 2022 happens on October 11.
What's new in the latest update?
V46 brings useful functionalities to the Meta Quest platform adding ease of access, security, and a special something for the Lord of the Rings fandom. Here's a quick description of the new features and how it affects the Meta Quest experience.
New Horizon Home environment
Home spaces can be personalized in Meta Quest's Horizon Home. You can download home environments from your settings and personalization menu. Update v46 introduces the Halls of Khazad-dûm, which users can now select as their home environment.
Khazad-dûm is a legendary city featured in The Lord of the Rings: The Rings of Power. The setting is a brazier-lit dwarven fortress underneath the Misty Mountains. Moria and the Dwarrowdelf are other names for the underground realm. This middle earth kingdom is portrayed to have a massive complex network of tunnels, chambers, mines, and halls.
The Lord of the Rings: The Rings of Power is currently streaming on Prime Video. The new home environment inspired by LOTR is free. However, it is available for a limited time only, starting October 10th.
Quick access to frequently used apps
V46 adds a 'Recent Apps' feature to Meta Quest. This is particularly useful for those who download a lot of games. Finding a particular game in your library is an extra step and additional effort as opposed to seeing your recently used apps right off the bat.
Meta Quest now displays the last three apps you recently used. it's now simpler to return to the games you were playing lately and, more importantly, to your favorite games and pick up where you left off.
Control over who sees your activity
The latest update allows users to have more control over what they share with their friends regarding their activities on Meta Quest. They can now select who sees what among their friends. They can also hide certain activities from selected friends. This applies to individual apps. Users can also select who sees them when they go online. To many, this privacy improvement is exactly what they need.
A recent blog also says that the company is taking efforts to improve the Settings generally. Greater search results refinement will be possible with the Search Tool. For easier visibility in your future searches, recent prior searches will appear higher in the list.
Meta is building new worlds
Meta Connect releases a full schedule of the event. You can read more about it here. One of the highlights of the event is Mark Zuckerberg's keynote. Other programs include Developer State of the Union and developer sessions.
Keynote - October 11, 2022 , 10:00 AM PT
Developer State of the Union - October 11, 2022, 11:35 AM PT
Developer Sessions - October 11, 2022, 12:20 PM PT
The Keynote event is expected to discuss the future of Meta along with the latest hardware Project Cambria or Quest Pro. The session description says "Discover how a social metaverse is additive to physical experiences, helping us all connect in deeper, more meaningful ways."
Since Meta (previously Facebook) emphasizes social interaction constantly, it has been anticipated that they will focus more of their efforts on bringing people together using cutting-edge technology, in this case, the virtual reality realm. Let's see what they have in store for Quest VR users.