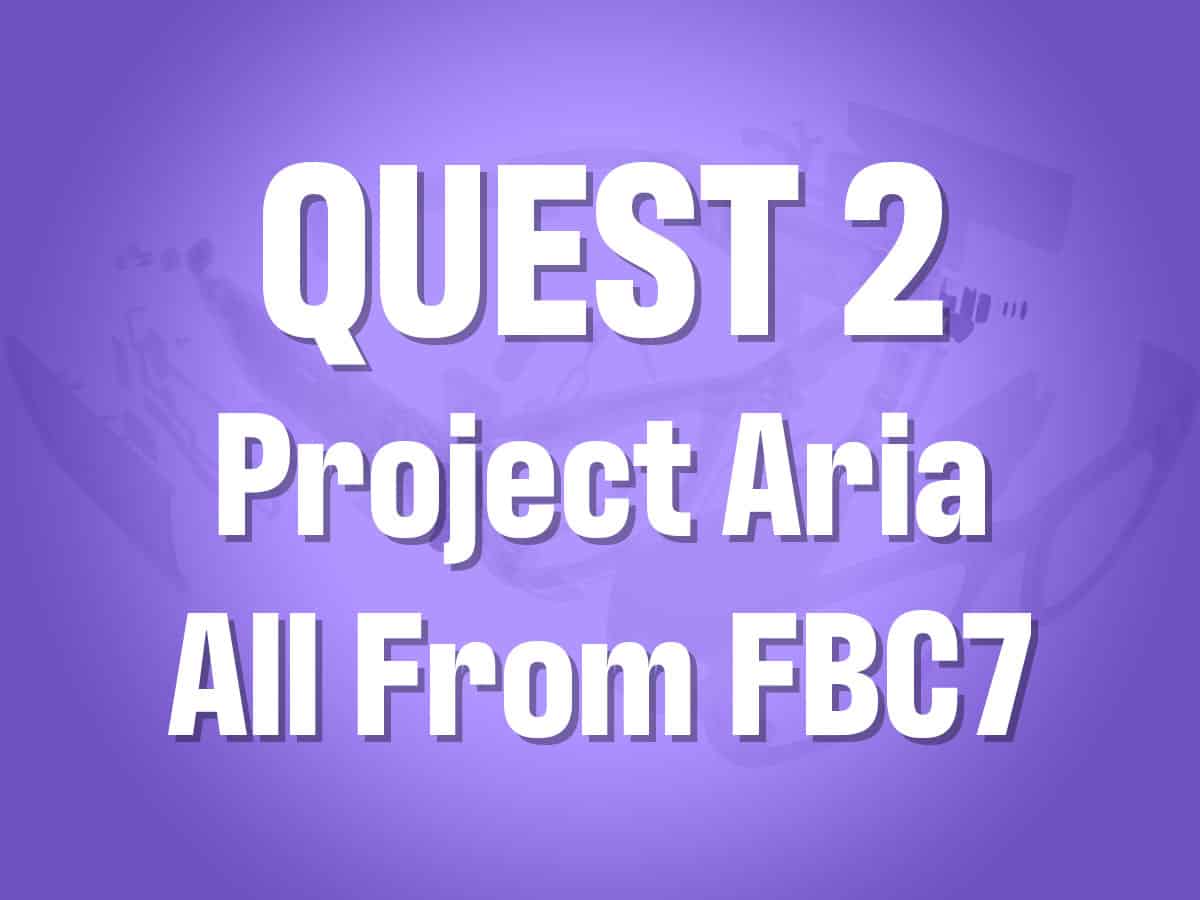 Oculus Quest 2 Launch: FBC7 Roundup
Hey VR fam, we wanted to give you a roundup of all the news from Facebook Connect 7. We can't begin anywhere except with the official announcement of the Oculus Quest 2.
The Rift is dead, long live Quest
Part of the news buried in the announcement is that Oculus is discontinuing the Rift. The Quest 2 is already an upgrade in many ways from the Oculus Rift S, so it seems that Facebook is getting rid of PC only VR. They will focus on standalone headsets that can tether to a PC for more power.
While it is sad for many old school DK backers such as myself, I can see the reason behind this. Facebook is investing heavily in bringing standalone VR to the masses. With the new powerful specs and lower price, Facebook is certainly losing money on every headset sold. It makes sense to simplify the ecosystem a bit.
That's not to say that Rift games are going away. It seems that PC VR Games will be "Rift," but they will be played on a tethered Quest device. Who knows if we'll see another high-end PC VR headset from Oculus again. Let's dig into them.
I would be sad, but the Quest's price and specs are so compelling that I'm more excited than anything.
Here are the Quest 2 technical specs:
Two models are releasing October 13th with the only difference being $299 with 64GB of storage or $399 with 256GB of storage.
Single high res panel with 50% more pixels (3664x1920 Fast switching LCD panel - 1832x1920 per eye).
Three-position manual IPD adjustment (58mm, 63mm, and 68mm). This should work for most people from ~56-70 IPD, with those being a bit off experiencing more chromatic aberration (which may eventually be reduced via software).
90Hz refresh that will launch at 72Hz until they update Guardian (according to John Carmack the screen can handle overclocking to 120Hz).
It will be up to developers to update their games to allow higher refresh rates.
The headset comes with a spacer for people with glasses.
An optional Fit Pack & Light Blocker helps block light and better-fit people with wider or narrower faces.
Speaking of facial interfaces, VR Cover will have facial interface & foam replacement for the Quest 2 in October.
10% reduced weight ~503g (1lb, 1oz).
Latest Snapdragon XR2 processor, 6GB of RAM.
A soft strap similar to the Oculus Go seems to be a downgrade, but the optional Elite Strap brings back the superior feel. (There's even an Elite Strap with a built-in battery pack that is supposed to double battery life)
It can be used as a standalone VR headset or with the Oculus Link as a PC VR headset (other high-quality USB cables should work as well).
There are still compression artifacts when using the link, but according to John Carmack, he believes they will greatly reduce or eliminate them over time. He even hinted at some work on wireless link support via WiFi 6.
New touch controllers with stronger haptics and up to four-times better battery life.
The battery is much larger, but with the more powerful processor still gets 2-3 hours of gameplay.
The fresnel lenses are similar to those from the original Quest.
Oculus has improved upon their fixed foveated rendering to improve performance only when the framerate dips.
System-level fitment tracker, Oculus move
The dashboard and ecosystem are the same for now, but supposedly you'll be able to launch apps with your voice.
A Facebook account will be required to use the headset. While that is not an issue for me, it is a problem for some.
Oculus Quest 2 reviews
We've pre-ordered our unit, so we'll be sure to give an in-depth review when it arrives. A few lucky folks received advanced review samples, so here's a quick roundup:
VR games announced for the Quest 2
There was a pretty big launch lineup announced. It sounds like many of these games will work with the original Quest, so we're excited to get more details as they come out.
Assassins Creed and Splinter Cell
Two games that did not have trailers to share were Assassins Creed and Splinter Cell. Both franchises are releasing VR versions and sound like great additions. These do not appear to be launch titles.
Star Wars: Tales from the Galaxy's Edge
POPULATION: ONE
Beat Saber: Multiplayer
The Climb 2
Jurassic World Aftermath
The Walking Dead: Saints & Sinners
Myst
Warhammer 40,000 Battle Sister
Sniper Elite VR
Pistol Whip: 2089
Augmented Reality: Project Aria Update Give Us Facebook Ray-Bans
Facebook has been working on augmented reality and "smart glasses" for quite some time. While most "smart glasses" that we've seen in recent years looked pretty dorky, Facebook is partnering with Luxottica to develop a wide array of styles. The plan is to release a fashionable set of smart Ray-Ban glasses for release next year.
What is Project Aria?
Project Aria an experimental AR research platform that a few hundred Facebook employees will be using over the coming year. They are developing software and use cases for augmented reality in everyday life. An array of sensors will collect data, and useful information will be presented to the user.
CNET had a great clip of the demo:
CNET also had a breakdown of the technical hardware details.
The demos were neat to watch, but it's still a very early look at the tech. You can read the press release here.
Oculus Move, VR fitness tracking
The Quest 2 will have a system-level fitness tracker in the form of Oculus Move. We've seen this from others such as YUR, but it's great to see this from a headset manufacturer. With VR fitness becoming one of the most trendy use cases, this is sure to be a popular feature.
Using the Quest 2 for work & productivity
Facebook made a big push towards business and productivity use this time. It's no secret that Facebook sees people interacting in VR as the future, and has made a considerable investment in VR technology. This time, though, they started to make a business use case for VR. Things like Infinite Office that create a virtual office space in VR.
They also put out a video that covered a variety of VR productivity apps and different use cases. They cover everything from design to training and virtual meetings. This is an exciting aspect of VR that doesn't get touched on very much. A lot of people think of VR, and they think games. Companies like Ford are not only engineering in VR but even training service technicians in VR.
Conclusion
That wraps up our coverage. You can check out the official blog post announcing the Quest 2. What was your favorite part? Are you getting an Oculus Quest 2 at launch? What features would you want to see from Project Aria? Where do you want VR & AR to go over the next decade? Sound off in the comments below.
Click here to get Your Own Now
Please note: To support our content, we may receive commissions when you click links from our website and decide to make a purchase. Any possible income has no impact on our reviews or product comparisons. If we think the product sucks, we'll let you know. Our ONLY priority is to help you and the rest of our VR community make an informed decision.