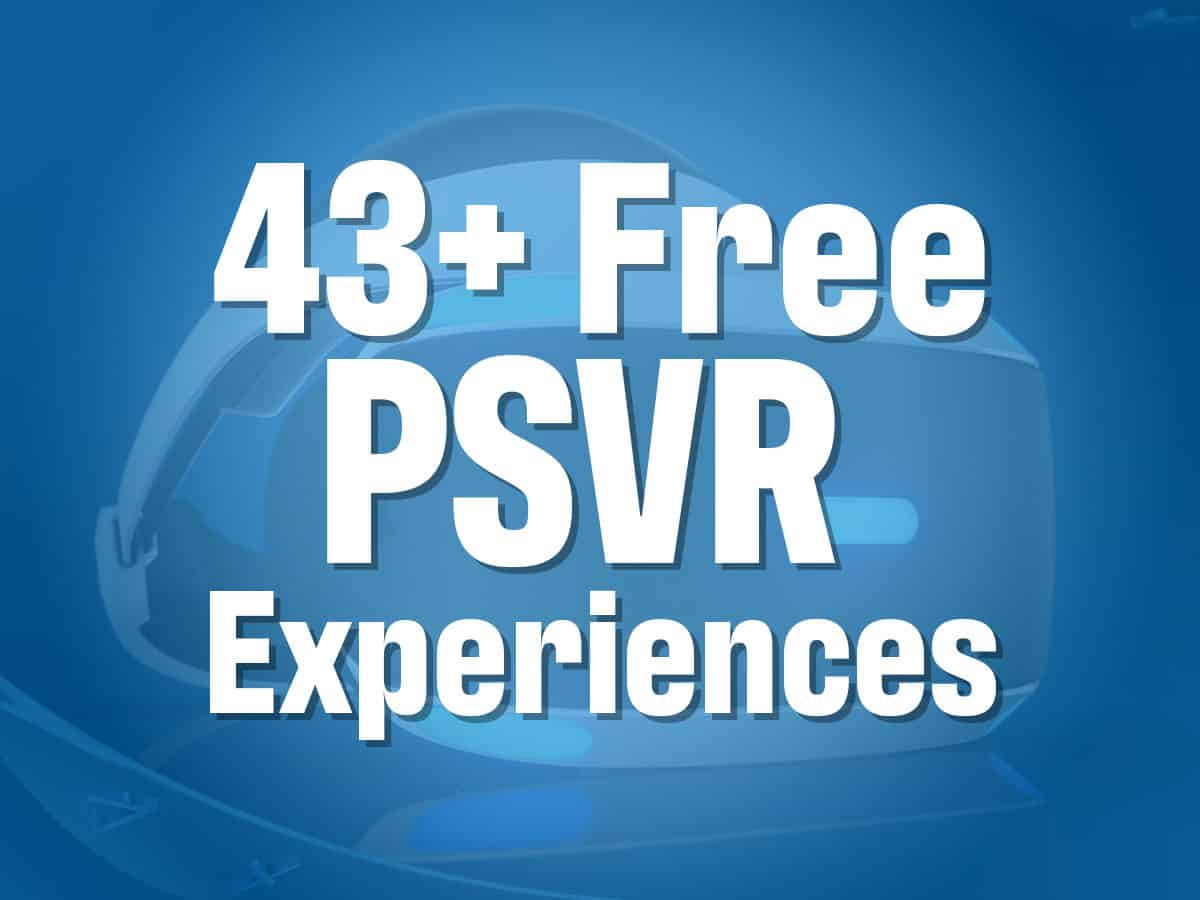 43+ Free PSVR Experiences
With more than 5 million units sold, PlayStation VR is the world's best selling virtual reality headset. Just like our previous free VR games on Steam list, we've done the research for you and provided links to all the best free PSVR titles that we could find. Let's get into it!
Free PSVR Games 2020:
If you want to see what a PSVR is capable of without spending any cash this is the list for you. This list has some demos, some shorts, and even a couple of fully fleshed out games. So, in no particular order here you are.
Editor's note: The PlayStation web store is a pretty awful experience. We've had several pages go down, only to come back up later. Sometimes pages don't load on the first try. Just a heads up that if one of the links doesn't work to refresh or try again later. As we publish this the "Experiences" section seems to be extremely buggy with only a few titles loading properly.
The Playroom VR + Toy WARS
Just a great way to play with your new VR headset. It gives you several mini games that are fun and help you acclimate to VR with a controller.
Rec Room
A fully free social sandbox game. You will be able to experience lots of different types of VR gameplay here. It also uses the Motion Controllers.
Call Of Duty: Infinite Warfare Jackal Assault VR Experience
Probably the most graphic impressive on this list. You are piloting a combat spacecraft in the Call Of Duty universe. Though only a single mission, it's a great experience for being free.
Air Force Special Ops: Nightfall
This game lets you parachute in first person. A unique experience on this list.
Spider-Man: Far From Home Virtual Reality Experience
My favorite single player experience here. As expected, you get to swing through the city as the web-slinger. It's surprising how visceral it can be to swing into buildings in VR. You have to check this one out.
Blind Spot Chapter 3
One free chapter of this story based puzzle/mystery game.
LEGENDS OF CATALONIA: The Land of Barcelona
A collection of mini-games that lets explore Spain.
KINGDOM HEARTS VR Experience
Appropriately named an experience, this lets you see some of the most memorable scenes in VR.
Mortal Blitz : Combat Arena
A fast paced multiplayer FPS that lets up to 10 players compete in a deathmatch.
VirZOOM Arcade
A collection of games designed to get you moving and having fun.
We Happy Few: Uncle Jack Live VR
A strange dystopian experience based off the "We Happy Few" world. If you've played the original game, this should definitely be on your list to try out.
Free PSVR Demos 2020:
Sometimes you want to try before you buy. Luckily PSVR has several demos that are either just fun little free experiences, or a portion of a paid PlayStation VR game that you can try for free.
PlayStation VR Demo Discs
Free with PSVR headsets, it's a great collection of games to preview. Even if your headset didn't come with the physical disc, you can still download it right from the store.
Space Channel 5 VR Kinda Funky News Flash! (DEMO)
A throw-back to the Dreamcast era, brought into VR. A dance game designed to play on your nostalgia.
ASTRO BOT Rescue Mission VR (DEMO)
A platformer that puts you into the world via the VR headset. You use a controller and should be a pretty comfortable experience for you.
Fishing Master (DEMO)
A great way to experience fishing in VR.
Paper Beast (DEMO)
A dream like story where you meet strange creatures and solve intersting puzzles.
The Last Guardian VR (DEMO)
An excellent demo that lets you experience the epic world of The Last Guardian that will leave you wanting more.
Trackmania Turbo (DEMO)
Fun arcade race game. Though only a demo, this is a good way to see if you like this kind of game in VR.
VROOM KABOOM (DEMO)
An interesting combination of car combat and tower defense. Worth checking out for the VR aspect at the very least.
Last Labyrinth (DEMO)
An action game with puzzles and escape room qualities.
Prison Boss VR (DEMO)
A crafting trading game. You are in prison, and when night comes you try to make goods that you trade for profit, while avoiding the gaze of the guards.
Ancient Amuletor (DEMO)
A tower defense mixed with a shooter. Praised by many for being good enough to want more.
Squishies (DEMO)
This one is a cute puzzle platformer. The full game has over 100 levels, so if you like the demo, there is more where that came from.
Statik (DEMO)
A puzzle game with rave reviews. Sounds like a great one to check out.
Tumble VR (DEMO)
Another puzzle game with a focus on a tactile feel.
Rollercoaster Dreams (DEMO)
Experiencing a coaster in VR is classic, so I'm glad there is a demo that available for those with PSVR.
SUPERHYPERCUBE (DEMO)
This is spacial puzzle game that is easy to pick up, difficult to master, hard to put down.
Tethered (DEMO)
A god game that makes you responsible for your worshipers.
Bound (DEMO)
A beautiful platformer that makes you think.
Until Dawn: Rush of Blood (DEMO)
A first person, on-rails, shooter. Horror themed this one is intense. If you really want to test your nerves and see if you can handle it, check this demo out.
Free PSVR Experiences 2020:
The following are a collection of apps that are free PSVR experiences, but aren't quite games. There's more to VR than just gaming.
anywhereVR
All about relaxing somewhere else. A great way to escape from your place when you can't actually leave.
IN THE CLOUD: VR AFTERLIFE
An interactive experience, where you answer questions to let the system understand who you were.
The Illusionist-Andres Iniesta
A short 360 documentary about a footballer (soccer).
Snatch VR Heist Experience
Featuring Rupert Grint (Ron from Harry Potter) this 6 minute experience puts you in the middle of a heist.
Inception VR
A player with a collection of 360 videos.
Gary the Gull
Garry the Gull is a interesting little interactive movie. It's short, but worth checking out. See how VR can provide a unique way to experience a short story.
Crow: The Legend
A beautifully animated 360 degree experience with an all-star voice cast.
Littlstar Cinema
This is a VR video playing app. Since it's free, check it out, and see what content they have that you might like.
Tom Grennan VR
A music video that aims to keep you keep your attention.
GOT7 Love Loop VR
If you know the band, you enjoy this VR experience.
YouTube
YouTube for PSVR doesn't need any introduction. Get access to tons of 360-degree videos through the app. Everyone should give it a try.
Allumette
Allumette is one of my favorite VR cinematic experiences. A neat stop motion style story that you can experience in 3D using your Playstation VR Headset. Wired called it the "first VR film masterpiece" and I can't agree more.
INVASION!
A cute story about an adorable bunny and an alien spaceship. From the director of Madagascar, this is worth checking out.
Conclusion
That concludes our list of free PSVR experiences. Is there anything we missed? What's your favorite? Sound off in the comments below.