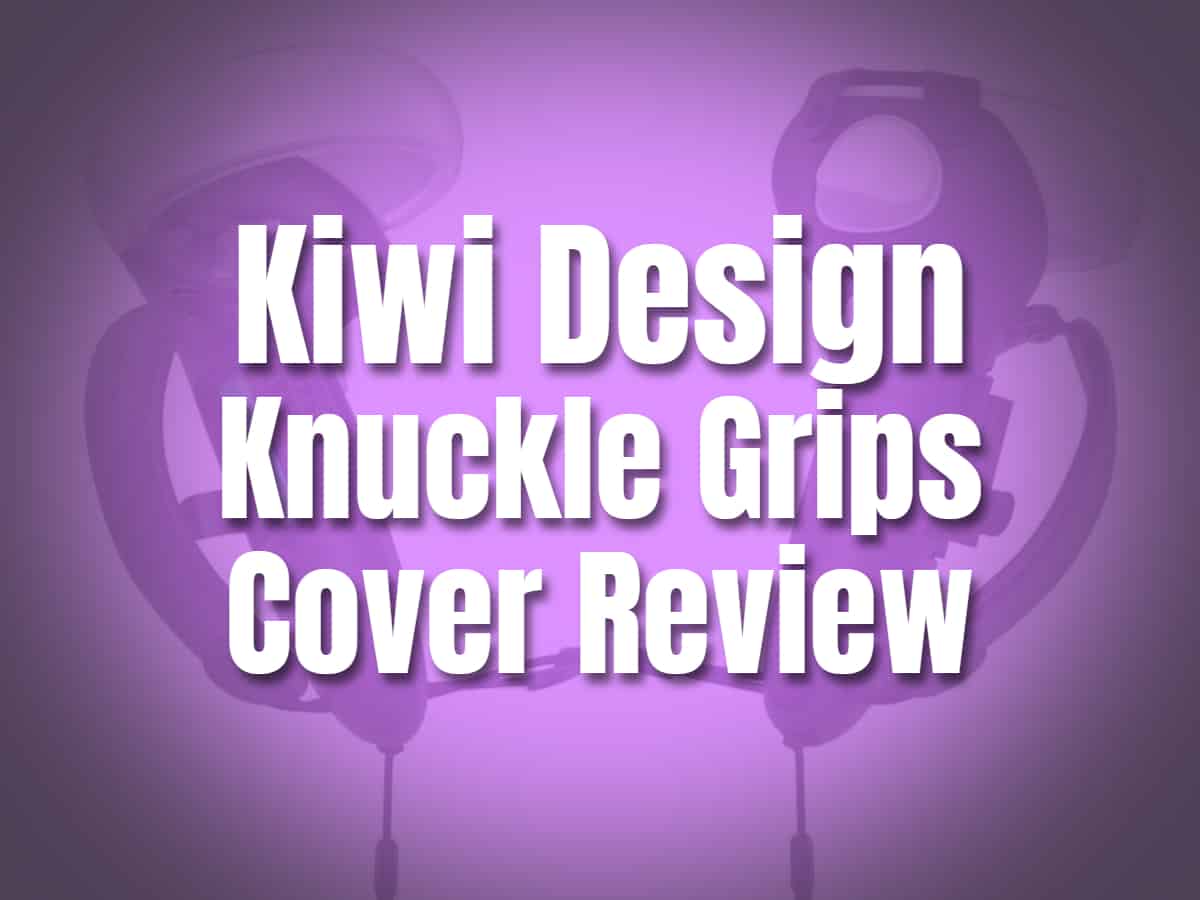 Review: Kiwi Design Knuckle Grips Cover
It's important to be comfortable to have the best VR experience possible. Those small nuances might get in the way of our full immersion and enjoyment in VR. For many, controller grips, as well as other accessories that provide better comfort, have become essential.
Searching for good grips for my Oculus Quest 2 controllers wasn't easy. I previously purchased the Mamut Grips. I used them exactly one day and immediately tossed them back in the box never to be looked at again. They were slippery, didn't fit well, and kept coming off during use. I figured that maybe I'm just not the type of person that likes controller grips.
With that said, I'm glad Kiwi Design sent over the Top Version Controller Knuckle Grips Cover for Oculus Quest 2. I was familiar with Kiwi Design from purchasing their awesome Silent VR Cable Management Pulley System as an alternative to George's homemade cable management system. I know they make quality products, so I was excited to see what they were sending.
Well-made grips that do the job
These "knuckle style" grips are great because they allow you to relax your hands while keeping the controllers in hand. I don't want to drop the controller and have it dangle from the wrist strap every time my hands need a break. On first impressions, Kiwi Design Knuckle Grips does this very well.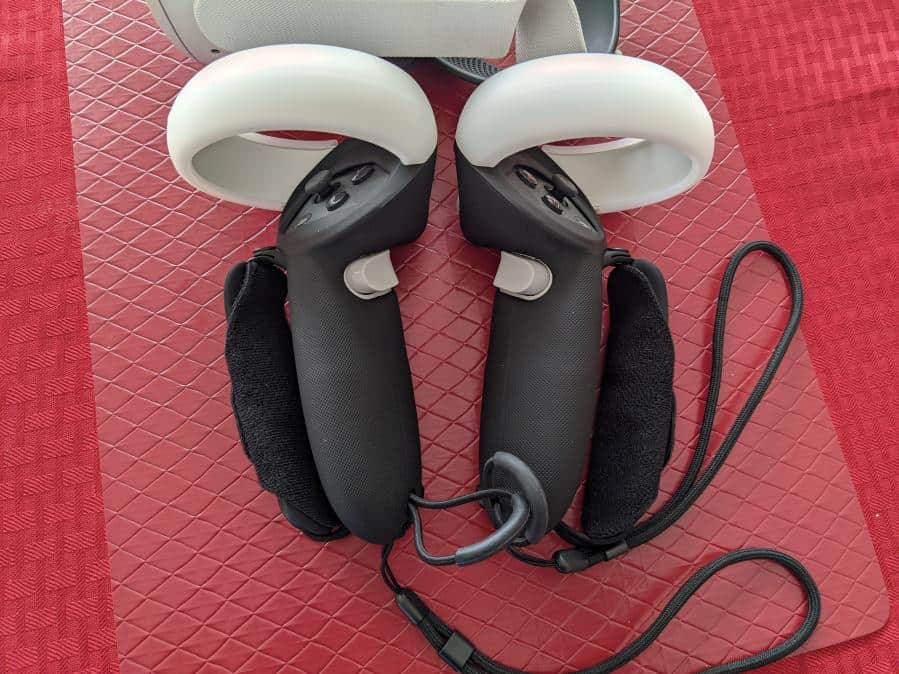 It features an internal strong plastic shell that clips onto and extends the original Quest controller where the battery cover normally sits. This protective shell increases the overall length and makes the controller feel much more substantial. These grips have a quality feel about them, and even though it extends the original controller (with a satisfying click as it locks on) it looks and feels like a solid single piece.
The silicone material used is soft, making it comfortable to wear. It also has a nice felt lining that attaches to the knuckle strap for a bit of extra grip. The texture and the design have a premium feel to them. At first glance, this looks and, more importantly, feels like an OEM design. After using these over a weekend of extended play, I can say that I personally grew quite fond of them.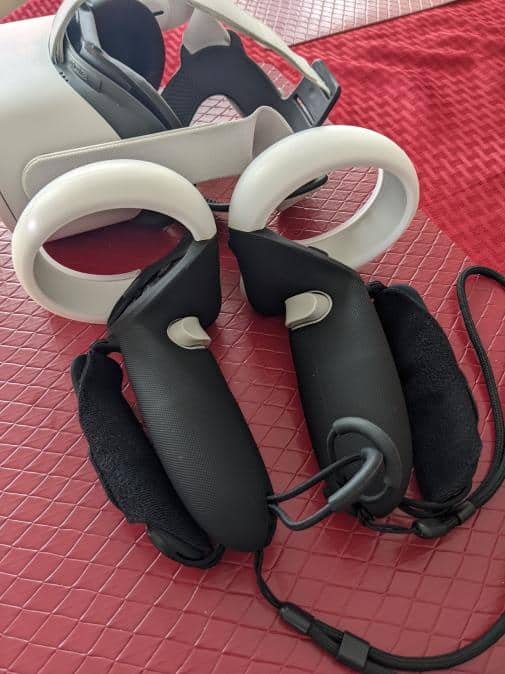 Better than the original Quest grips
If the original Quest 2 controllers feel a bit small on your hands, then this is perfect for you. I have no problem with the size of the original controllers. But it is more enjoyable to feel something substantial in your hands. These grips do that. It makes the device look and feel slightly bigger, but just enough. It gives the device a good weight, feel, and a comfortable size that is quite enjoyable to use. My teenage daughters gave the grips a try and were left impressed as well. I wouldn't shy away, even if your hands are smaller.
It perfectly protects your device and adds comfort
Overall, Kiwi Design's Knuckle Grips made my weekend VR sessions more comfortable and engaging. When I'm swinging a sword or shooting a gun, it feels like I have something about the right size in my hands. They do add a bit of weight, so I could feel the difference during a VR boxing session. I enjoyed the few ounces of added weight, but if you find your arms get tired easily, this may be a downside.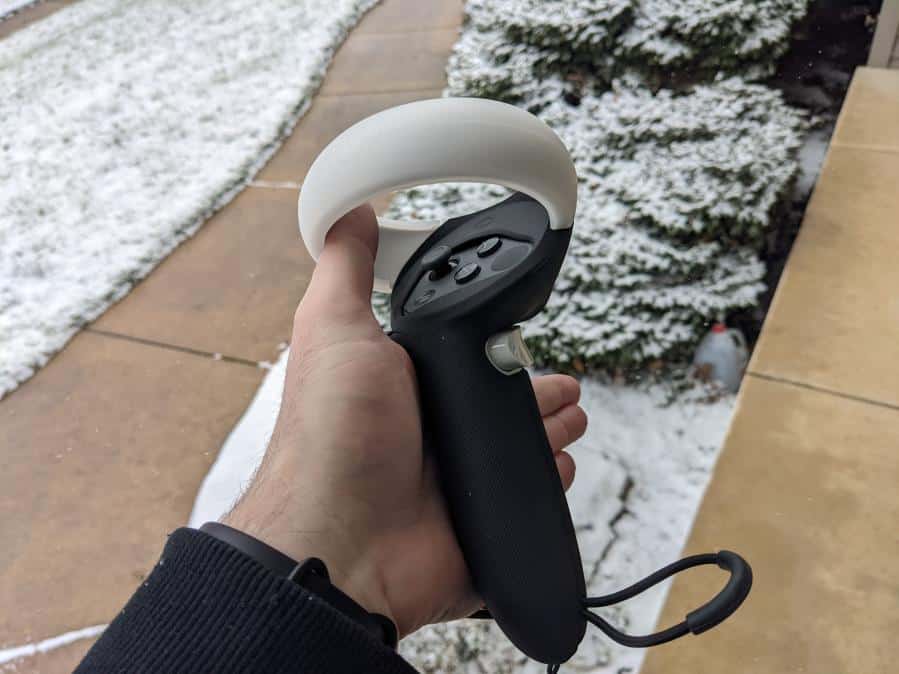 The grips are well-made and well designed to protect the controller and increase comfort. The straps all felt very secure and I can trust it to help prevent me from losing hold of my controller.
Because I've only used it for a weekend, I can't speak for its durability. I'll do a follow-up on that in the coming months. This product gets five stars from me ⭐⭐⭐⭐⭐ because it functions and feels perfect for my hands. I've had so much fun with it that I think it will make an excellent Christmas present for my local VR friends.
The Top Version Controller Knuckle Grips Cover for Oculus Quest 2 is currently on sale direct from the Kiwi Design at a 30% discount. They come in six colors, so there is something for everyone.
Get a grip and have fun in VR. Ciao VR fam!
-VR Paul
DISCLAIMER: Kiwi Design reached out and sent over the product wanting us to try it. No money was exchanged for this review, but we did receive the product for free. We've opted to use affiliate links in the article to help support our site when you purchase from the provided links. We only recommend products that we actually use and enjoy regardless of any affiliate offerings. If you prefer to use a non-affiliate link you can visit the product page directly here: https://www.kiwidesign.com/collections/knuckle-grips-cover-for-quest-2/products/top-version-controller-grips-cover